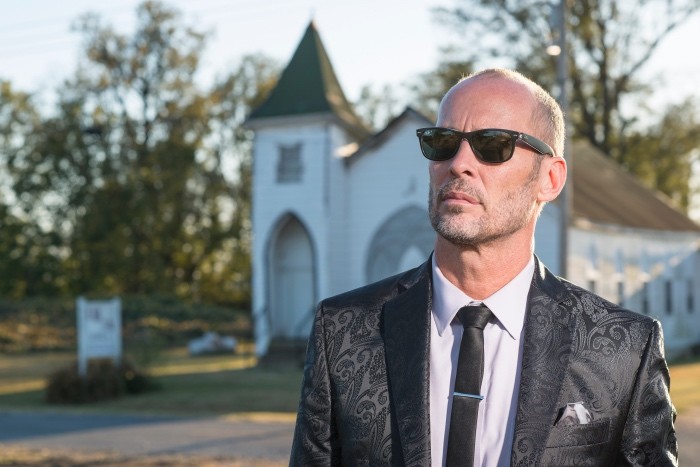 He calls the music on his just released CD Don't Let The Devil Ride "sacred pole dancing." As he did on Pimps and Preachers, Paul Thorn rubs the sacred and profane together like two sticks to create sparks 'cause that's what real people do.
"If you go into a strip club, you'll see a woman dance on a pole, and they'll play the sultry music, but if you listen to the music that's really sexy sounding, it sounds exactly like the music we sang in church when I was growing up.  When we'd go visit the black churches it was raunchy, man. It was spiritual, but it almost a sexual undertone to it, and that's what you hear on some of these songs on the record."
Paul Thorn's world is not a politically correct one, but it's an honest one that rings true with blues audiences even though some would effectively argue that this man is Americana, not blues.
Try telling that to the thousands of people who sat on the berm of the Mississippi on that warm Thursday night in 2010 when Paul opened for B. B. King at the storied King Biscuit Blues Festival in Helena, Arkansas. I assumed he'd get a tepid response at best. He asked how many in the audience had ever seen him. About 5% raised their hands. By the end of his set, he got a standing ovation and returns this October 5th for his ninth consecutive appearance.
Produced by Colin Linden, the music director of "Nashville," the TV show, Don't Let The Devil Ride debuted in the Billboard Top 100 the first week of release in late March. The Blind Boys of Alabama, The Preservation Hall Jazz Horns and The McCrary Sisters guest on the new release. It features renditions of southern black gospel songs; some so rare the authors remain unknown. This is tent revival stuff so raw you can smell the canvas and feel the sawdust between your toes.
"We cut six songs at Sun Studios, and we cut six songs at Fame (Studio in Muscle, Shoals, Alabama). Then, we went down to New Orleans to the actual Preservation Hall and recorded the guys there," explains Thorn. "We wanted this record to have an authentic old school sound, and we knew these places had the equipment to get that sound that no other place could get. So, that's why we did it."
The son of a Pentecostal preacher, Thorn grew up in his daddy's white southern church, but his "baptism" came from the other side of the tracks. "I was in a denomination called the Church of God Prophecies which is a Pentecostal type faith. We had a different style of worship, but I was really lucky because my family would go visit the black churches, and it just really got under my skin in a good way. The white churches sang almost like country and western gospel, but at the black church it was raunchier. It was more raw and had more of a rhythm 'n' blues beat. I was more attracted to that, and that's how I got to listen to it. I wanted to go to the black church as much as I could because I always liked the music."
Thorn finds a different voice on this album. It's all about finding Jesus, and he sings from deep within with a conviction and ardor rarely heard in a white gospel singer. "I grew up hearing this gospel music. I know how to sing like this. This is second nature to me. It's a different way of singing. There's a lot more of what I won't say is screaming, but there's a lot of grit in it. I just sang what I felt. It's my wheelhouse. It's where I'm comfortable. I know how to do it. I had a lot of good mentors, and I've watched the greats. And when I say the greats, I'm talking about local people you've never heard of, old people in the churches that sang like that. I'm just carrying that tradition on 'cause I know how to do it 'cause I was taught how to do it, and I feel it. I live it. It's who I am."
Most of the songs were culled from local Mississippi and Alabama record releases cut in the '50s, '60s and '70s. "We didn't want to do songs that had been done to death. There's great gospel songs like "I'll Fly Away" or "Amazing Grace," but they've been done to death. Everybody has done 'em. It's like everybody that does a gospel album almost does the same songs, and I didn't want to do that. I wanted to dig into something deep that – or not necessarily well-known songs. There's a couple of 'em. There's the song "Love Train" (by The O'Jays). Everybody has heard that, but we slowed it down, and some of 'em are so obscure we couldn't even find who wrote 'em. There's no record of who wrote the songs. Some of 'em they're just really good songs."
The Blind Boys of Alabama cuts were done in one day at Fame Studios. "(Studio head) Rick Hall passed away recently, and when we were making this album, Mississippi PBS sent a crew, and they filmed the entire making of the album. It's coming out in May as a documentary on PBS, so we're super excited about that. When we cut at Fame, the Blind Boys were there. Rick came in the studio. It was just so good to see him. I've known Rick for a long time, and it's nice to have him in the documentary no more because he's passed on, and he's part of our documentary, and that's a movie that will live forever."
This album ups Paul Thorn's game. If anybody doubted he was big league before now, Don't Let The Devil Ride sets the record straight. "I didn't get into this to take a backward step. I want each one of my records to outdo the other ones if possible."
Believe me, it does.