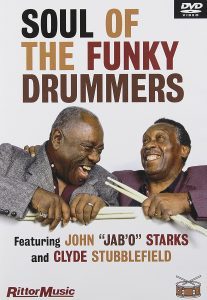 One of the most sampled drummers ever, John Henry "Jabo" Starks died Tuesday at his home in Mobile, Alabama. His death was confirmed by his manager Kathie Williams who said he'd been in hospice care for about a week battling leukemia and myelodysplastic syndromes.
Starks was closeley associated with another James Brown drummer, Clyde Stubblefield, who died last year. The two were responsible for defining funk and creating the beats that hip-hop music uses to this day.
While Stubblefield was steeped in soul and jazz, Starks was a blues drummer, keeping the steady clock to his partner's flourishes. The two always considered themselves partners rather than competitors, creating perhaps the most powerhouse rhythm section of all time.
"You have to understand this, we're two different drummers," Starks told NPR in 2015. "If you can't pat your feet and clap your hand to what I'm doing, then I'm not doing anything worthwhile."
Born in Jackson, Alabama, on Oct. 26th, 1938, Starks was the son of a lumberyard worker and school lunch lady. He grew up listening to blues and gospel music, and was first turned on to the drums while watching a Mardi Gras parade in Mobile. He built his own improvised drum kit and taught himself to play.
Before joining Brown's band in 1965, Jabo had played with artists that included Howlin' Wolf, Big Mama Thornton and John Lee Hooker on the Chitlin' Circuit. He was a member of Bobby "Blue" Bland's band for six years and played on hits such as "Turn On Your Love Light" and "I Pity the Fool."
Starks played on some of Brown's best-known albums, including Sex Machine, I Got the Feelin', Say It Loud – I'm Black and I'm Proud and Cold Sweat. His work drumming on singles included "Get Up (I Feel Like Being a) Sex Machine," "Super Bad," and "The Payback."
In the mid-1970s Stark left Brown's band and began recording and touring with B.B. King. Years later, he and Stubblefield reunited to form The Funkmasters, a duo which released both music, and instructional videos. Stark's last performance was at the Red Bar in Grayton Beach, Florida in March. He had been playing semi-regularly there since the 1990s.
*Feature image Deirdre O' Callaghan