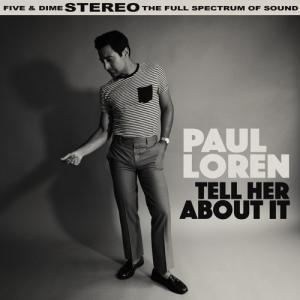 Today the pop music, piano loving world celebrates the 69th birthday of Billy Joel. Fellow New Yorker, Paul Loren has a special gift for the piano man. A cover of his #1 hit song, "Tell Her About It."
It was the summer of 1983, and the music of Billy Joel's An Innocent Man permeated the airwaves. An Innocent Man was a concept album, paying tribute to the popular musical genres of Joel's adolescence. Of the 10 tracks, seven were released as singles, with three of those breaking into the Billboard Top 10.
The highest charting single was the tune, "Tell Her About It," which made it to #1 on the Billboard charts. It was the first single released from the album, and Joel was set on recreating the Motown sound of the Temptation and Supremes. "Tell Her About It" went gold, selling more than 500,000 singles.
Soul crooner Paul Loren produced and recorded his cover of the hit tune at the Five & Dime Recording Society & Sterling Society Social Club in Brooklyn. Loren also provided the vocals, piano, vibraphone, and percussion for the track. The backing musicians include Brian Kantor (drums), Evan Duby (bass), Ty Tuschen (guitar), Dan Brantigan (trumpet), and Michael Eaton (saxophones).
"Billy Joel was one of my earliest influences," Loren said. "My mom would play the An Innnocent Man cassette tape over and over again on road trips, and I was immediately hooked on the sound of those amazing songs. I remember 'Tell Her About It' was the last song on Side A and I really thought it was a Motown song. With my cover I wanted to capture that 60's Motown sound and send Billy straight to Hitsville USA!"
Although "Tell Her About It" has been covered before, for our money this is the most true to life Motown version ever set to tape. Easier and more fun than blowing out 69 candles, all birthday gifts should be this good.
*Feature image Columbia Records & Shervin Lainez