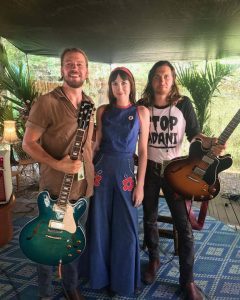 The Teskey Brothers are a musical force to be reckoned with. Before the release of their debut album "Half Mile Harvest" in 2017, the Brothers had never played outside of Victoria, but have since been touring extensively, playing their blues embedded soul music for a number of sell out crowds across the world. They've even gained the tick of approval from fellow Aussie Chris Hemsworth, a.k.a Thor.
I caught up with blues brothers Josh and Sam amidst the craziness at Bluesfest to talk about their journey so far, their go-to albums, their one rule when playing the blues, new music, and more.
Chloe Kay Richardson for American Blues Scene:
Welcome to Bluesfest! I know you guys have played quite a few festivals now so how does this one compare?
Josh:
Bluesfest is really exciting for us, it's a real pinnacle of a thing for us to do. I first came here when I was 15 years old, and we've seen so many incredible American acts come out, so this is the big one for us, this is the real highlight. We're really excited to be here.
I saw you guys play at Brighton Up Bar a couple of months ago, so how does it feel to go from such small venues, albeit sell out shows, to playing for packed out Bluesfest crowds in just a matter of months? Did you ever anticipate it?
Josh:
The whole year for us has been really bizarre like that. Until last year we had never left Victoria at all. We grew up playing pubs and clubs around Melbourne, and around the area of Warrandyte where we live, so it's been a really amazing thing to have people come to our shows outside of the state. Then to be traveling overseas to America and the UK, and still have people coming along to shows constantly boggles our minds, it's truly an amazing feeling. To play on that Bluesfest stage is a really special moment for us. To have so many checking it out, we can't believe the massive crowds; it's unbelievable.
Yeah, it's incredible! So, what's your favourite song to play live?
Josh:
Oh man, we like to play a lot of songs, it's always different, it always varies, but "Reason Why" is a real classic kind of Blues song for us. It's got a groove we've been playing for ages, and it's one of our original songs, we love to work the dynamics, and put a lot into those blues songs.
Sam:
When the room feels good and you're playing that song, and everyone is into it, you can take it to every kind of extreme; really quiet or really loud, and it just really blows up. It's a great track like that.
So, I noticed on your Bandcamp that you released an album in 2012 and it was quite a different vibe, there was some serious reggae influence in there, definitely not as soulful or bluesy. What inspired that more soulful change from then to "Half Mile Harvest"?
Sam:
It's funny because we started out playing this sort of music. We were about 12, or 13 busking and doing all sorts of stuff, and we were playing Robert Johnson blues and Otis Redding, all those old artists, and then we kind of went off into this other world. We tried a few different genres, and nothing really worked that well I think until we came back to that soul and blues stuff, and it's made an impact obviously, which is cool.
Josh:
We've played various genres over the years, we've played in various different bands, and the collective of the band have played in all sorts of groups doing all sorts of genres. We used to do weddings and things like that as well, so we used to play covers there. The Teskey Brothers have messed around with latin stuff, and reggae things but at the core of it it's always been the blues and soul that's worked for us, I think.
So do you think you'll continue to go down that path of blues & soul?
Josh:
Yeah not strictly to it though, we get labelled as a blues and soul band a lot but even "Half Mile Harvest" branches out of that quite a lot with "Honeymoon," and "Shiny Moon," and all these different tracks have a lot of rocky, psychedelic influence. So, we stick to that rootsy blues genre and I think we'll always be inspired by that but we never want to be tied to it. We're happy to delve out of it a little bit, and see what happens.
Cool. Now Josh, your vocals have been the talk of the town since the album's release, how did you develop your vocals? Who inspired your singing?
Sam:
There's this good story of when he was 13: He was joking around and said "look dad I can sing like a bluesman." This was before we started playing music, and he kind of yelled out in this grungy voice, and dad was like "that's actually not bad, you should sing like that." So, after that he was always doing Robert Johnson "Cross Road Blues," just wailing it out. So it just developed like that.
Josh:
Totally! I just always wanted to sing that way, even before my voice broke I was screaming out and wailing in this Robert Johnson way. We grew up listening to that kind of music, so that's been the music I've always loved and the style of singing I've always loved, and it's what suits my voice. It's just developed into the way I sing now.
Nice! Sam, I've noticed with your playing that you generally take a B.B. King style less is more approach. Who are your guitar heroes?
Sam:
Well, you got it! B.B. King, and guitarists like Peter Green. The way they just control the guitar dynamically, with distorted and clean, he has it so it's not overly distorted but not clean, it's the perfect balance in between, and they're always using their volume pop to adjust it, so that's just something I've always liked. In the 60s and 70s guitarists seemed to do that a lot more, whereas nowadays guitarists have got a lot of pedals, and stuff like that so it's like "ok, pedal on and that's the distortion, pedal off, that's clean," but I love that balance of being able to play with the volume pot.
Josh:
Yeah, everything we do in this band is about feeling. When we first played music as teenagers Sam used to be a lot more showy, he can play really fast when he wants to, but as we got older and listened to this music more and more, we realised the only real way to play is never going to be like complicated music, or showy music, it's all about putting feeling into it. That's soul music, that's blues music, singing the blues it's always about the feeling you're putting behind it.
Sam:
We've always believed that less is more, and that's the way we record as well, very simplistically; we don't overdo things. we just try to feel the music and sing the song the way we originally wrote it. We don't put too many sparklers on the top; it's just kind of raw!
That's the best way to do it. So what are each of your go-to records?
Sam:
Well, my favourite at the moment is definitely "B.B. King Live At The Cook County Jail," for me it's just THE blues. The early Peter Green's Fleetwood Mac albums; just all the blues albums from around that time. we really love the early British blues invasion stuff.
Josh:
Otis Redding's "Dock of The Bay, I love that whole album.
Great choices! Now, Buddy Guy once said you've got to have the blues to play the blues, so what gives you guys the blues?
Josh:
For people who have listened to "Half Mile Harvest," it's a record written about the same things people have been singing the blues about for hundreds of years. It's a heartbreak album, it's all about our own experiences of personal loss, and breakups and things that are going on, which are the same subjects everyone's singing about, just all the things we go through, we're singing the blues about that.
Very true, and so I have one last question, are you working on any new music?
Sam:
Yeah, we're always working on music, we've got a lot of new songs we're playing in the set, and anyone who sees Teskey Brothers sets now will hear 50% new material that we haven't released yet. We've had such a busy year that we haven't had a chance to put them all down and cut a record with it all, but we can't wait to get back into the studio once this excessive line of touring has finished, and get another record out. There should be some new music out very soon!
*Featured image is courtesy of the artist's website.