You know Steven Van Zandt as Little Steven or perhaps Miami Steve. You know he is a founding member of both Bruce Springsteen's E Street Band and Southside Johnny & The Asbury Jukes. You know he is Silvio on The Sopranos. But do you think of staunch activism upon hearing his name? You should. If you recall, Stevie founded Artists United Against Apartheid in 1985. Every true rock and roll patriot from Bob Dylan to Lou Reed to Joey Ramone made their appearance on "Sun City" with him, the anti-apartheid anthem condemning the apartheid policy in South Africa. The song has various artists boycotting and refusing to play Sun City, the entertainment venue situated in Bophuthatswana: a "tribal homeland" on a list of other territories put in place by the white minority government that forcibly stripped its residents of their South African citizenship.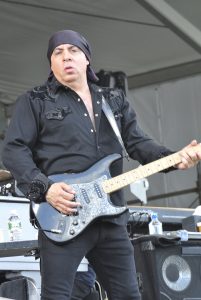 So, where does his activism lead him today? Steven understands the all-too-familiar plight of the teacher: overworked and underpaid. He also understands that art programs in schools are usually first on the budget chopping block. He stands in solidarity with teachers by establishing the Rock and Roll Forever Foundation. The name of the foundation's curriculum initiative is TeachRock, predicated on the idea that music in schools is something worth saving — now more than ever. The materials and resources come at no cost to both teacher and student.
Lesson plans cover all bases, starting with the birth of rock and roll all the way to fragmentation of popular music culture; the '70s began to see new divisions and developments of genres. This particular lesson is ultra-efficient in covering how race relations and social change may have shaped whole music genres. Quite a valuable lesson for today's youth in music history, and history at large.
Sonic Highways is one of the special project topics. And just like the Dave Grohl-directed documentaries, students set out to explore the music history of a town. The challenge, and ultimately the lesson extracted, is that it is their hometown they must journey through to discover the sound that defines it. Another special project is, of course, Sun City; students learn about the institutionalized racial segregation of South Africa that took place from 1948-1991. Multimedia resources, including live band footage and classic music journalism pieces, are available for educators and students within the curriculum.
Nothing could bridge the cultural chasm, as often is the case between teacher and student, more than the universal language and shared love of music. This is why Stevie is calling all teachers to sign up for workshops that will take place at every destination of the 2018-2019 Little Steven & The Disciples of Soul tour. Educators who sign up for the workshop sessions before the concert will receive a free ticket to that evening's show.
*Featured Image Photo is ©Marilyn Stringer