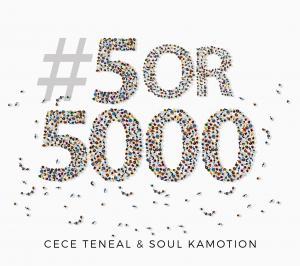 CeCe Teneal & Soul Kamotion are far from being newcomers to the Southern soul music scene. Captivating audiences with original, live music for over 16 years, they now bring their powerful live performances to our homes with their new release, #5or500.
The album title reflects the group's mission of giving the same show, and a hundred percent of themselves, whether there are five or five thousand people in the audience. Recorded live at the Blue Bamboo Arts Center in Orlando, Florida, Soul Kamotion defies genrefication. Their blues, soul, and gospel roots extend out into a lavish coppice of musical pageantry.
#5or5000 begins with "90 MPH." The title may sound like a rock song, but it's pure soul, with Teneal's earth shaking vocals taking center stage and grabbing us right by the feels. The song is hard-driving, yet funky and fun. It's easy to imagine the dancefloor at any venue filling up from the very first tune.
Soul Kamotion is made up of Chris Baptiste (Keys & MD), LaVon Rushing (guitar), Terrell Kimble (bass), and James Adkins (drums). These four gentlemen build a rock solid altar from which CeCe Teneal (daughter of International blues singer, Yvonne Jackson) offers her powerhouse, soul-stirring vocals to the universe.
"Rockstar" slows things down a bit, bringing a classic R&B vibe reminiscent of Gladys Knight and the Pips. A Motown sound coming straight from Central Florida is both surprising and refreshing. They bring the funk on "Danger," warning us to be on our best behavior. The addition of a great horn solo really makes it shine.
"What I'd Do to Get Your Love Back," is a Jim Payne song, originally recorded by CeCe's mom. It's also the first single released from #5or5000 and has a definite Aretha Franklin feel to it. Not surprising considering the Queen of Soul is CeCe's personal idol. This song is another one that demanded our attention, and had us reflecting on how nice it would be to get a certain someone's love back, if even for just one day.
The slinky funk continues on the Vasti Jackson penned, "Common Ordinary Housewife." Things get real slow and sexy with "Lonely (Even When You're Here)." Then things kick back up with "Work." This talented group slides from upbeat dance grooves to sexy belly-rubbers and back with ease.
"4 On the Floor" starts out slow, but jumps right on up to a James Brown like performance. The playful give and take in the vocals is truly magnificent, and the rock guitar is sharp as a razor.
Teneal's gospel infused vocals seem to get stronger as the record goes on. There's no slack, no weariness in her performance as the group takes on "I Betcha Come Back, " and the sultry "Alive." The album closer, "Home," is a slow building symphony of soul that left us homesick as well, and we never left.
A live album that sounds every bit as if it were recorded in a studio is a rare commodity. A band that sounds as good, or better, live as they do in a soundproof booth is even more infrequent. CeCe Teneal & Soul Kamotion have scored in both categories.
If you're a fan of Southern soul, jazzy blues, gospel-tinged funk, or just the kind of music that you can't help but move to, #5or5000 is your ticket to the show.
Artist: CeCe Teneal & Soul Kamotion
Title: #5or5000
Label: Iheart Cece
Release Date: June 22nd, 2018
Running Time: 52:21
*Feature image courtesy of the artist