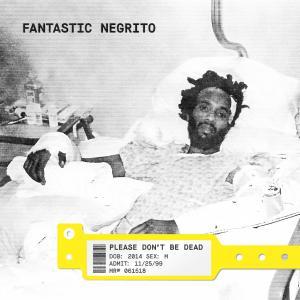 The nature of music reviewing is trying to categorize an artist. Comparisons help to give a sense of what an artist sounds like. Conversely, readers are often told that artists "sound like no one else," which is usually fairly unlikely, unless the artist is performing microtonal bluegrass using a car horn and the cries of a distressed owl. On Please Don't Be Dead, Fantastic Negrito has a unique sound, not because he sounds like no one else, but because of the way he adeptly fuses a variety of sounds and genres into breath-taking songs. And don't worry – no car horns or owls appear on the album.
Negrito won a Grammy for best contemporary blues album in 2017, and while his music has bluesy elements, it doesn't have a particularly bluesy sound. What it does have is an intimacy that will remind listeners of classic blues albums. The intimacy is all the more impressive given Negrito's production methods, which integrate modern recording techniques like loops. The album makes listeners feel like Negrito is performing right there in the room with them, which can be a challenging vibe to create when using technology to create music.
Raised in a conservative Muslim household, Negrito uses Arab-esque sounds on "A Boy Named Andrew," using a Middle Eastern riff to segue into a more traditional soul groove that climaxes into a sexy break that then returns to the Arabian motif. It's many of Negrito's influences nakedly and organically on display, making perfect sense to the listener because they make perfect sense to the artist.
There are other tributes on the album. Please Don't Be Dead begins with the hard-rocking "Plastic Hamburger," which sounds uncannily like a lost Chris Cornell track, complete with the huge drums and the driving vocals. Listeners might chalk it up to an aural mirage, but Negrito toured with Cornell, so perhaps it is an homage. Negrito brings nuance to the song, though, so rather than mindless hard rock, it's fleshed out with touches like comping organ and female backup singers.
"Bad Guys" rocks in a different way, sounding both like The Beatles' "Come Together" and Negrito's own "Working Poor," off of his debut, The Last Days of Oakland. One critical difference between "Bad Guys" and the other two songs is the way "Bad Guys" dissolves/resolves into a beautiful soulful chorus, which offsets the tight grooves and loops propelling the song.
Please Don't Be Dead brings plenty of blues to the table. "Transgender Biscuits" uses slide guitar over a drum and piano loop that's a hiccup of a beat that sounds almost like a washboard. The distorted vocals are as percussive, but the song is punctuated by moments of beautiful soul singing. "A Cold November Street" sounds like a lost Lead Belly song as performed by Screamin' Jay Hawkins. The song is powered by organ and tambourine accents and pulls the blues into the 21st century without losing the essence of the genre.
Please Don't Be Dead works because it sounds so natural. Every song sounds just how it should be, and while there are lots of modern production techniques and references ("Dark Windows" is what Radiohead might sound like if they had listened to more Al Green), there's also an underlying timelessness to the album. Negrito has created an album that is true to his voice, but will resonate with rock, blues, and soul fans.
*Featured Image is ©Albert Bravo Photography