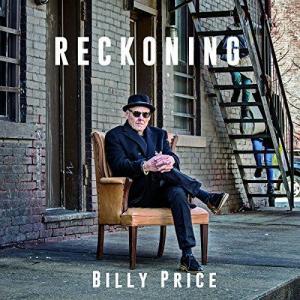 The newest offering from Billy Price, Reckoning, will be released via the VizzTone Label Group on June 15th. Produced by Christoffer "Kid" Andersen and recorded at his Greaseland Studios, it is Price's first release since Alive and Strange in 2017.
Price first attracted national attention in the mid-1970s during his three-year collaboration with blues guitarist Roy Buchanan. Since that time he's released no fewer that 15 albums, CDs, and DVDs. His efforts have won him a Pittsburgh Rock 'n Roll Legends induction as well as a Blues Music Award for his album This Time For Real with the late, great Otis Clay.
"My keyboard player Jimmy Britton wrote this song, and I loved it the first time I heard it," Price told us. "I especially thought it was cool that it had the same title as the Hitchcock movie 39 Steps. After we recorded the song, I mentioned to Jimmy that I loved the reference to Hitchcock, and he had no idea what I was talking about: it turned out that he was actually unfamiliar with the movie. He just figured that 39 was about the number of steps it would take to walk out on a bad relationship, and that was the number of steps that he used in the lyrics! I've been insisting to him that he must have been aware of the movie title at least subliminally when he was writing the song, but he swears it is just a weird coincidence."
We're proud to bring you the World Premiere of the song, "39 Steps," from Billy Price.
*Feature image David Aschkenas