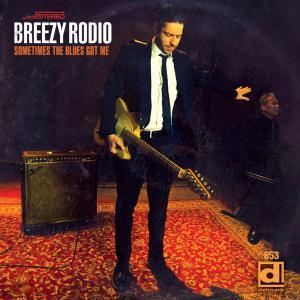 One of the hottest tickets coming out of Chicago these days is Breezy Rodio. Much like one of his idols, B.B. King, Rodio has been touring over 300 days per year for the last decade. He joined the Linsey Alexander Band in 2007, and in 2011 released his first solo blues album. Rodio's first release on Delmark Records is Sometimes the Blues Got Me, and it sure enough got us too.
Sometimes the Blues Got Me is seventeen tracks of true Chicago blues. Eleven of the songs are originals, and the six covers are ones we don't hear every day. It all kicks off with "Don't Look Now But I've Got the Blues" which King recorded in the late 1950s. His vocals through a high impedance mic, give them that old-timey RCA sound which we love.
The entire album has that retro vibe, paying homage to the spirit of the music and the elders who made it. Rodio's use of a four-piece horn section (Ian Letts, tenor sax; Constantine Alexander and Art Davis, trumpets; Ian "The Chief" McGarrie, saxophones) take us back to the old school as well.
"Don't Look Now But I've Got the Blues," isn't the only cover from King. Rodio also re-imagines "I Love You So," "Make Me Blue," and "Blues Stay Away From Me." Not your overly covered songs to be sure. Rodio also takes on Albert King's "Wrapped Up in Love Again," and the Chicago Blues All Stars' "Chicago is Loaded With the Blues," with Billy Branch guesting on the latter.
The rest of the musicians include Sumito "Ariyo" Ariyoshi on piano; Chris Foreman playing organ; Light Palone on both acoustic and electric bass; and Lorenzo Francocci on drums.
This incredible lineup recorded Sometimes the Blues Got Me live-on-the-floor at JoyRide Studio to get that vintage feel, and it really works for them. Rodio's guitar work is second to none, as he shows on "Wrapped Up in Love Again," the 40s sounding "I Walked Away," and "Let Me Tell You What's Up."
The horn section makes this a very jazzy blues record while keeping in the Windy City style. Rodio's original lyrics are to the point, and clever. No political statements here, just great blues music. "You Don't Drink Enough," quickly became one of our favorites with its shuffle beat and savvy lyrics.
"The Power of the Blues," kicks off with a killer, funky bass line and "A Cool Breeze in Hell," begins with some ice-pickin' guitar reminiscent of Albert Collins. One of those great instrumentals that get stuck in your head, "Cool Breeze" shows off some great ivory tickling via Ariyoshi as well.
Branch, with his harp and vocals, appear on "Doctor From the Hood." A 12-bar delight, it gets our tip-of-the-hat for favorite song on the record. The only song that seems a bit different is "Fall in British Columbia." Not that it's a bad song by any means, but its 50s pop standard sound just seems a little out of place.
All in all, Sometimes the Blues Got Me is a substantial album. No one can ever say Bob Koester doesn't know his stuff when it comes to blues and jazz. Picking Breezy Rodio for the Delmark label was another genius move in our opinion. Chicago blues fans, there is some new blood town, and you're gonna like it.
Artist: Breezy Rodio
Title: Sometimes the Blues Got Me
Label: Delmark Records
Release Date: February 16th, 2018
Running Time: 1:05:56
*Feature image courtesy of Blind Raccoon Promotions