Louisiana born singer/songwriter Tony Joe White died suddenly Wednesday afternoon at his home in Leiper's Fork, Tennessee. He was 75. White's death was confirmed in a statement from his son Jody White, ""He wasn't ill at all, He just had a heart attack. There was no pain or suffering."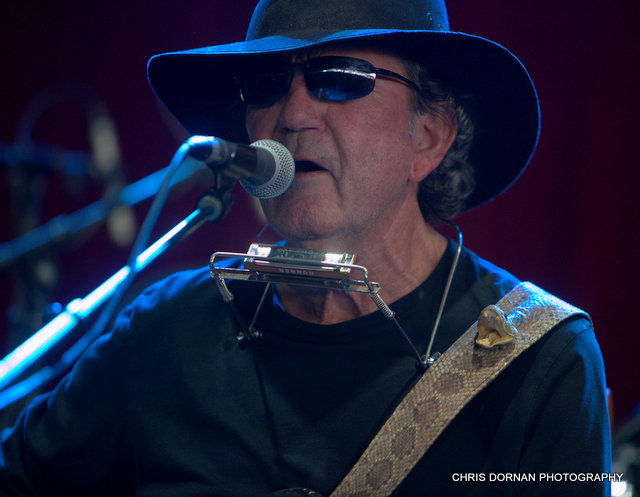 Born July 23rd, 1943, White grew up on a cotton farm, the youngest of seven children. He began his music career by playing at school dances, then after graduating high school, he began performing in night clubs in Louisiana, Texas and Georgia.
His initial recording contract was with Monument Records in 1967. His first, and arguably most successful hit song came two years later with "Polk Salad Annie." Around that same time, the White-penned "Rainy Night in Georgia" became a hit for Brook Benton.
From his first album, Black and White, to his final release Bad Mouthin' released just a month ago, White put out over 40 albums in a 50 year musical journey. Above and beyond his skill as a simple artist who was happiest with just his '65 Strat, harmonica and drummer Bryan "Fleetwood Cadillac" Owings, White was a songwriter of the highest caliber. His original songs were covered by dozens of artists including Elvis Presley and Dusty Springfield. He also wrote songs for Tina Turner, Joe Cocker, Waylon Jennings, Levon Helm, Etta James, and Isaac Hayes to name just a few.
We recently had the opportunity to speak with Tony Joe who regaled us with tales of growing up poor, writing his first songs, being part of Jerry Lee Lewis' Southern Roots album, recording with Lightnin' Hopkins and more. He also told us that the earliest influences in his musical life were Hopkins, John Lee Hooker, Charley Patton, Jimmy Reed and others. White was a bare bones blues man at heart.
One of the greatest stories he told was about his friend Waylon Jennings, and a particular guitar.
I have a 1958 Strat put up in a safe. It's in great condition, but it's just too valuable to travel with. I was living in Memphis some time back. Waylon and Jessi drove up. Him and I had been doing a few gigs together, and writing a bit. Waylon said, 'You like them Strats don't ya?' and I said 'Yeah.' He said, 'I really hate Strats. I'll stick with my old Gibson and my Telecaster. But come out here to the car, I've got something in the trunk I wanna show ya.' He opened up the trunk of that Cadillac and there laid a tweed case. He said, 'Get that out of my car, it's yours.' I asked, 'Well what is it?' and he said, 'It's a 1958 Strat that my cousin found out in Phoenix under my Aunt's bed.'

I opened up that case and that thing was clean as a bit. I said, 'You can't give this to me, I know what they're worth now.' Waylon said, 'I'll tell you what. If you don't get it out of my car, I'm gonna put it under the front wheel and run over it.' I tried for years to find something to give him that was worth even half of that, but never could do it. We were always just real tight friends.
That's Tony Joe White in a nutshell. A simple man, a blues man, a story-teller of the highest order. His gravelly, baritone voice, yarn-weaving writing style and minimalist approach to music will be sorely missed.
"I've hit a lot of their licks on my guitar over the years, especially Lightnin' Hopkins," White said. "But I sung it the way I felt. Just my voice, harmonica and an old guitar. I feel real good on it."
White is survived by his wife, Leann; children Michelle, Jim Bob and Jody; and several grandchildren. Funeral arrangements have not been finalized.
*Feature image Joshua Black Wilkins