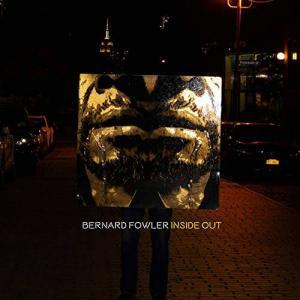 An impromptu jam session during a Rolling Stones sound check led to the upcoming album, Inside Out by longtime collaborator/vocalist Bernard Fowler. Think back to the pre-hip-hop work of Gil Scott-Heron and you'll start to get a feel for what Fowler has done; taking classic Stones tracks, including some deep cuts, and re-imagining them for a new audience.
Fowler has worked with the Stones for over three decades, so he knows a little something about the music. That's not, however, where his talents stop. He's also appeared on hundreds of albums for artists as diverse as Herbie Hancock, Rod Stewart, Red Hot Chili Peppers, Alice Cooper, Bootsy Collins, and many more. With Inside Out, Fowler focuses solely on the music of the "world's greatest rock and roll band."
It all begins with "Tie You Up." Backed with nothing more than congas and various percussion instruments, the opener would be right at home at a Greenwich Village coffee shop, or in a late 80s Spike Lee film. Fowler takes the sheer poetry of Rolling Stones lyrics and throws them into the wind; his passion and artistry on full display. One doesn't listen to this version as much as feels it.
Jim Morrison was a poet, turned rock star, with the addition of his band, the Doors. Fowler has reversed that cycle, taking great rock and roll music and projecting the words of Mick Jagger and Keith Richards to the forefront.
"Dancing With Mr. D," comes in with even more funk than the Goats Head Soup original. We still couldn't figure out if it was Ol' Scratch himself, or one of his lower-level demons we were dealing with, but there is a musical voodoo influence that can't be ignored.
Darryl Jones, Steve Jordan, Ray Parker, Jr. and many other luminaries add some remarkable grooves throughout the album, and backing vocals that haunt.
One of the few songs that the Stones recorded dealing with political agendas was 1983's "Undercover of the Night." This time it begins with a Spanish novella type clip, where you just know the heroine won't make it out alive. All bets are off after that as Fowler conveys with the sing-song, slam poet style of the late Dr. Derrick "D-Knowledge" Gilbert. We can only assume that D-Knowledge provided some major influence on the way Fowler delivers throughout Inside Out.
"Time Waits for No One," begins with a Pink Floyd-esque tic-toc, alarm, but the similarity ends there. Lots of powerful backing shouts grabbed our attention and wouldn't let go. "Sister Morphine," was removed from its acoustic origins and given a full-on jazz makeover. Most of the rock 'n roll music of "All the Way Down," remains in tact on Fowler's imagining, but his trademark poetic delivery is slower, and make the lyrics more understandable than the original.
The political insights continue with another track from Undercover, "Must Be Hell." The tribal beats are a pleasing backdrop for the great jazz sax accompaniment along with Fowler's vocals. "Sympathy for the Devil," doesn't veer far from the original musical score, including the backing vocals. The original song is recognized by Rolling Stone magazine as one of the greatest of all time, so we didn't expect too much alteration. Fowler's Papa Midnight, voodoo delivery, and the addition of some very nice freestyle jazz piano do make it unique.
Inside Out winds up with another conveyance of "Dancing with Mr. D," this time done in the stripped down percussive style as "Tie You Up." A fine way to end, so that once play is hit again – and trust us, it was hit again – the two songs meld with near perfection.
What do the Stones think about it? Mick shared, "Bernard, I've heard Rolling Stones songs played in many different ways but I've never heard it like this before." Keith's response to a taste played for him was more to the point. "Damn, Fowler, you went deep…" he said.
There are mainly two types of Rolling Stones fans. Those who don't believe the music should be muddled with, as if by doing so someone is leaving fingerprints on the holy grail, and those, like us, who remember that they started out by covering American blues and soul music. If anyone has the right, the talent, and the wherewithal to re-visualize Rolling Stones music, it's Bernard Fowler, and if there ever was time to do so, it's now.
Fowler will be on the road supporting Inside Out alongside the Bowie Celebration tour and the Rolling Stones' No Filter tour this spring.
Artist: Bernard Fowler
Title: Inside Out
Label: Rhyme & Reason Records
Release Date: April 19th, 2019
Running Time: 44:01
*Feature image courtesy of Howlin' Wuelf Media