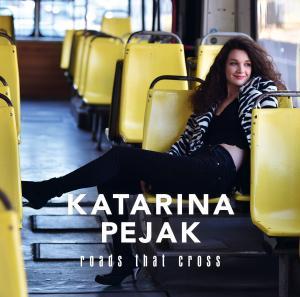 Despite complaints to the contrary, music does evolve. Even something as seemingly staid as the blues has changed over time. While there always have been blues women, we're seeing a new crop of female artists, many from outside of the United States, who have given the blues a more polished, pretty shine. Singer/keyboardist Katarina Pejak continues that musical evolution on Roads That Cross.
Pejak has a beautiful voice, with a hint of smoke and a nice bit of roughness to it. However, it's not a traditional blues voice. But Pejak's not playing traditional blues music. Instead, the album's eleven tracks are her take on the genre, which is sometimes straight-ahead piano blues, but sometimes moves into rock, jazz, and even pop.
Her path to the blues is interesting, beginning in Belgrade, Serbia, where she made three albums, before coming to the United States. She studied at the Berklee College of Music, and now splits her time between Nashville and Belgrade but recorded Roads in Texas. One begins to see how the various locations might impact her perspective on the blues.
The album's bluesiest moment is "Turtle Blues," a Janis Joplin cover. Pejak's piano is a bit more upfront in the mix, but otherwise it's musically comparable to the original. However, Pejak has a sweeter voice than Joplin and this track presents an excellent example of Pejak's view of the blues. Joplin borrowed a certain amount of abandon from the blues. She wasn't trying to craft a pristine performance, so much as she was trying to channel her darkness. Pejak's performances are less about her personal darkness and more about creating lovely moments. One approach isn't better or more artistically sound than the other. Both artists are just making choices.
Pejak also covers a number of blues-adjacent styles. "Nature of the Blues," the album's lead-off track, is a 60s surf-inspired song, with vocals that purr and funky electric piano from another era. It's a wonderful ear worm. "Cool Drifter" is similarly poppy, like a great Motown track, without the layers of production. It also has same kind of melody that will follow you around all day, and a world-weary vocal delivery that will feel familiar to any blues fan.
The album is impeccably produced by blues singer/guitarist Mike Zito. He gives Pejak lots of sonic space to highlight her talents. He joins her on "Moonlight Rider," providing some gentle, lyrical slide guitar and complementing her subtle organ work. Laura Chavez handles the rest of the album's guitar duties, doing an impressive job herself, especially in her "Turtle Blues" solo.
Artists like Giulia Millanta, Dana Fuchs, and Ina Forsman are doing very interesting work softening the edges of the blues, making it less about the raw emotion of performances, and more about the allure of them. Pejak does a great job on the beauty, through her singing, but also through her melodies.
This isn't traditional blues, but there are blues-inspired echoes in much of the work of this album. Hardcore Howlin' Wolf lovers might not necessarily gravitate toward an album like this, but it's worth a spin if you're both a fan of the Wolf and love exceptionally pretty choruses, perhaps not taken directly from the blues, but certainly influenced by it.
Artist: Katarina Pejak
Title: Roads That Cross
Label: Ruf Records
Release Date: February 15th, 2019
Running Time: 43:14
*Feature image Ivana Catura