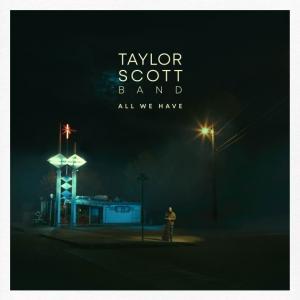 The Taylor Scott Band announces a March 1st release date for their new CD, All We Have. Produced by Steve Berlin of Los Lobos, All We Have showcases the band's exciting mix of rock, funk, soul and blues music that has made them fan-favorites not only in their Denver, Colorado, home base, but around the world, as well. The album includes a special guest appearance by guitarist Henry Garza of Los Lonely Boys.
The album's even-dozen tracks feature 11 originals penned by Taylor Scott, plus a scintillating cover of Sleater-Kinney's "Good Things." Besides Scott on guitar and vocals, the band includes Jon Wirtz (keyboards, harmony vocals); Chris Harris (bass); and Lem Williams (drums); augmented by a horn section percussion, harmonica and backing vocals.
"When Steve Berlin and I started working on pre-production for this record, our approach was to pick the best songs I had written up to that point and start there," Scott recalls about the recording sessions. "Steve didn't ask me to change much about what I had written. He did, though, ask me to write a chorus to a song called 'Clearance Bin,' which didn't have a proper one before. Somehow, the first words I thought of ended up being the mantra of the entire album: 'The day-to-day is all we have, I'll trade it for a song and laugh, the things I want weren't meant to last anyway.' After getting the nod from Steve, I realized that one way or another, every song on the album was about that message in some way. Even songs that I had written years before carried that theme somehow, however subtle or cryptic. That realization alone gave this project a new meaning and helped me to find a voice that had previously proven elusive."
Besides the sheer exhilaration of recording a new album with his bandmates, Scott got an extra buzz from working with Berlin and Henry Garza. "Working with Steve for the first time was an honor and a creative thrill," he declares. "He brought our sound together in a new way and had the wisdom to understand where we were coming from AND where we were heading.
"It was also a highlight of my life to work with Henry Garza of Los Lonely Boys on the record. His group was my first rock concert as a kid and an enormous influence on me as a developing musician. Playing together in the studio was a dream come true for me. During this project, these new experiences were coupled with what I've always held dear and striven for; to tell a story and make honest, meaningful music with my exceptionally talented friends. This time, it all came together. That's what this album, All We Have, means to me."
Scott is an international touring guitarist and singer/songwriter. He has consistently toured all over the US, Canada, and Europe with both the Taylor Scott Band and trance-blues legend Otis Taylor.  In 2015, he played alongside Warren Haynes (Allman Brothers Band, Gov't Mule) on Otis' critically acclaimed release, Hey Joe Opus: Red Meat.
*Feature image of Taylor Scott & Henry Garza: Alan Westman