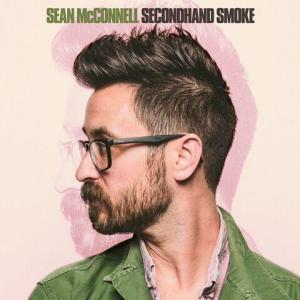 Singer/songwriter Sean McConnell's new album Secondhand Smoke was released today (February 8, 2019) via Big Picnic Records. Produced, recorded and written by McConnell in his Nashville home studio, Secondhand Smoke is a striking intimate portrait of life's intricacies.
"These are stories that people are familiar with," says McConnell, "and they steer the ship in a certain direction, then leave you off at this ocean of possibilities that we didn't plan on the story taking us."
McConnell has a way of taking familiar stories––often with biblical roots––and revealing what they say about all of us now. In Sean's hands, tales that once felt specific, or even narrow and unapproachably religious, unfold into universal longing and exchanges that feel like they were pulled yesterday from our own backyards.
A long renowned wordsmith, hundreds of thousands deep have turned to McConnell for that kind of musical exploration for almost 20 years. Tim McGraw, Martina McBride, Brad Paisley, Rascal Flatts, Meat Loaf, David Nail, Brothers Osborne, Buddy Miller, Plain White T's and many more have all recorded his songs––a dizzying list that spans not just styles, but generations.
Recently, he earned his first No. 1 single on country charts with breakout artist Brett Young's delivery of "Mercy," which the two co-wrote. As a performer, Sean McConnell has the keen ability of drawing in his audience. His sound––a stunning warm tenor painting vivid stories over acoustic guitar often cushioned by keys or other strings––has prompted a diverse range of music scenes from the storied Boston folk community to Texas's defiantly self-sovereign camp to warmly claim McConnell as one of their own.
Following the release of Secondhand Smoke, McConnell kicks off his U.S. headlining tour on March 7th, in Carrboro, North Carolina. The 20+ city tour includes stops in Richmond, New York, Philadelphia, Cleveland, Chicago, Dallas and wraps in Nashville. McConnell also recently announced dates with Needtobreathe. On Friday, April 26th, McConnell takes the stage at this year's Merlefest in Wilkesboro, NC.
*Feature image Joshua Black Wilkins