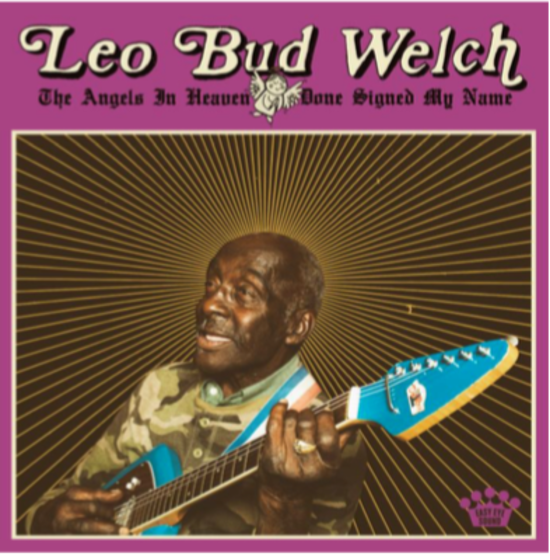 The final effort from legendary bluesman Leo "Bud" Welch, The Angels in Heaven Have Done Signed My Name, is due out March 8, 2019 via Dan Auerbach's label, Easy Eye Sound. The ten-song posthumous album draws from the 25-30 songs that were recorded at Auerbach's studio in Nashville with his band The Arcs, and offers a dynamic showcase of Welch's gifts.
"Working with Bud was a true blessing and I'll never forget it," Auerbach shared. "Bud taught us the songs that he'd been playing since he was a kid. He was so soulful. When he sang, you listened. And his guitar playing was steady as a rock." The Angels in Heaven Have Done Signed My Name is available for pre-order on all formats here. here.
Welch was born in Sabougla, Mississippi in 1932, and was taught to play blues guitar on a homemade one-string "wall" guitar. He began playing gospel music at Sabougla Missionary Baptist Church services when he was 13; six years later, he moved two dozen miles away to Bruce, a tiny town about 50 miles southwest of Tupelo. He would live and work in Bruce while playing at churches, earning a reputation for performing for hours, even through weeklong revivals, without repeating a song. The gospel-and-blues dynamic would eventually define him, both in terms of music and his life. Beginning in the '50s he often sat in with blues acts at Bruce's renowned juke joint, the Blue Angel Ballroom, opening for legends like B.B. King, Howlin' Wolf, Elmore James, and John Lee Hooker. At one point King invited Welch to come to Memphis and audition to play in his band. Welch, however, didn't have the money to get a hotel room so he never went,because King refused to pay for the trip.
Welch released his first two albums on Fat Possum Records, which had previously released early albums by the Black Keys. Auerbach's and Welch's connection to the label sowed the seeds for this collaboration: Fat Possum's owner, Bruce Watson, was the one who made Auerbach aware of the bluesman.
Welch's official recording debut, 2014's Sabougla Voices, featured gospel songs he had learned, or written, or improvised. 2015's I Don't Prefer No Blues, for Fat Possum's Big Legal Mess imprint, got its title from something one of Welch's preachers said because he was displeased that Welch was recording blues songs. Both albums succeeded in capturing the artist's magnetic voice and incomparable style, and opened the door to his new career as a professional touring musician. Suddenly the 80-something-year-old, who had never left Mississippi, found himself driving around the country on tours, flying for the first time, and performing on festival stages across nearly 40 countries.
Welch's amazing life was chronicled in the documentary Late Blossom Blues, which was released in the spring of 2018. Directed by Wolfgang Pfoser-Almer, the full-length film won the Audience Award at the Naples International Film Festival, the Board of Directors Award at the North Carolina Film Awards, and was named Best Music Documentary 2017 at the NEO Film Festival.
The Angels in Heaven Done Signed My Name serves to only further enrich Welch's legacy. It resonates with the music, and the life, of one of the last real bluesmen. You can hear it in his scorched-oak singing, in his from-the-gut guitar playing, and his own, personal way of bringing gospel and the blues together. "I Want To Be At The Meeting," is such a track, and we think you'll enjoy it as much as we do.
*Feature image courtesy of Conqueroo Music Publicity