Canadian bluesman Harpdog Brown is an interesting cat to say the least. He took the Chicago blues down to New Orleans for a party and his music is the result. It's not quite like anything we've heard, and made us want to crank the volume on his upcoming release For Love & Money so the neighbors could enjoy it too!
Harpdog (yes, that's his real name), has been in the game for nearly four decades. His vintage, uptown sound has garnered him the Muddy Award for Best North West Blues Release, from the Cascade Blues Association in Portland. He is still the only Canadian to win it. He also won back-to-back-to-back Maple Blues Awards for Harmonica Player of the Year.
With For Love & Money poised for release on April 26th, we took the opportunity to chat with him about it, some of his history, his band, and some issues the he and hundreds more artists are currently facing.
JD Nash for American Blues Scene:
Valentine's Day is a good day to talk about For Love & Money.
Harpdog Brown:
I've said it before, I'll say it again, without love money is useless.
This is the new album, coming out April 26th on Doghouse Records. Is that your own label?
Yes it is. My independent label, yeah.
And how long have you been at work on this?
I got the idea of going in this direction about a year ago. It started falling into place around the summer of 2018. I started working with these young horn players, and touring with them, and foreseeing to cut an album this way. It was New Year's Eve '17 going into '18 is when we did our first show together with these young fellas in the brass and reed department.
I took a listen to Travelin' With the Blues, but this takes on a whole different vibe.
Color. Shade of Brown. Yeah. It's funny because I've been in this racket now for 39 years, since I made the decision to join the circus life. My first band I put together in 1980. With brass, reeds and piano, and now I've come full circle. All my life I was forced to be a bandleader. Nobody was hiring harmonica players that could sing. So in order to pursue my calling, I was forced to put a band together, become a front man and a band leader just so I could hire myself as a harmonica player. I still blame James Cotton. I caught James when I was 17, and that was the turning point. I jokingly say he ruined my life. I could have been an accountant.

I never once wanted to be the frontman/singer. I never wanted to be the boss and the leader. But it took that for me to do what I really wanted to do. From time to time I had the opportunities to lay back, fill in the holes, and be somebody's harp bitch. A little over a year ago I was in Westmont, Illinois on Muddy Waters' birthday, about four blocks from Muddy's old house. We played on his 105th birthday and Willie Buck showed up for the first set, and sat in for the majority of the second set. That was the last time I really got the chance to be like Muddy's harp player, which is what I wanted to do all my life.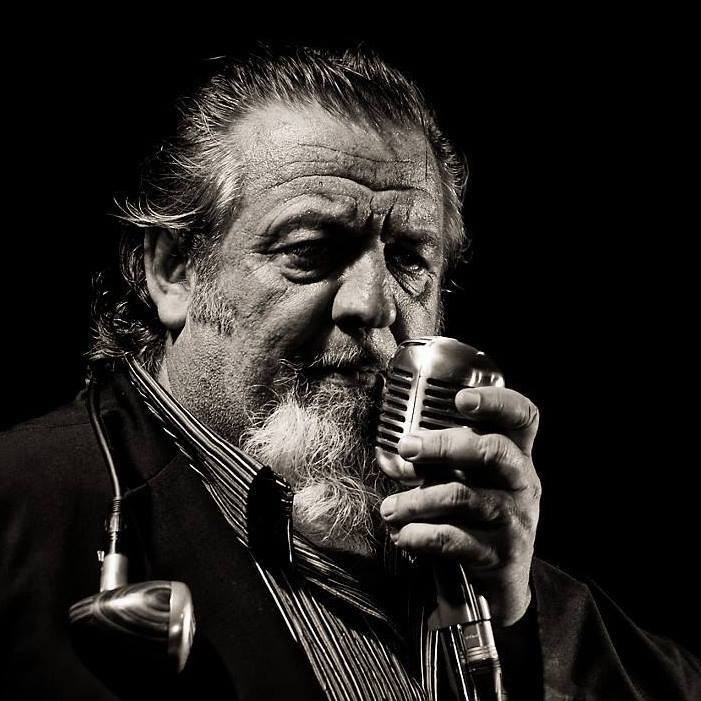 You said this album took you full circle. Was that a conscious decision?
All my life as a sensible, responsible bandleader, I look to who is on my ship. I look at the strengths and then build accordingly. I had a sax player in the first band, and that ran about two years. Then we changed the whole thing over, going with gut-bucket bass and no extra horns. That was a conscious decision because I realized how limited I was on harmonica because I was leaning on this great sax player. If I took him out of the element it would force me to become more interesting, and it worked. It also got me into the traditional Chicago blues, and those were the records I really sank my teeth into first. I also never really had a guitar player that could play that over-the-top, yet understated guitar that was so much a part of the classic Chicago blues sound. Long story not so long, I identify the strengths, I know my own weaknesses, and I  build accordingly.

These two young fellas (William Joseph Abbott and Skye Lambourne) were, I think, 22 when they started showing up at this Eastside dive bar that we play when we're in town. These two kids started showing up and asked if they could sit in. Of course I welcomed them, figuring they can't break this, so jump on in. When I heard them play, my jaw was agape that these two young dudes were playing in old school language. I found out later that when they were 17 they took it upon themselves to drive from Vancouver to New Orleans to learn how to play their instruments properly. They're not schooled by books and teachers. They're schooled by life and mentors.
You've been receiving awards and recognition throughout your career. That has to feel good.
I'm not religious, but I'll bring up a story from the bible. Even Jesus had to hit the road. The stranger in your own hometown? Yeah, nobody bought his shit either. He had to take it to the cities, and to the people. That's what I try to do too. Music is my vehicle, but people is the business I'm in. If there are people, I'm interested.
Of the music on For Love & Money, you wrote some of the music, and chose some interesting covers. Was choosing those specific covers a process of finding music that fell in line with the color of the album?
Yeah, kinda. The core of the band are the guys I toured with and still do. For me, I tried to choose songs that would lay out for a nice little journey. In my world, when I started listening to music, it was on LPs, not singles. I just turned 57, so technically I'm a teenager in the blues. There were 45s that you could buy, but I was buying more LPs. My first independent CD came out in 1992, and I looked at it like a one hour set that would just flow. For this album I picked the covers for one – the dynamic of the band, and two – the songs that we already owned. I also didn't want to do a cover that's already been done a lot. I like to educate people on music that they may not even know they like.
One that really caught my attention was "Buzzard Luck." I mean, talk about a deep Wynonie Harris track. The way you perform it is interesting as well. That meld of the Chess Records sound with that of Sun Records. It just seemed like a natural fit.
I'm a firm believer that the universe is in charge, and I just need to pay attention. I always seem to be in the right place at the right time, and even when it's the wrong place, it could have been so much more wrong. It was like when I hit that ditch in South Dakota. It could have been so much worse.
Wait, you hit a ditch?
Yeah, it really made me rethink my Superman persona and take stock of what I was doing as far as extended drives, nutrition, and sleep. I was only out for about two weeks even though I fractured my sternum on the steering wheel. I still clock about 40,000 miles a year, and from time to time I'll see a ditch and think, man, there's one I'm glad I didn't hit. I'm in the service industry and I'm gonna be serving these people until I get done with what the universe has deemed I'm here to do.
What number album is For Love & Money in your career?
Technically if we count CDs, I did my first one in 1992 called 'Beware of Dog.'  Then in 1994 I released 'Home is Where the Harp Is,' and that's the one that won the Muddy Award. I did a few things that I never really released, so they don't really qualify. I did a live album in 2000. Then in 2014 I did 'What It Is,' then in 2016 'Travelin' Blues.' So technically I'd say this is my fourth official release.
If there were one thing about For Love & Money that's not in the liner notes, that you would want potential buyers to know up front, what would that be?
It all boils down to one three-letter word – fun. It's the most fun I've had in the whole 39 years I've had in this career. Not just musically, but spiritually as well. The guys I work with, there's never been any drama. It's always been comedy. Not always well written mind you, but the cast is right. We always try to be funny at least. It's much better than fussin' and fightin' and all that shit. Ultimately I'm a fun carrier. I arrive having a good time, and on a good night, I'll leave with more than I came with.
I understand that you did have some negativity thrown your way, like dozens of other artists, with what went down with PledgeMusic.
In 2016 we went with some kind of crowd funding site, and let me tell you, I hated that. I hated to have to ask. I told my manager I never want to do that again. So then this PledgeMusic shows up. It was seemingly run by musicians, for musicians. They would track and report the pre-sales, so that beginning on the first day of release we could have some chart impact. It sounded really good. They'd collect the money, take their little slice and hand the rest off to the artists.

About a month ago, my manager saw a post from an artist saying he wasn't able to get his money from PledgeMusic. Apparently they had taken all the money they'd collected on behalf of all these artists and invested it into the growth of their own company. So, we may never get the $2,500 or so that was sent by our fans, but we will of course fulfill our obligation to those fans.

So we jumped ship and moved everything over to Bandcamp. It's a similar kind of site, but seemingly more trustworthy. We moved our campaign there and fans can still pre-order vinyl, CD, etc. and they get tracked and charted. Thankfully Ken was on top of things. He's an amazing manager and I question if I truly deserve him.
For Love & Money by Harpdog Brown is available for pre-order on their Bandcamp site here.