Detroit blues diva Eliza Neals first flew squarely into our radar four years ago with Breaking and Entering. Appropriately titled, it broke right into our hearts and entered our constant play rotation. Two years later she perfected the gothic blues sound by taking us 10,000 Feet Below. On last year's single, "Love Dr. Love," the Queen of Motown Mojo took us on a trip to the dark side of the Crescent City with glorious results.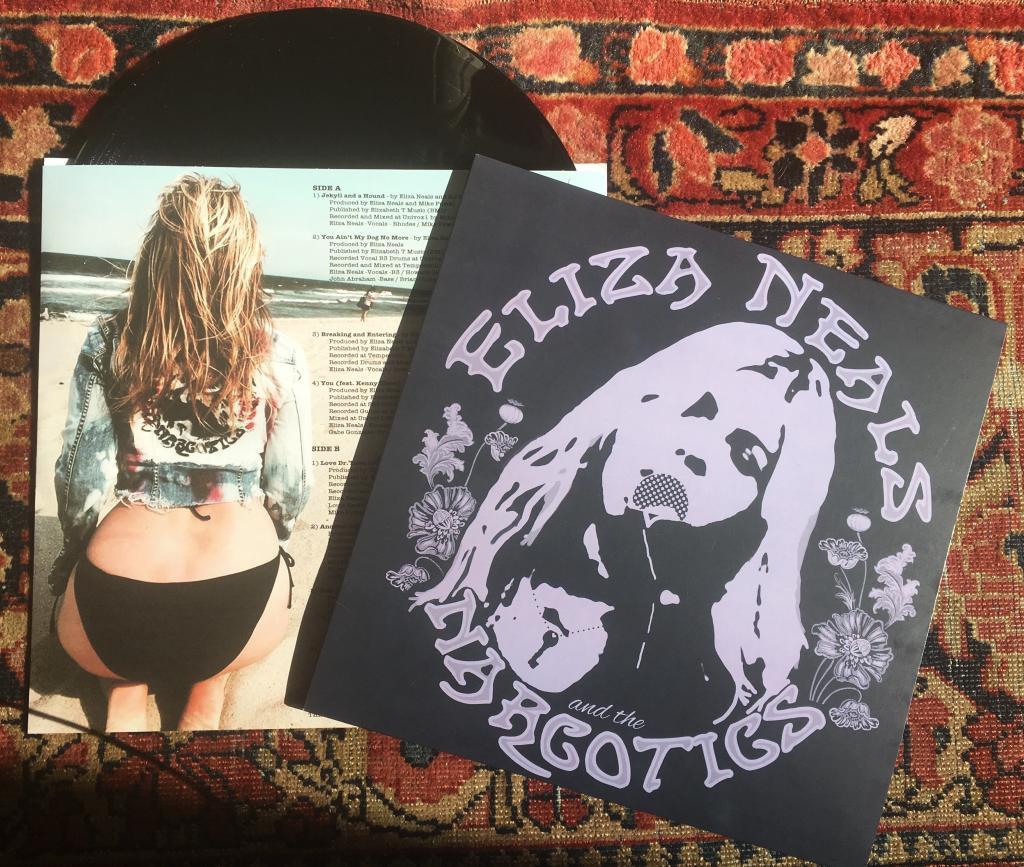 Now Neals has hand-selected eight of the finest tracks from those releases and graciously offers them on the limited edition, 180-gram vinyl LP, Eliza Neals and the Narcotics.
Mentored by Motown Master Barrett Strong, Neals has taken the soul-rock-blues world by storm. Her operatically trained voice, combined with stellar writing and instrumental skills have sent her skyrocketing into the musical stratosphere. One example of which is when Tony Colter of SiriusXM handpicked her for inclusion on BB King's Bluesville, remarking that Eliza Neals and the Narcotics is "the fastest album entered into the rotation."
It all kicks off with "Jeckyl and a Hound," a gritty, turbulent piece from Breaking and Entering. This is one of the songs that first drew Neals into our sights, and we've been zeroed in ever since. The second course is "You Ain't My Dog No More," from 10,000 Feet Below. Eliza's scowling intro vocals are on par with some of the great blues intros in history. Think Otis Rush' "I Can't Quit You Baby," or Koko Taylor's "I'm a Woman." If they don't send chills right down your spine, you're probably already dead.
"Breaking and Entering" is the third track. This seven-minute, gut-bucket song has everything you bad girls (and boys) need. Indie or not, this is true blues. Side A concludes with "You." A more light and airy song, "You" is complemented by backing vocals from Renee Flemings and Lizz Williams, and some sweet rock guitar via Kenny Olson. Olson, you may remember is a founding member of Kid Rock's Twisted Brown Trucker Band, but has also made several laps with the Experience Hendrix Tour as well as collaborating with artists including Aerosmith, Billy Gibbons, Buddy Guy, Sheryl Crow, Faith Evans, and Les Paul.
Eliza Neals and the Narcotics has a wagon-load of award winning artists included. A few Grammy Award and Academy award winning musicians, with one Rock n Roll Hall of Fame musician bring their talents to this collection of Neal's favorites.
Side B begins with her latest single, "Love Dr. Love." A departure from her blues-rock sound, "Love Dr. Love" combines NOLA funk, Motown soul, seductive vocals and an all-star cast to create a cocktail more potent than a Mardi Gras hurricane.
Track 2 is "Another Lifetime," from 10,000 Feet Below. Swarthy, dark, and succulent, it's a love song bred from the depths. You know the kind. On the dance floor swaying to the groove with sweat dripping. Neals follows with "Cold, Cold Night." It takes a moment to recognize the true blues in this song, but trust when we say, keep listening. If anyone knows the blues it's Paul Nelson (Johnny Winter, Joe Louis Walker, James Montgomery, etc) who adds his uber-talented guitar to this slow burner.
The final track is "At the Crossroads." A simple song with only Neals on vocals and piano, and special guest Billy Davis on guitar. The music stays relatively soft throughout, however Eliza's vocals soar to near unimaginable heights. The addition of some well placed echo add to the haunting effect of the song.
Eliza Neals and the Narcotics was released on March 3rd, and is available at the links below. If you're not familiar with this Motor City powerhouse, then let this be your introduction. Eight of her personal favorites, re-mastered for vinyl make for a breathtaking offering for audiophiles and casual listeners alike.
https://squareup.com/market/eliza-neals/item/eliza-neals-and-the-narcotics
https://www.amazon.com/dp/B07P86HM3R/
*Feature Image John Bull