When producer/musician Mike Zito and Guy Hale founded Gulf Coast Records, Tony Campanella was exactly the type of musician they wanted to sign. Zito has known Tony for almost thirty years. A veteran rockin' blues artist from the St. Louis area, Campanella has been playing regularly for over twenty-five years, making a name for himself as one of the best guitarists in the city. Now his debut album on Gulf Coast Records is Taking it to the Street.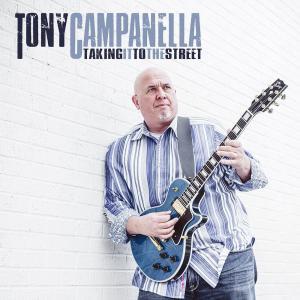 Tony learned from the local greats: Tommy Bankhead, Marcel Strong, Big George Brock, Lonnie Johnson, Henry Townsend, Benny Smith, and many others. Life experiences have given Tony a whole new sense of purpose to his playing and a spark he felt when he was just a kid learning to play the guitar. For a long time. St. Louis has known what a rare commodity it has in Tony but now the Lou shares him with the world.
Taking it to the Street kicks off with the title track. It's a heavy-duty blues/rock song with a heavy 70s vibe. Campanella's searing guitar takes control from the outset, and remains in the forefront, above the distorted vocals and the screwed tight rhythm section made up of Terry Dry, Bass Guitar; Matt Johnson, Drums; Lewis Stephens, Piano, Organ, Wurlitzer; and Mike Zito, Rhythm Guitar/Slide Guitar.
Campanella is a virtuoso-level guitarist with a big, full, baritone voice the demands attention. His cover of "Checking on My Baby," is every bit the Chicago blues shuffle we expect and then some. "Finger on the Trigger," leans more back to the rock vibe, much as stand-out guitarists before him have adapted the classics. His Gary Moore influence comes shining through, although not quite as much as it does on "One Foot in the Blues." With that title we expected a bit of ZZ Top-ish playing, but what we hear is full on, slow drag, soul piercing blues the way Moore would have done.
Make no mistake, we're not calling Campanella the next Gary Moore. He is without a doubt the original Tony Campanella. However, when you can hear the influence of greats like this, they must be acknowledged.
Tony throws a whole batch of gritty funk onto "Good Morning Little Schoolgirl," making the song that dates back to the 30s as rocking as can be in 2019. Blues/rock aficionados are going to love this take. Our personal opinion is that they'll warm right up to Campanella's imagining of "Mr. Cleanhead," as well. The jazzy sax of Eddie Vinson is replaced with killer guitar on another slow, sexy drag that created an ear-worm that we're still hearing.
There are shuffles aplenty with "My Motors Running," and "Pack it Up," and another slow, Chicago flavored offering with "Those Are the Times." The album ends with the uber-funky "You Don't Know." However, our personal favorite comes in the form of "Texas Chainsaw."
"Chainsaw" is a swampy, ominous song that puts Campanella in a very shadowy place. A crawling, dark guitar laden track, it puts Tony's vocals in a growling, gothic locale. Imagine, if you will, the sound of a wind-swept Texas graveyard behind a story teller with the voice of a cold=starting Mac truck. Just awesome. Like early ZZ Top on quaaludes, Zito's slide adds the perfect touch. When Campanella growls, "I'm gonna take this shit back to St. Louis," we believe him, and Mound City should ready itself.
Campanella will be bringing Taking it to the Street to a CD release party at The Duck Room on Blueberry Hill in St. Louis on Friday, April 19th, with label-mates and fellow St. Louisans, Odds Lane.  If you have the opportunity to catch this show, do it. We have a feeling that Tony Campanella is going to be playing a LOT of other places in the near future and the good people of The Lou may not see him in their own hometown quite as often.
As for Taking it to the Street, while blues purists may poo-poo the effort, we think it's a blues/rock album that will get played many times over in the collections of those who appreciate the modern genre.
Artist: Tony Campanella
Title: Taking it to the Street
Label: Gulf Coast Records
Release Date: April 19th, 2019
Running Time: 48:48