Formed in 2013, The Corey Dennison Band has become a favorite attraction at Chicago blues venues. Led by Dennison's soulful voice and muscular guitar, the band released its self-titled studio debut for the legendary Delmark Records in 2016. Corey has shared the stage with The Kinsey Report, Robert Blaine, Chico Banks, The Steepwater Band, Jimmy Johnson, Robert Randolph, Derek Trucks, John Mayer, Gerry Hundt, Nick Moss, Lurrie Bell, Carlos Johnson and the Buddah of Bass, Mr. Bill Dickens, and Buddy Guy.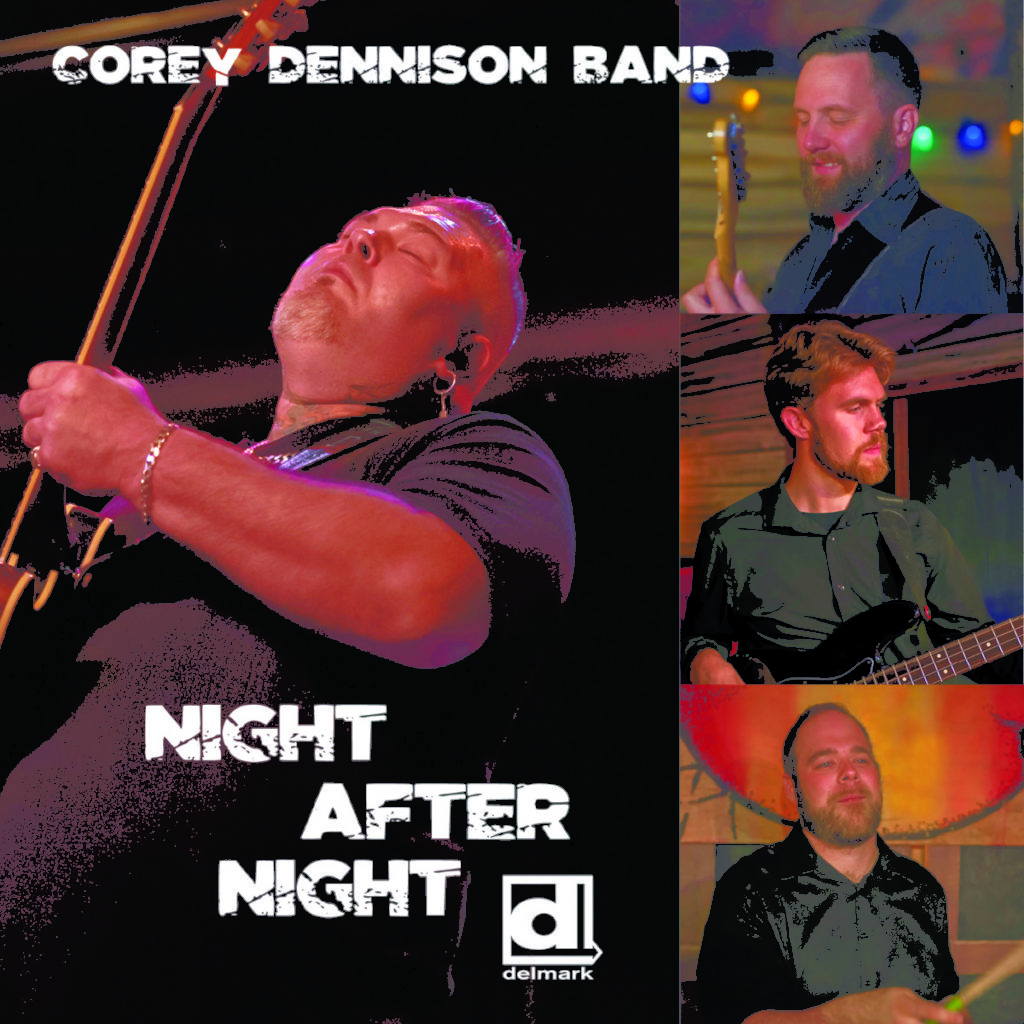 Brant Buckley:
What are you currently working on?
Corey Dennison:
We are currently working on a new Corey Dennison Band CD. We are getting all the material finalized and the songs arranged. We are starting to play them live and we are fine tuning everything so we can go into the recording studio and knock it out. Lyrically, 10 songs are written and few more songs may pop up at the last minute.
When did you get signed to Delmark Records? What are the benefits of being signed and what should we be listening to?
I was signed to Delmark Records about 5 or 6 years ago and it changed my life. It jumped me up to the next level and became a reality. It gave me the opportunity to go into a real studio, work with a producer and engineer, and create amazing music with my fellas: Gerry Hundt on guitar, Joel Baer on drums, and Aaron Whittier plays bass. Everything that was in my head is on the CD. When I received the final mix, I was driving home from the studio. All I could do was cry down the highway because everything I heard in my head was right at my fingertips. It was incredible. My guys are amazing. I wouldn't be anywhere without them. I used to play with Carl Weathersby and he took me all over the world. He taught me everything. When I left Carl's band, I was really sad. My band members know me really well and have the ability to translate my feelings to music form. In my opinion, the first album is the best. It let people know about us and that we are here to stay.
How long did you play with Carl Weathersby? What did you learn from him?
I played with Carl for about 10 to 13 years. I learned everything from him. I am what I am today because of him.
You primarily play with your fingers and do not use a pick and you play very hard. How do you do this? Massive Calluses?
I haven't used a pick in about 6 years. I was on a cruise ship playing with Sugar Blue doing a Grammy tour and that's when I stopped using a pick. It was a great experience and I love Sugar Blue. I have known him since I was a kid. My uncle was a harmonica player and he was a Sugar Blue disciple. On the cruise ship I'd leave my picks on top of the amplifier. During the day the room would be open for bingo and people would walk around and see Grammy memorabilia. Diana Ross's dress was on display. People would steal my guitar picks and steal my rubber duckies. I take rubber duckies with me on the road and I Velcro them to my amplifier. People kept stealing my picks and rubber duckies. We were headed towards the Caribbean and I somehow found a music store. I needed guitar strings and picks. I spent 60 to 70 dollars on two packs of guitar strings and a small pack of guitar picks. I told myself if they steal these guitar picks, I am not buying anymore. A couple of days went by and I was out of guitar picks. I asked Sugar Blue not to give me anymore guitar solos because I was not going to be using guitar picks. That's how it started. I've always loved the way it sounds. Some of the greatest guitar players in the world did not use guitar picks. When I stopped using a guitar pick the things that I heard in my head started to come out. I had a better connection with my instrument.
What's the best song you have written and why?
There are two: One is "Room to Breathe" off the first record and the other song is called "Better Man" which is off our new record 'Night After Night.'

The reason why "Room to Breathe" is such a great song is because it's about all my accolades and achievements. I originally wrote it for Carl and never had a chance to present it to him. When I recorded it for the new record, he was there and I asked him to play on it. I told him I would give him a couple hundred dollars. He looked at me, smiled, and said, "You don't need me." I was overtaken. That was the greatest compliment ever. The first line in "Room to Breathe" is "I crossed oceans and time, I've traveled many lands." When I left Carl's band, I was really depressed. I was with him for so long. I really loved playing guitar for him. I loved playing chords and bringing him up. I loved everything about it. I remember doing the crossing which is a trip from Miami to Spain. It takes 12 days on a cruise ship. Every night, the clock goes up an hour and you cross two to three oceans. That's where that line came from. I woke up one morning and went out to smoke a cigarette and I looked to my left and I thought I saw the mountains of Spain. It wasn't Spain it was Morocco. We were crossing through the Strait Of Gibraltar. When in Italy, I was sitting at a café and I was looking at Mount Vesuvius. I wrote a Facebook post thanking everyone that helped me and still believed in me. The first person to like the post was Carl and that's when I wrote the song. I called him and he said, "Hey man where are you at?" I told him I was in Italy. That's when I wrote the song. A couple of weeks later, we recorded it.

The song "Better Man" is about my dad. My dad died when I was really young. I had to help out a lot more around the house and watch my brothers. It was really rough. We grew up really poor. There were a couple of times for a month long period where we only ate oatmeal and baloney. It's my tribute to him. My 10 month old son, Carleton, talks on the beginning of the song. I recorded it and knew that had to be on it. I named him after Carl Weathersby.
What else do you want to accomplish?
Honestly, I think about that all the time. I really want to continue writing good music and performing. I want to take my band to places that I got to go with Carl Weathersby. I want Carl to be proud of me and show him that nothing he taught me was in vain. I want to keep touching people with my music. Last night at Kingston Mines I played a song and a girl was in tears. I didn't know her at all and I asked her if she was o.k. She told me she realized that everything is going to be o.k. There is always somebody out there who has it way worse than I do. You have to keep fighting and pushing. As long as I can make good music and help people, I am going to do it. I really want to go to the next level and take care of everyone that has taken care of me over the years. I want to say thank you in my own special way. I want my guys to go wherever their heart's want to take them. If they want to stay with me and keep doing the same thing; kicking ass and taking names than great. If they feel like they need to move on and do their own thing, I wish them the best. I want them to accomplish and achieve their dreams. Hopefully, they want to do the same thing that I am doing.