It's kind of unusual for a concert to start out with the audience singing to the artist instead of the other way around. But that's exactly what happened when Eric Bibb performed during Joe Bonamassa's Keeping the Blues Alive at Sea cruise that took place in the Mediterranean Sea Aug. 16-21. Bibb had just walked on stage and was getting settled and tuning his acoustic guitar when he casually mentioned that it was his birthday. Needing no further prompting, the audience immediately delivered a seriously off-key but heartfelt "Happy Birthday" to the beaming singer. The moment was one of many that blues cruise fans will no doubt cherish for years to come.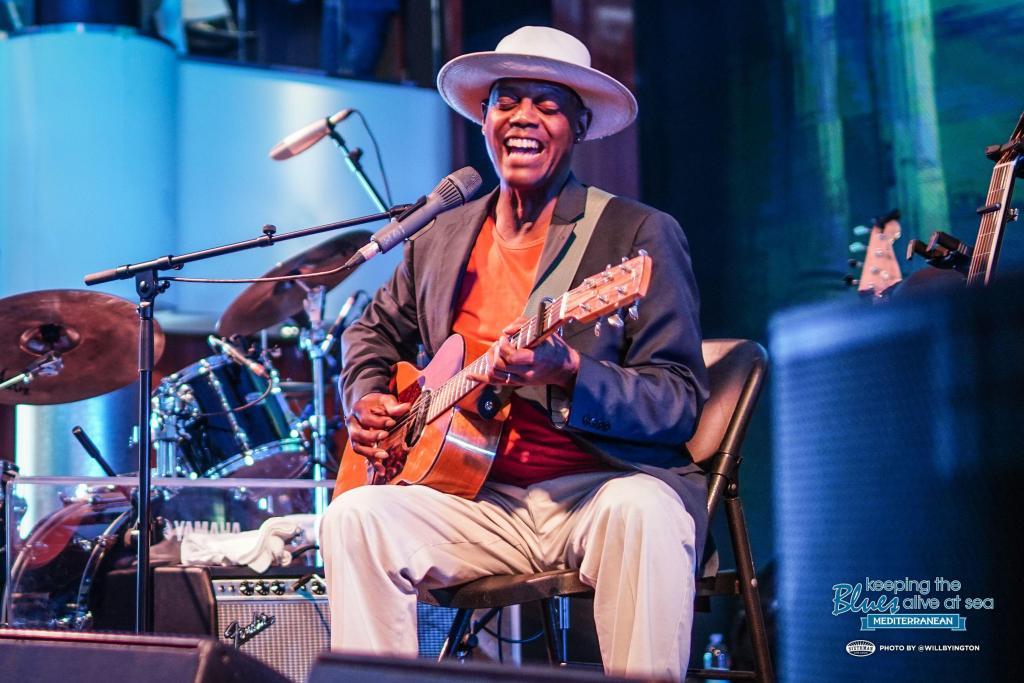 Bonamassa has been having a blast with his Keeping the Blues Alive at Sea cruises for a few years now, rounding up 20-or-so of his pals to join him each time he sets sail. The cruises have previously been limited to Caribbean voyages. This summer's event was the first time the floating festival took place in Europe, sailing the Mediterranean from Barcelona, Spain to Monte Carlo, Monaco and Valletta, Malta aboard the Norwegian Cruise Line ship Pearl. Peter Frampton and Kenny Wayne Shepherd were the biggest stars joining Bonamassa this time out, but fans showed plenty of love for every single artist.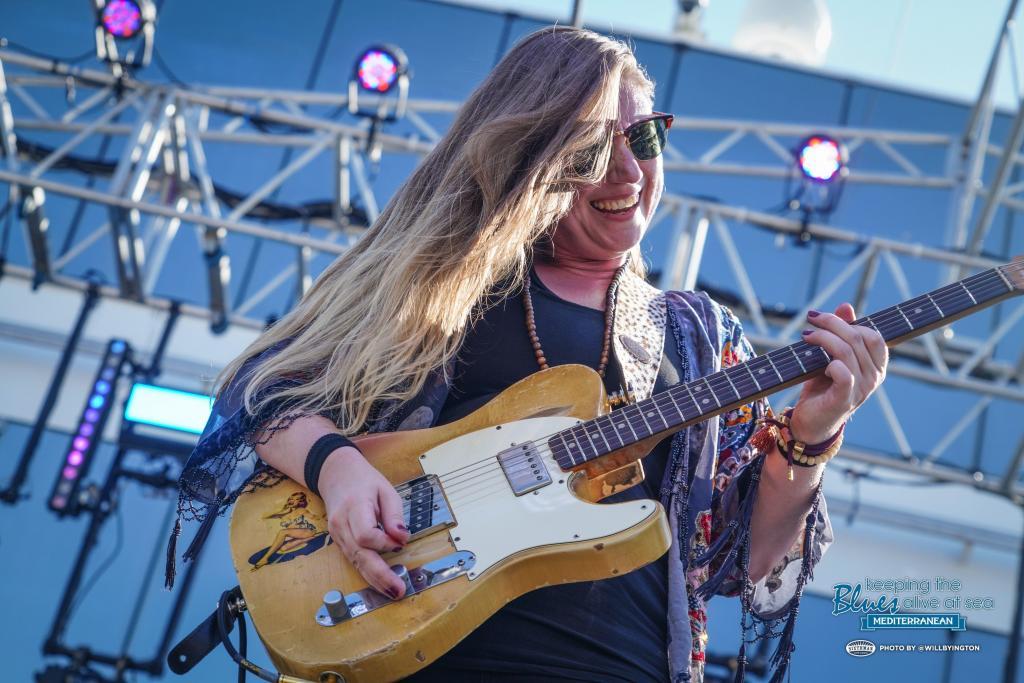 British blues rocker Joanne Shaw Taylor played the first big show of the cruise, performing on the Pearl's pool deck as the ship pushed off from Barcelona. The wind was whipping her long hair around pretty good but Taylor gave as good as she got, firing hot guitar licks right back at the sky as she showcased "The Best Thing" and the slow and sensual "I've Been Loving You Too Long," cuts from her latest album Restless Heart. Taylor also dipped into the Wild album for a take on the breakup song "No Reason to Stay."
Most acts played at least twice during the cruise, the exception being Kenny Wayne Shepherd who played the pool deck stage following Shaw and then disembarked the next morning in order to meet stateside tour commitments. Shepherd began his set with four songs from his new album The Traveler: "Woman like You," a cover of the Buffalo Springfield chestnut "Mr. Soul," "Long Time Running," and "I Want You," which came complete with a guitar freak-out and horns and organ solos. The set also included big hit "Blue on Black" as well as favorites "Diamonds & Gold" and "Heat of the Sun."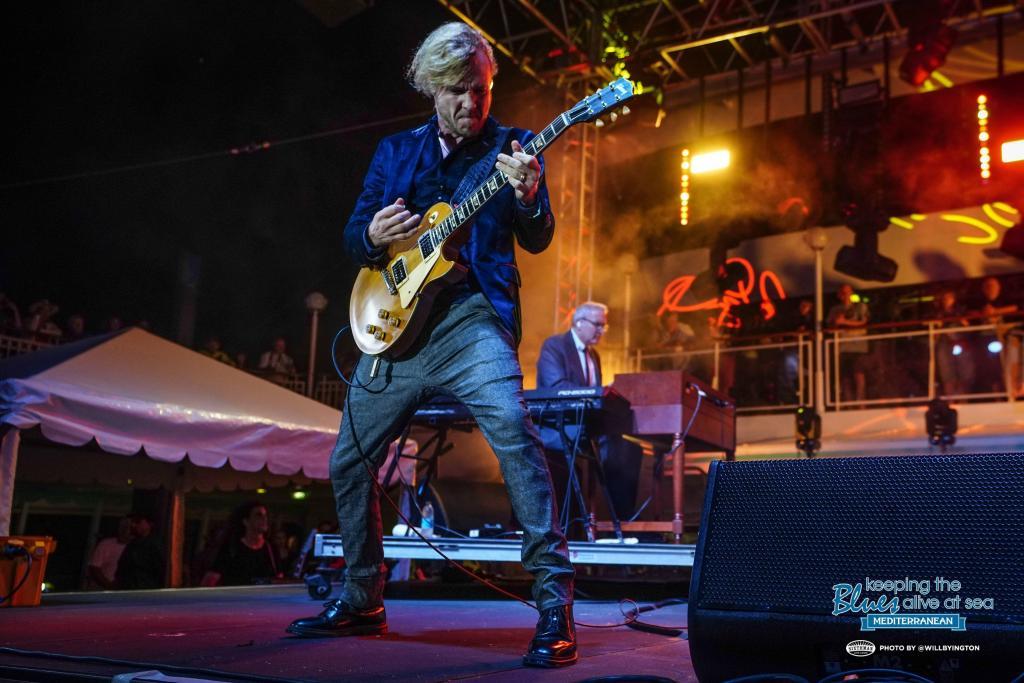 The Pearl scheduled port shows in the late afternoon and evening so that cruisers could take their time exploring ritzy Monaco, the French Riviera, and the ancient architecture of Malta during the day without fear of missing anything. But the performance schedule was packed on the two days that the ship was at sea, giving fans an opportunity to hear music from breakfast time through the wee hours of the night. Hopping from stage to stage was part of the fun. First let's see Larkin Poe and their slide guitar fiesta, then take in the rocking soul of Curtis Harding, a hard-driving set of blues rock from Robert Jon & the Wreck, and maybe chill out with some Memphis blues and storytelling from John Nemeth. All before lunch time!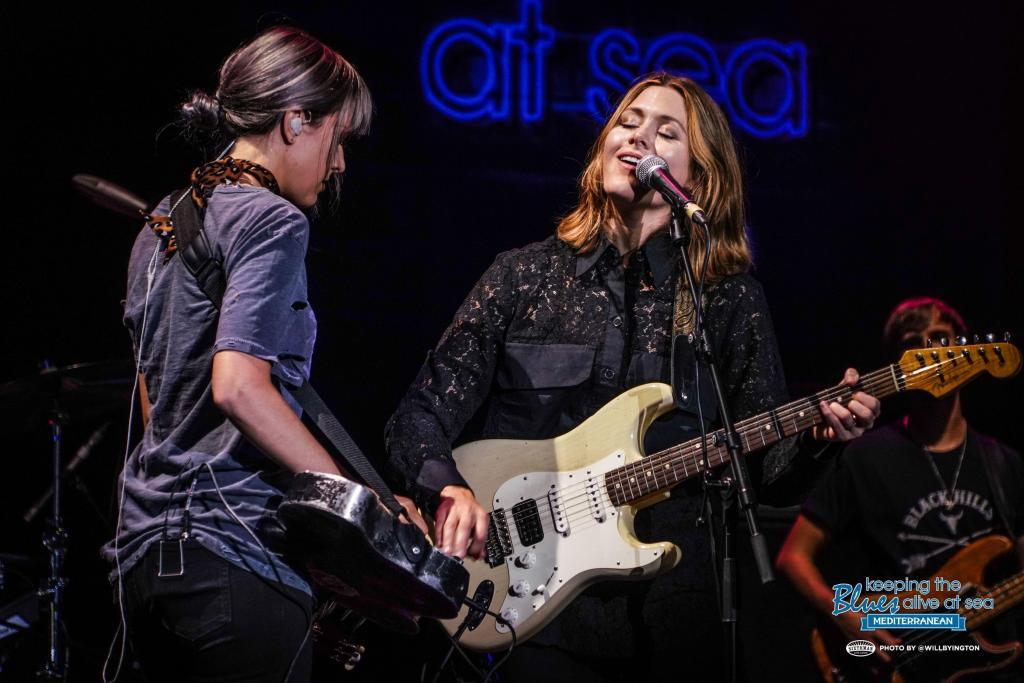 The most anticipated shows of the cruise were those by Joe Bonamassa and Peter Frampton. Each performed twice on the pool deck stage, the ship's largest venue, headlining the stage on alternating evenings. Bonamassa started his show with Muddy Waters' "Tiger in Your Tank," but he could have retitled it "Tiger in a Toga" just for the day. In a nod to the influence of ancient Rome in the Mediterranean, Joe wore a toga over his stage clothes while playing the opening cut. Bonamassa's set also included "This Train," "Evil Mama," Kenny Neal's "If Heartaches Were Nickels," Willie Dixon's "I Can't Quit You Baby," Led Zeppelin's "Tea for One," and about a half dozen others, all featuring precise fretwork and screaming solos.
Frampton's set was filled with hits and favorites like "Baby (Somethin's Happening)," "Show Me the Way," "Lines on My Face" and "Baby I Love Your Way," along with cuts from his new blues album including "Georgia on My Mind" and Freddie King covers "Same Old Blues" and "Me and My Guitar." Frampton remains strong of voice at 69-years-old and full of youthful exuberance too. About the only difference from the "old days" is that he, of course, no longer has the flowing golden locks. Bonamassa joined Frampton for set closer "Do You Feel like We Do," where Peter employed the "talk box" so famously heard on Frampton Comes Alive.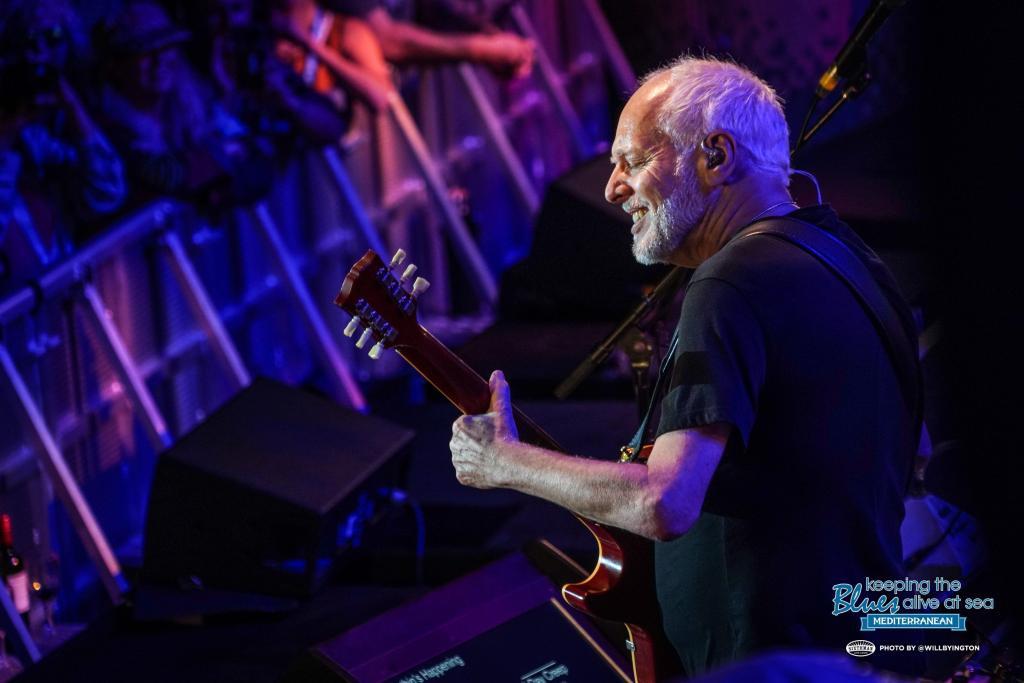 Also appearing on Keeping the Blues Alive were Eric Gales, Robert Randolph & the Family Band, Vintage Trouble, King King, Jerron "Blind Boy" Paxton, Jade MacRae, Hannah Wicklund & the Steppin Stones, Toronzo Cannon, Ryan McGarvey, Little Billie, Jonathon Long, Philip Sayce, and former Whitesnake guitarist Bernie Marsden. Autograph sessions, jam sessions, a whiskey tasting, a fan Q&A with Peter Frampton, and a taping of Joe Bonamassa's radio show added to the fun.
The next Keeping the Blues Alive at Sea cruise, from Miami to Nassau in the Bahamas, will take place Feb. 18-22, 2020. The cruise is sold out but fans can join a waiting list here: Keeping the Blues Alive at Sea VI
Keeping the Blues Alive at Sea will be back in the Mediterranean Aug. 14-19, 2020, sailing from Barcelona to Genoa, Italy and Cannes, France. So far Walter Trout, Ana Popovic and the James Hunter Six have been announced for that one. More details will be announced here: Keeping the Blues Alive at Sea Meditteranean II
*Photos by Will Byington