Buddy Guy performed at the historic Riverside Theater in Milwaukee, Wisconsin Thursday August 22nd to a packed house. The Riverside was built in 1928 at the end of the Vaudeville era and has a seating capacity of 2,460. Kenny Wayne Shepherd warmed the audience up with his Stevie Ray Vaughan influenced style and guitar prowess.
Buddy started the show at the top of the energy spectrum with "Damn Right I've Got the Blues." His wall of sound and slinky, rubber band-like guitar playing immediately drew everyone in. There's no one on the planet who comes close to sounding like him. He progressed into Muddy Waters and said, "I want to play something so funky you can smell it." He went on to say that this kind of blues isn't played on the radio anymore. He then launched into "Hoochie Coochie Man" and channeled the power, authority, and command that Muddy was well known for. He pointed his fingers and clenched his hands. And then he played "She's 19 Years Old." Towards the end of the song, he played the guitar like a piano — his left hand came over the guitar fretboard.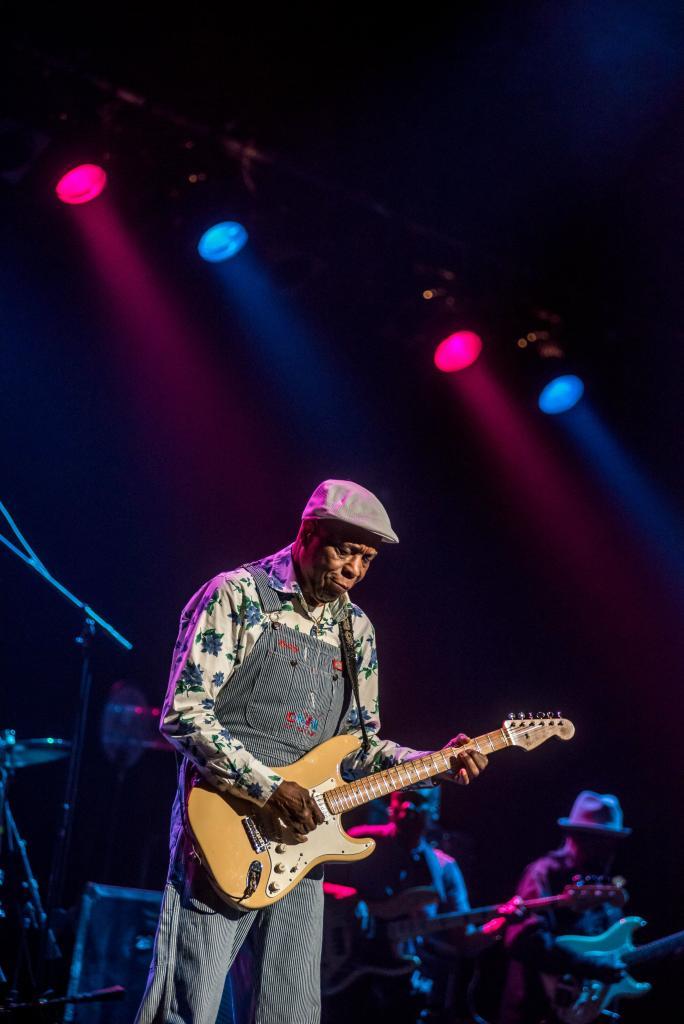 He jammed on Willie Dixon's "I Just Want to Make Love to You" and followed with Bobby Rush's "Chicken Heads." Buddy grew up on a farm, so the song must mean a lot to him. Back in his day, there weren't KFCs around. If you wanted fried chicken you had to find a chicken. While he played "Five Long Years" he brought the volume down to a heart whisper. There is no one who does loud and soft with such precision. He moved into Willie Dixon's "The Same Thing." His opening line was "What makes you men go crazy when the woman wears her dress so tight." After this, he played "You Know I Love You Baby" and played his guitar with a drumstick, as well as a towel to "Sunshine of Your Love."
From his recent album, "The Blues Is Alive and Well" he performed "Milking Muther For Ya" and "Cognac." His falsetto vocal body bent; his voice and body went skyward. Before "Milking Muther For Ya," he talked about the original bluesmen being the first rappers. He mentioned he and blues friends used to sit around the bar, and they all joked who lived the longest had to keep the Blues alive. Buddy Guy has kept the promise.
He then played John Lee Hooker's "Boom Boom" and Freddie King's "I'm Going down" which was a song Leon Russell wrote for Freddie that introduced him into the rock world. Next, Buddy channeled Guitar Slim. He played "Someone Else is Steppin' In" and walked through the audience jamming and singing. This brought everyone to their feet. When back on stage, he played "Strange Brew," a Cream song by Eric Clapton. Buddy played Clapton's impersonation of himself — a mirror image. This may be the first song where he heard an artist mimicking him. This lead into B.B. King's "Sweet Sixteen." Buddy calls King the greatest guitar player. He finished the show with "Mustang Sally" and threw picks into the crowd.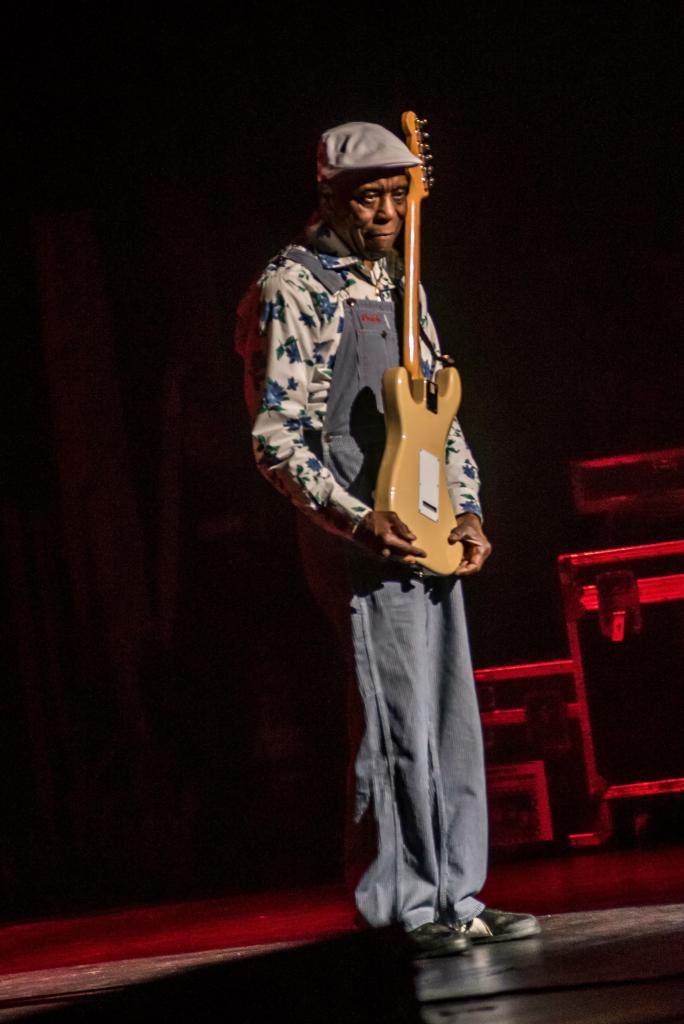 Born in July, Buddy's astrological sign is Leo. Leos are lions and and spiritual kings. Leos rule over intelligence and knowledge. They possess deep insight. All of these astrological traits are needed for Buddy to spread his Blues message and heal the masses with his music. This is what makes him happiest. If you are aware and really look at him while he is playing, you will see a pale white light shining from his body. This is his aura. Also, lions live in deep mountain caves and dense forests. Buddy Guy's mountain caves and forests are the music venues and stages throughout the world. If you have a problem, this Lion Heart will cure your blues for a few hours.
*Photos by Melissa Miller/Pabst Theater Group