Benny Turner is an American Blues musician. He is the younger brother of Freddie King and was the bass guitarist for the Freddie King Band. Turner joined Mighty Joe Young as the bass guitarist before becoming the bandleader for Marva Wright for over 20 years. After many years as a sideman, Turner started his solo career. Turner has performed with Eric Clapton, John Fogerty, and Grand Funk Railroad.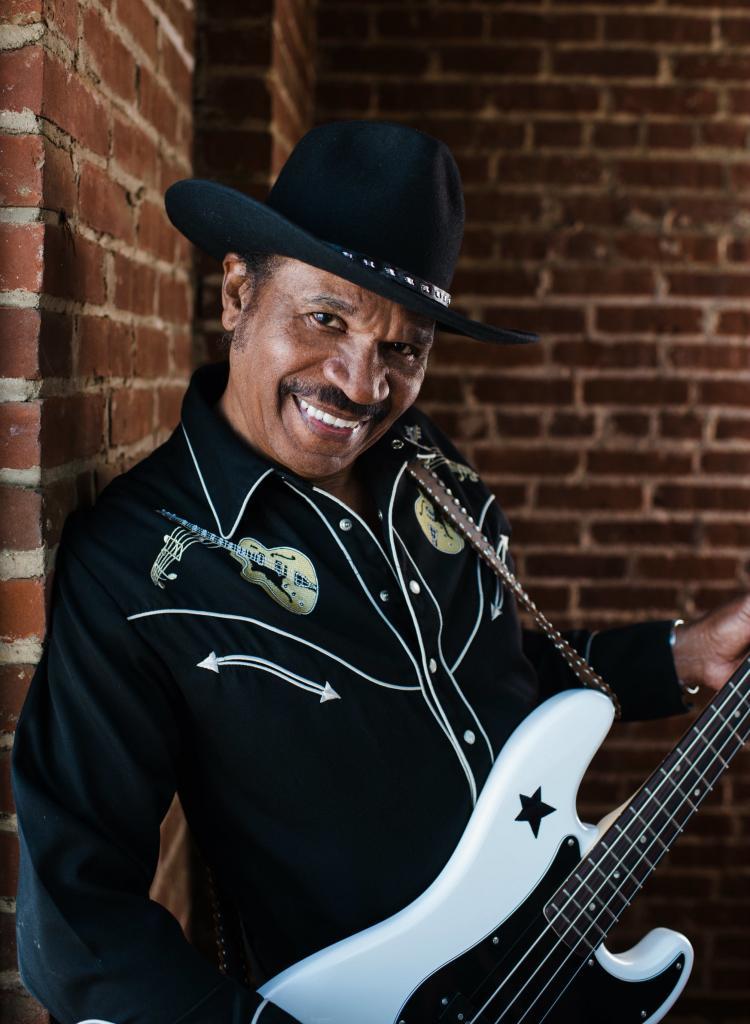 Brant Buckley:
Could you talk about your new album "Going Back Home?"
Benny Turner:
When I found out my good friend Cash McCall was suffering from stage 4 cancer, I wanted to record with him. He was wasting away in Memphis and nobody seemed to give a damn about him. There was a benefit for him at Willie Dixon's place at Chess in Chicago and we flew him in to participate. At Chess, we started talking about making a CD. He wasn't doing anything and was all for it. We didn't have time to do originals, because originals require arrangements and things like that. Within the record, we wanted to go back home and play songs by Chicago musicians; songs we heard when we were first starting out. I requested Elmore James "It Hurts Me Too." The lyrics go: "When things go wrong, wrong with you, it hurts me too." I wanted him to sing that one to me and he did. We recorded in Chicago, Memphis, and New Orleans. Cash had chemo treatments in the morning and by noon he'd be in the studio ready to work. Cash was so excited.
There aren't many bass playing front men around: What are the benefits and challenges involved?
I have been a sideman for my whole musical career. Coming out front has been a big challenge and it's not easy if you want to do it right. You want people to be happy and you need to entertain them. It's not easy as everyone is looking at the guitar player. Front guys always play guitar. I played guitar with Dee Clark in Chicago in the early 60's. After that, I played bass with my brother (Freddie King). During that time, I developed my own bass style. Freddie and I didn't have mentors so we had to learn on our own. I have my own style and it seems to be working.
How are Texas Blues different from Chicago and Delta Blues?
For me it's hard to say, but there is a difference. When I think of Chicago Blues, I immediately think of the old Chicago Shuffle. When I think about Texas Blues, I think of Albert Collins. Elmore James played slide and Jimmy Rogers and Muddy had their own style. They weren't Texas style. Those are some of the differences that come to my mind.
Could you talk about your book, 'Survivor the Benny Turner Story'?
That book's been in my head for many years. I told my manager Sallie Bengtson that I am the king of procrastination. Everybody wanted me to write the book for years and I never did. I wish I would have done it a long time ago because it was so much fun. She started to work with me and we jumped on the plane. We started in Gilmer, Texas where I was born and Freddie and I went to school. I talked with one of our old school teachers as she and her husband taught me. It was so much fun. I had a ball revisiting everything. I talk about Chicago and the places I first visited when I arrived. I thought about the good times and I also wrote about bad times. When I sing the Blues, it's for real. A lot of people today sing the Blues for entertainment. I was born in 1939, so I saw the Depression and the start of World War 2. In east Texas you have Blues.
What's your greatest musical moment?
It would have to be playing at the Apollo Theater in New York City. On the "Chitlin Circuit" I was making $15 a night and I was playing all night to get that. When I started playing with Freddie, I don't think I made $10 a night. When I hooked up with R&B singer Dee Clark, I was playing at the Apollo Theater making great money.
What else do you want to accomplish?
I have done CD's that have been for other people. Currently, I am making a CD about songs that have touched me throughout my career and the players and people that I have come into contact with. This time it is going to be for me. We thought about calling it Benny's Blues, but nothing is written in stone. My 80th birthday is coming up and it's going to be in Grapeland, Texas. I am looking forward to it. We are going to have a blast there. It's called The Lone Star Blues and Heritage Festival at Salmon Lake Park. Also, I am grateful to the people of Illinois who have supported my CD 'Going Back Home.' It has been in the top 10 for a few months and is still doing well. We had no idea it was going to be this popular. I am very grateful and I wish I could play more in Chicago. I hope to be back in the coming months or year. I love the music venue Rosa's in Chicago. I am going to Europe with Billy Branch which is going to be very cool. This will be the first major gig that we have played together. I am really looking forward to it.
*Feature image from the Legendary Rhythm & Blues Cruise – courtesy of the artist