Preeminent guitarist/vocalist/songwriter Glenn Alexander is at it again with his band Shadowland. Their latest release is Knockin' On The Door via Rainbow's Revenge Records and lifts the slinger's previous glories to even further heights.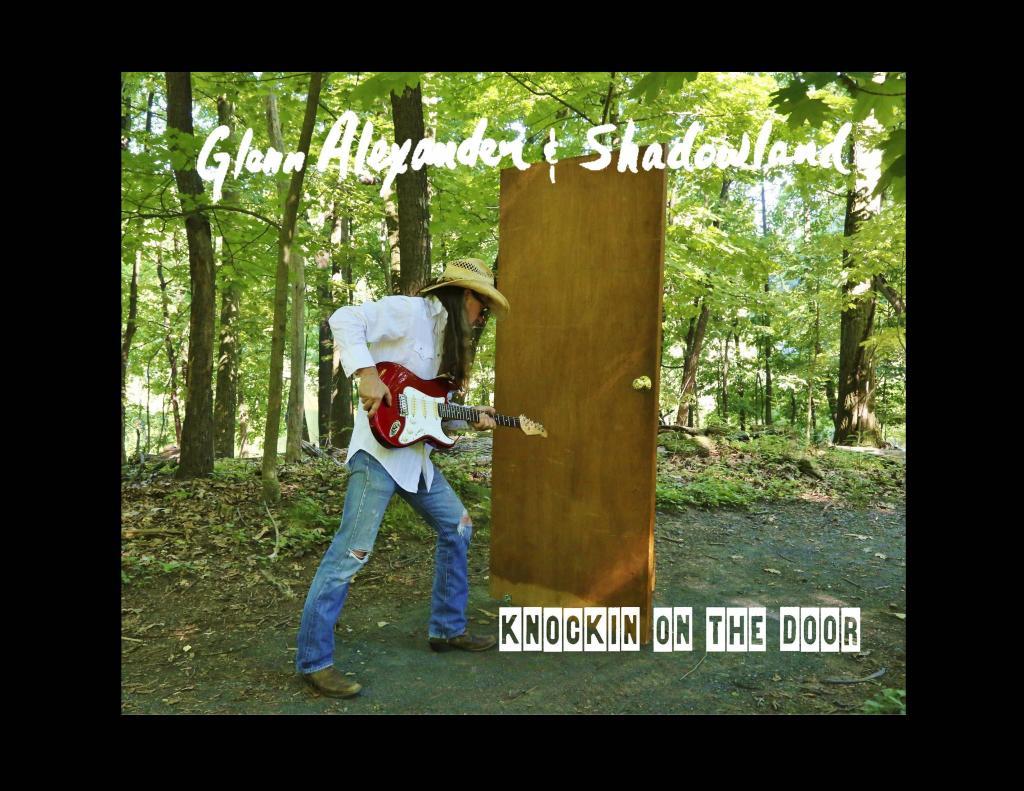 Alexander has always been in the game it seems. He's played with everyone from Southside Johnny and the Asbury Jukes to Elvis Costello and Allen Toussaint. With Knockin' Glenn and company take their in-your-face, guitar driven, horn-laced music to the next level. The album contains the talents of Greg Novick (bass); Dave Anthony, Tom Seguso, Rodney Howard, and Van Romaine (drums); Chris Anderson (trumpet); John Isley (saxophones); Neal Pawley (trombone); Oria (featured vocals); Stanley Schwartz (piano); and keboard wizard Mike Finnigan (B3, Wurlitzer, acoustic piano, vocals). Talk about an all-star lineup.
The title track kicks off the party with a rock and roll blast of guitar, keys, drums and horns that showcase the band's talents from the jump. It's upbeat, funky, and anointed with soul. He's "Knockin' On The Door," for Pete's sake, let him in!
Most of the songs on the new release are just as powerful. "I Suffer In Silence," co-written by Alexander and Schwartz, is testimonial in its build up. The horns and backing vocals augment Alexander's piercing guitar and urgent vocals. "I'm Gonna Drown Standin' Up" keeps the vibe up and we hear tinges of the Jukes signature Jersey sound, then things get real funky with "Laudie Laudie Lee." Schwartz plays piano on this track, his second of two co-writes on the album, and the guitar/horn trade-offs in the break are the stuff jazz improvisation is made of.
Glenn Alexander wrote or co-wrote ten of the twelve tracks on the album, and track number five presents the first of two covers. The band reaches back to 1973 to cover Frankie Miller's "I Can't Change It," a song Miller wrote over a decade earlier when he was just 12 years old. Glenn electrifies the classic tune with great success, not taking away from, but building upon the original.
The other cover is a brilliant take on "Born Under a Bad Sign." It begins with Glenn being arrested for stealing the song. He tries, unsuccessfully, to explain that he merely borrowed it from Albert King who was gifted it by William Bell and Booker T. Jones. When the music does start it literally drips with Memphis funkiness. If Spanish moss could talk, it would be the sound of this classic blues tune. Isley's sax solo is a high point on an already mountainous tune.
That's not the only blues Shadowland tackle though. "Hind Tit Blues," (with vocal duties shared by Glenn and Mike Finnigan) and "My Brother" are as bluesy as you want. "You Set My Soul On Fire," has that big band blues sound, while "My Home Town" has a 70s rock feel to it. "I'm The Only One," is a southern blues rock closer with Glenn channeling the baritone growl of Jim "Dandy" Mangrum of Black Oak Arkansas fame.
Another gleaming bright spot is "I Had To Go Thru Hell To Get To Heaven." With Oria on lead vocals, her sultry voice is the perfect catalyst for this torchy, gut-wrenching song of pain and ultimate redemption.
Combining all the influences of jazz, blues, soul, and rock, and with all the assets at his disposal, Glenn Alexander has penned a killer album. He and Shadowland are Knockin' On The Door, and you won't be able to ignore them for long…you shouldn't even try.