Editor's Note: Giles Robson is fast becoming recognized as one of the preeminent blues harp players in the world. With a 2019 BMA for Acoustic Album of the Year with Bruce Katz, and Joe Louis Walker and his most recent album release Don't Give Up On The Blues, Robson is making huge waves in the blues, on both sides of the Atlantic.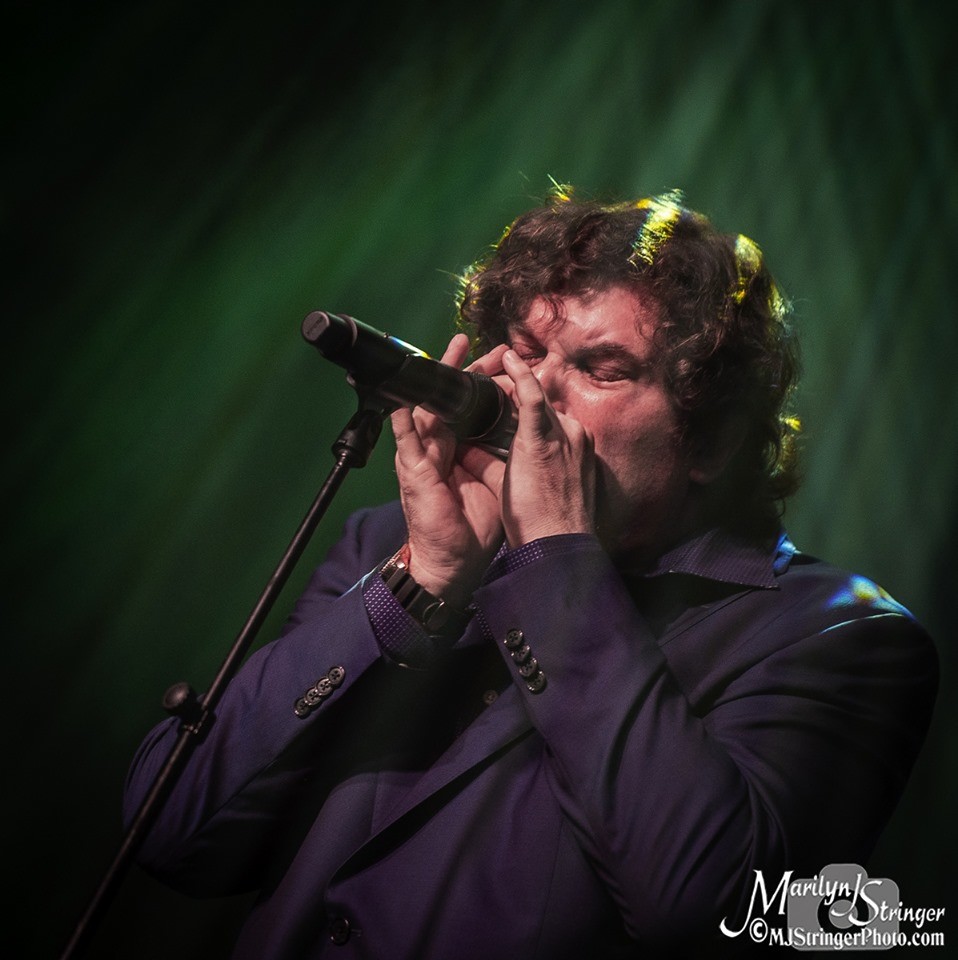 David Scott for American Blues Scene:
You must have been thrilled at being signed up by Bruce Iglauer for the Alligator label last year given that you are the first British resident to have achieved this accolade. How did it come about? What is it like working with him?
Giles Robson:
Yes I am thrilled indeed. I've had great respect for the label for years. I had the idea for the album and its recording was funded by my Dutch label V2 Records. Once completed, we were looking for an American partner so V2 sent it to Bruce at Alligator who loved and wanted to release the record. Bruce and his team are very meticulous, focused and incredibly experienced and hard working. It's a great pleasure to work with them and have my playing featured on such an iconic and historical label with a great back catalogue of music and continued level of success.
Tell us about working with Bruce Katz and Joe Louis Walker, their individual qualities and the making of the album and subsequent tour.
They are two of America's finest blues musicians. Both have had incredibly prolific careers and have explored wide ranges of styles but their main love is blues and they are filled up to their fingertips with love and passion for the music and this shows in the soulfulness of their performances. It was amazing working with them for a couple reasons. Firstly hearing their stories to each other about their musical experiences working with the large list of legends they have performed with and been given advice from. They include BB King, Chuck Berry, Robert Jr Lockwood, Wayne Bennett, Big Mama Thornton, Jimmy Smith, Ronnie Earl, Pinetop Perkins….the list is endless. It really helped me add knowledge and perception of the American blues music business and the artistry of its most famous artists. Secondly, just watching their approach in preparing and selecting the songs in rehearsal and then executing them in the studio. It was a very organic process and with this high level of musician with decades of studio experience you just soak up the way they act and perform in the studio. They are incredibly casual but focused, and very relaxed: this came across in the performances on the album. As a musician these were experiences that will last me my whole career and have made me an even better musician. In terms of the tour, I get to sit behind Joe Louis Walker's fretboard and listen/watch him play and sing, and just along from him there is Bruce Katz and I get to join in too. It's a joy!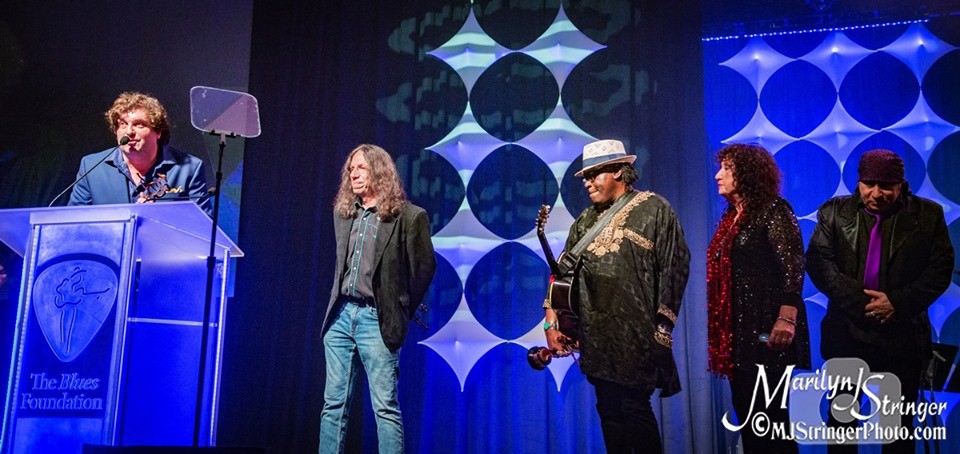 Can you detail the steps in your career since you started out with your band the Dirty Aces several years ago?
I've only gone back deeper into the blues, the soul, the lyrics, the meaning and the grooves of the music. I went back and started to really concentrate on the twelve bar format but add my own harp style over the top and it's been wonderful. The older I get the more and more I respect and am proud of the blues as a musical art form. I think it grows with you as you grow older and "real life" kicks in. Rock and pop are great when you are young and, in your twenties when life's a party without too many massive commitments and life hasn't thrown too much of the heavy stuff your way. But blues is there for when you're older, you've lived a little and gone through some tough stuff. As Buddy Guy said, "If you ain't had the blues… just keep on living!" It's there to give you consolation by speaking the truth and soothing you. There's an old saying that blues is like chicken soup for the soul or as Lightning Hopkins put it, "Blues is like ointment for a bee sting".
How did you get started in the music business and who were your main musical influences and what did you learn from them?
I first started at home in London with a violin at the age of 7, then sax at the age of 12. Then when I hit 14 I picked up a blues harp in Toledo, Spain on a school trip. When I got back home two weeks later the amazing African American blues duo John Cephas (guitar) and Phil Wiggins (harp) were playing in my hometown Arts Centre. Man, what an introduction to blues harp! I can still remember it to this day. The chugging harp boogie that they started the show off with drove the audience wild and then the magnificent show they delivered. What a great introduction to the art form I chose to dedicate my life to and what an example of the importance of local arts centre funding! I got to see a master of the art of my instrument, live in person, in my own hometown. Cephas and Wiggins were on Alligator Records at that time and now I'm featured on the label some 26 years later!
What made you choose the harmonica?
Although I played the violin, and the sax it was the rhythm and funky "street" sound of the harp at 14 which knocked me out. When I was playing the sax, I was in love with the horn section arrangements of forties big bands. So I think seeing that Little Walter and Sonny Boy copied a lot of horn lines in their playing might have been what inspired me. Also I became aware that the harp, especially Little Walter, was in terms of blues music offering even more virtuosic and varied playing than a lot of the contemporary guitar masters at the time. In fact, according to Buddy Guy a lot of the guitar players were copying Walter!
What is the best musical advice you have received?
Two pieces of great advice In terms of a blues career are: it's "A marathon, not sprint" in the words of Joe Louis Walker, and Ray Charles' advice to a young Quincy Jones, "Every music has its own soul, just be true to it."
What advice would you give to relative beginners on how to develop?
Don't get obsessed with equipment. Obsess over the ART – the playing, the meaning of the music and how to convey that meaning through the way you play. The phrasing, the rhythm, the structuring of solos the space in the solo, the way a band works together. Concentrate on how to present your music to an audience, move them, amuse them and get them on your side and keep them on your side.
Are you a scale-learning man?
I learnt musical theory and how to read with the violin and sax but with the harp I am purely an ear musician. I realized pretty early on that in a real life gigging/recording situation where
everything can change on a pin, that too much intellectualism and theory could be a liability and gum up the works. I've tried with my own playing to be as precise as possible across the whole range of the harp, both the lower and upper register, and not be sloppy with my notes or phrasing.
How much feel and intuition dictates what you play next?
You're always thinking on your feet when playing a song about how you playing can best serve a song and move the audience, you just let the thinking flow constructively with your playing and don't let it trip you up.
On your Journeys album are you tongue-blocking as opposed to puckering?
Yes I tongue block but try to play the notes as accurately as cleanly as possible. Good
example, and where I got a lot of this stuff from was Little Walter's acoustic playing on his later singles for Chess.
Are your harps customized or straight out of the box?
Straight out of the box: I'm a proud endorser of Hohner Special Twenty Harmonicas. They really work for me and I think they are the best model out there. They have a wonderful rich, dark tone. I can't think of a better harp.
What is your opinion on amps and what do you use?
All I need is an amp with 4×10" speakers like a Fender Bassman or a Deville to give the bigger bottom end wound. In a duo or trio setting I use a Honeyboy amp. It's ALL down to the playing not the amp really, apart from the bass tone. it's down to the playing, the phrasing, the solo construction, etc. That's what moves an audience.
Talk us through the process of writing harp instrumentals?
Well G&J Boogie was jammed in one take: we didn't rehearse it I just said to Joe we'll keep the turnarounds the same. In my mind I wanted to keep it short, in the pocket and visit the upper register only once. And that's it!
You definitely haven't copied a particular style even though many good players put their success down to tabbing out what the greats played as part of learning to play like them. Is this the case?
I learnt all of the great classic blues harp players' solos note for note and then started to listen to other instruments, especially horn players and pianists and guitarist and tried to steal from them to add to my range. This helped me to extend into the upper register and get command of the whole instrument and work out runs across the whole range of the diatonic and chromatic.
There are outstanding harp players both sides of the Pond so who do you rate and who is your all time great, and why? Is it true that all the best harmonica players are dead?
There are many great contemporary blues harp players, Steve 'West' Weston, Errol Linton, Rick Estrin, Jason Ricci, Aki Kumar, Will Wllde, Dennis Gruenling Sugar Ray Norcia, my good friends Billy Branch and Sugar Blue – the list is endless. Are all the great harp players dead? NO. However, the harp never left the blues as the guitar did because no one knew how to technically play it in the seminal popular music decades of the sixties, seventies and eighties to an outstanding and creative level like the African American masters did. So since Little Walter the harmonica has never been at the centre of a musical zeitgeist like the guitar has many times over.
It is clear from your shows that you are a serious student of the history of the harmonica and its progress as an instrument from America to Europe and back again. Can you elaborate on this historical musical journey?
Simply put, it went from Germany, where it was predominantly a folk instrument in the 1890s, to the USA, and then African American musicians transformed into an incredible expressive musical instrument. It was considered a crude toy and was elevated by the blues greats to point where Miles Davis described Little Walter as one of the greatest musical creative geniuses of his time. It's an incredible, inspirational story of the transformation of a supposedly limited creative resource! I'll always be amazed by what was created out of basically nothing.
And finally, any message to American Blues Scene subscribers….
I'm proud of playing and singing the blues as it's an incredible music that will never lose it's value as it's about real situations that we all face through life and provides consolation when we suffer tough times both musically and lyrically. It's my great pleasure to be interviewed by a platform that keeps this great music alive and I look forward to seeing you out on the road
sometime.
*All images © Marilyn Stringer