Announcing the Intrepid Artists 25th Anniversary Party: "A Rock n' Roll, Soul, & Blues Revival…The Sequel"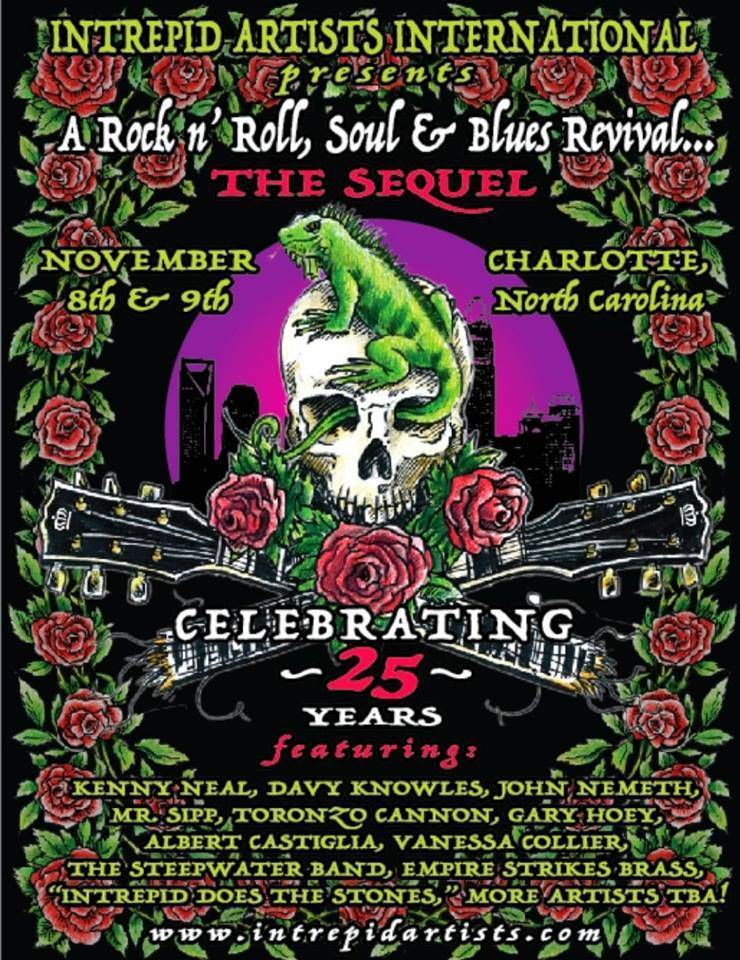 Intrepid Artists Int'l will be celebrating their 25th Anniversary at The new Amos' Southend on November 8th and the Neighborhood Theatre on November 9th in Charlotte, North Carolina.
Confirmed artists appearing include Kenny Neal, Eric Gales, Davy Knowles, John Nemeth, Toronzo Cannon, Gary Hoey, Albert Castiglia, Vanessa Collier, Mr. Sipp, The Steepwater Band, Empire Strikes Brass, plus a little thing they call "Intrepid Does The Stones."
Intrepid Artists International was founded in Dec of 1994 by current owner and President of the company, Rick Booth. Their office is located in beautiful midtown Charlotte, NC across from The Greenway and overlooking the uptown skyline. Intrepid has always chosen to remain a boutique agency with emphasis on "Quality" NOT "Quantity." For more than two decades, they have represented some of the very finest musicians in the world and have become known throughout the industry as an agency that can be counted on for not only delivering great music but also for their honesty, integrity, service and reliability. With a full staff of knowledgeable agents, Intrepid and its agents have been recognized by The Blues Foundation on a record three separate occasions for being the Best Agency in the business. Blues Wax Magazine has recognized Intrepid as The Best in the Business as well and the city of Charlotte's Mayor's office has also recognized Intrepid for representing the city well in the music industry. American Blues Scene writes, " Intrepid Artists may have more class than any other agency and in the meantime provides some of the best music being made to a worldwide audience."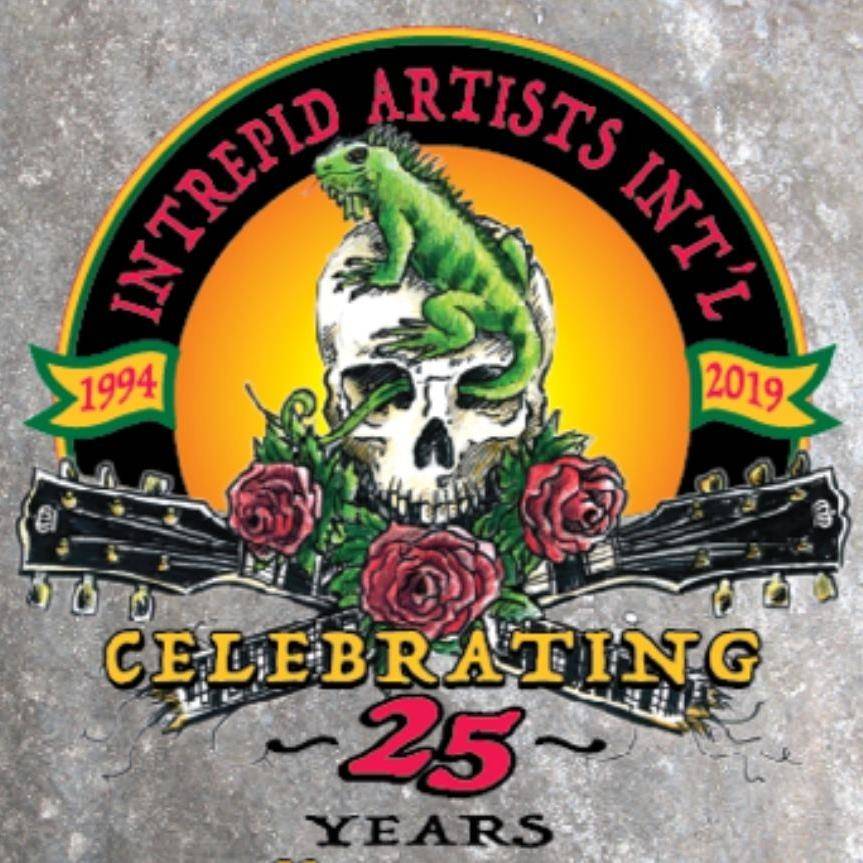 Intrepid's staff has a combined 76 plus years experience at Intrepid alone and a total of 80 years of professional experience in the music industry They pride themselves on having a very diverse roster, representing a wide range of music that includes, Blues, Blues/Rock, Funk, Soul, Jam, Roots Rock, and Zydeco music. As many of you know, since Intrepid was in its early stages they have always had the finest stable of "Blues Rockin' Guitar Slingers" in the business that now includes Eric Gales, Ana Popovic, Davy Knowles, Popa Chubby, Mike Zito, Albert Castiglia, Gary Hoey, Jimmy Thackery and Anthony Gomes just to name a few.
They also represent some of the finest contemporary blues artists in the business including Kenny Neal, The Proven Ones, Sugaray Rayford, Lil' Ed & The Blues Imperials, Mr Sipp, Mike Zito's BIG Blues Band, Curtis Salgado, John Nemeth, Selwyn Birchwood, Toronzo Cannon, Blues Beatles, John Mooney, and The Phantom Blues Band.
If you like "real" old school soul, look no further than Curtis Salgado and John Nemeth & The Blue Dreamers.
Carolyn Wonderland, Ana Popovic, Vanessa Collier, Nikki Hill and Heather Gillis are the cream of the crop when it comes to females in the roots rock & blues music world! THE TOP OF THE HEAP!
If you are looking for more roots rock, Brass, pop and funk, then look no further than Honey Island Swamp Band, Polyrhythmics, The Empire Strikes Brass, The Steepwater Band, The Mantras, Mother's Finest, and Simplified.
Booth was born and raised in Charlotte, where his love for music started at a very young age, when his Godmother gave him a copy of Elton John's Greatest Hits for his 10th birthday. From that point on, he could not get enough. In high school, it was not unusual at all to find Rick out sneaking in to bars and music venues to try to get his live music fix. Classic Rock and Blues Based Southern Guitar Rock were his thing!
He continued his love for live music in college. Rick graduated from Wofford College with a degree in Sociology in 1987. While attending Wofford, he served as Social Chairman of his fraternity, Sigma Alpha Epsilon for 2 plus years and began his personal work with bands and booking bands for different social events and his fraternity. His friends always joked with him and told him one day he would be a music agent, but that was not really in the cards. At least not yet.
After graduating from Wofford, Rick went home to Charlotte and worked as a manager in the family hardware business for almost 3 years. Rick credits many of his managerial skills to his Dad who ran the family business for 35 plus years. Rick says, "He taught me the right way and wrong way to treat people. Having a degree in Sociology didn't hurt either." Recognizing how to deal with people sure does help out when dealing with all the personalities in the music business. "I am a people person. I believe in treating people the way I would like to be treated, You know, 'Do unto others as you would have them do unto you.' Karma's a bitch and what comes around goes around. Believe me, I see it all the time in this line of work."
By 1990, it was time for a career change and time to move on from the family hardware business. Rick took a job working for a regional music agency, Hit Attractions, booking mainly cover bands and college bands. But weary of its business practices, he decided to leave after only about 4 months on the job. Shortly after that Rick accepted a job working for Piedmont Talent, an upstart blues agency at the time that booked all original blues bands and some Louisiana Cajun and Zydeco Bands as well. After 4 plus years at Piedmont, Rick felt it was a great time to go out on his own and bring his own spin to the music industry.
Intrepid Artists Int'l was officially open for business Dec 19, 1994. Since that time, Intrepid has far exceeded his original highest expectations. Intrepid or one of its agents has been the recipient of the prestigious Keeping The Blues Alive Award a record 3 times, in 1997, 2002, and most recently in 2011. Since 2008, Intrepid's artists have received well over 100 Blues Music Award nominations and numerous WINS as well as 4 Grammy nominations and ONE Grammy WIN!. Today, things have never been better at Intrepid! With the largest, strongest staff to date, Intrepid is prepared to step up and be recognized as The Premiere Blues & Roots Rock Music Agency of its kind.