The Sage Gateshead is one of the UK's most iconic concert venues and has hosted the biggest international names in music from Beth Hart to Joe Bonamassa, The Beach Boys to Randy Newman. It is located on the south bank of the River Tyne in North East England, overlooking the city of Newcastle upon Tyne, home of Holy Moly & The Crackers.
Their performance on October 4th at Sage Gateshead was going to be extra special as the band returns after a lengthy tour of festivals across Europe. At the beginning of the decade the three original members, Conrad Bird, Ruth Patterson, and Rosie Bristow performed small, mainly acoustic gigs in pubs and folk clubs whilst building up a cult following of loyal fans. Evolution to a sextet with the addition of drums and electric guitars coincided with a reputation for delivering high octane, raucous, theatrical shows of exceptional musicianship.
Lead singer Ruth's smoky vocals and piercing lyrics characterize their performances of blues songs like "Cocaine" with its Harlem swing dancing feel: "Heavy breathing smoke embraces / Syrup smile, Sambuca chasers." Precise, versatile percussion, mesmeric rhythms, electrifying guitars and violin, vaudeville accordion and outrageous trumpet intermezzos further enhance the vibe; a breakthrough was inevitable.
Turning points for Holy Moly & The Crackers include sharing a festival stage with Bob Dylan and Patti Smith, an appearance at Glastonbury, and writing "Cold Comfort Lane" as a soundtrack for the blockbuster Hollywood movie, Ocean's 8. The song has received 2 million plus hits on music streaming platforms. Their latest, highly acclaimed, innovative album, Take A Bite, is a best seller — a reviewer describing it as "an old fashioned, riotous blues house party and a significant piece of creative, dynamic, interesting and original music covering themes, experiences and emotions which are central to the blues tradition." Their fan base now runs into tens of thousands and this night's show was a sell out, the lucky ticket holders packed in the hall and screaming in anticipation for the start of tonight's extravaganza, which was the biggest party in the city since the millennium eve celebrations.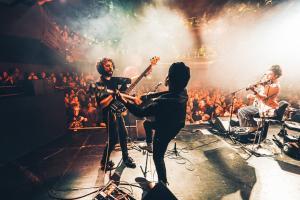 The swaggering, imperious Conrad takes center stage and announces that he and the band's co-founder Ruth have "got hitched." The hyped-up fans erupt, the cue for the compelling and infectious opener "Sugar" showcasing Conrad's blues-infused gritty voice and Ruth's equally powerful responses. The relentless, driving "All I Got Is You" is a visual and auditory smorgasbord with "Squeezebox" Rosie Bristow swirling feverishly and performing body contortions in synchronization with lead guitarist Nick Tyler. Consummate front man Conrad initiates audience participation in hand clapping, foot stomping and hollering, while Tommy Evans' pounding drums and Jamie Shields' pulsating bass expertly fill any remaining space left in this ramping wall of sound.
Ruth's piercing vocals define the hard-rocking "Sister" — her fabled, fluent fingers flying across the violin frets with nerve shredding ferocity. The intense chemistry between her and Conrad is evident on the acoustic duets, "Kiss Me Before You Go" and "I Will See You Again." "Through With Talking" is rooted in the blues and features a blistering guitar solo from Nick. "Take A Bite" has captivating Eastern inflections courtesy of Jamie's clever, intricate bass lines and Tommy's complex and technically brilliant stick work. On "Naked In Budapest," Conrad highlights the dangers of over imbibing local liquor, the audience raising the roof with the chorus "We're not going home."
Time for solitude after such exhilaration as Ruth sings and plays the piano on her own for "Salem" and "I'd Give it All," a breathtaking interlude of pure genius. Ruth's emerging status as a world-class performer is confirmed by her appointment as Artist In Residence at The Sage Gateshead to work on a solo project around her experiences as a disabled front-woman. Rosie's instrumental, "River Neva" brings a Russian dimension with its jigs and Cossack-dancing phantasmagorias. Her melodious accordion playing is simply phenomenal. "A Punk Called Peter" adds Mardi Gras New Orleans jazz, blues, and some ska to the mix thanks to Conrad's unique trumpet sound. The barnstorming, mega hit single, "Cold Comfort Lane" raises the temperature even higher. "Upside Down" with its circus theme, the rapping "Mary" and the Dylanesque "Ain't It Enough" keep the fans mesmerized until the climactic finale, "Devil & The Danube." Musicians and fans were at fever pitch and approaching exhaustion but still reluctant to go home.
The whole experience reminded me of the first time I listened to Grateful Dead and King Crimson in that it was both life-affirming and life-changing, despite not knowing what to call the music. So is this pop, gypsy folk, punk, blues, jazz or indie rock and does it matter whether or not the music can be pigeonholed? To quote Jessye Norman, "Pigeon holes are only comfortable for pigeons." In some ways, it is all of those genres and none of them, because these six young talented musicians are writing and performing exciting, innovative music reflecting their individual influences while forging a collective band sound — one that is unique and appeals to the wide age range present from 7 to 70 years and their diverse music preferences. For a couple of hours, the turbulence, hatred and divisions in society are forgotten and music has become the healer. To paraphrase John Lee Hooker: "It is a healer all over the world / It can heal me, it can heal you / I was down / I was down / It healed me."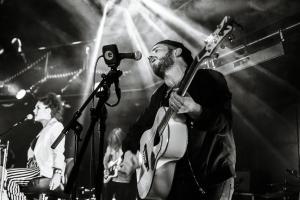 After this sensational show, co-founder Conrad Bird gave his reaction to the tumultuous response from the fans and explained the context of the band's sound and direction as follows:
This was our biggest and best ever gig so far and we were thrilled at the fans' response which left us speechless and what a dream that it happened in our hometown. I like to think of our sound as a melting pot of great, authentic music that makes you feel and think, and genres are vessels for those emotions. I believe genres can be twisted and distorted through history but the universal emotions of being human remain. When I was at university I did a study on a Caribbean poet called Derek Walcott who won a Nobel Prize for Literature and I was reading his acceptance speech and he used this metaphor which made a lot of sense to me. He said time is like the sea and it takes pieces of art like flotsam and bits of wood boats and smashes them up on the shore, breaks them up and distorts them. The role of contemporary artists is to walk along the beach, take some of these old pieces and remake them into modern sculpture so you are using art of the past to make art of the future. That is my philosophy when it comes to any sort of making including the music we make with Holy Moly.
https://www.holymolyandthecrackers.com
*All photos © Darran Moore