In an evening that exceeded expectations, Booker T. Jones entertained Chicago City Winery fans with a triple-threat performance beginning with a lively Q and A, followed by an intimate reading from his long-awaited memoir, Time is Tight. Under the subtle spotlight, the multi-instrumentalist/author drew the audience in with recollections of the "Great San Fernando Earthquake" and "the long and tedious" process of learning meditation. As for his relationship with "The King," he mused: "I was right down the street from Elvis Presley. Don't know why I didn't get in to the band!"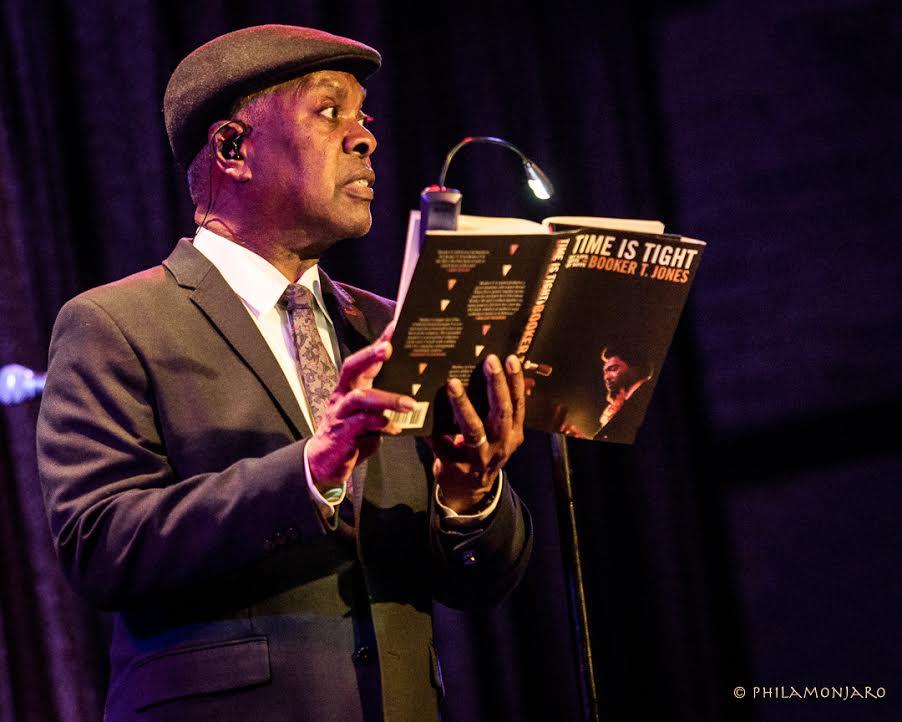 Of course, everyone knew that Jones would bring up the storied studio which brought him fame; the surprise was the back story. "For a long time, Stax meant nothing to Memphis," Jones reminisced, before ticking off names of great recording artists, with whom he performed.
Truthfully, many still associate the multiple-GRAMMY Award winner solely with his unique Hammond B-3 sound, but by the evening's end, he'd pulled out all the stops, as both a soulful vocalist and rhythm guitarist.
"My doctor told me not to sit," he smiled, before leaving his instrument to belt out Screaming Jay Hawkins's, "I Put a Spell On You," while strumming electric guitar. He followed doc's orders again, when wailing a superb Jimi Hendrix-inspired "Hey, Joe" and shot up once more, lingering on dreamy Gershwin phrases during a one-off rendition of "Summertime."
Jones's talented trio includes his leather-clad son, Ted, whose versatile singing style and acid-rock guitar solos added a brilliant touch to spaghetti-western nugget, "Hang 'Em High." The younger Jones also finessed the Jeff Healey cover, "Blue Jean Blues." Drummer Darian Gray, who raps with Dynamic (band), kept energy constantly flowing. Bassist Melvin Brannon's crystal-clear bass line on "Time is Tight" spelled pure magic.
Too, 1967's "Hip Hugger" was craftily resurrected via Gray's hip-hop explosion, and even those too-young-at-heart to recognize its origins rocked to Booker T. and the MG's "Green Onions."
"Born Under a Bad Sign" was another updated treat; the band shifted dynamics to a psalm-like timbre, but didn't neglect to pump it up.
Speaking frankly about his career-long quest to keep material fresh, Jones explained: "The guys came up with a different rhythm; a different attitude." Hence, "Melting Pot" was infused with mesmerizing drum and bass, but the defining moment occurred when Booker T. and son combined forces for a pitch-perfect duet on Prince signature, "Purple Rain." Post-set, the mellow statesman casually inquired, "Do you want one more?" And stunningly hitting that spot was "Hey Ya/When Something Is Wrong."
Booker T. Jones continues to tour the U.S. until mid-February of 2020. For more info:             Booker T. Jones