Philadelphia radio host Jonny Meister has been playing Blues on WXPN since March 1977. The Blues Show airs every Saturday night from 7:00 p.m. to Midnight on WXPN. Meister grew up with old Blues records in the house. His father played Boogie Woogie on the piano and Jonny learned the style at age of 12. As his interest in Blues grew, he became interested in the history of the music.
Jonny spent a week with the family of late Blues musician J. B. Lenoir in 1979. He was one of the consultants for Wim Wenders' film The Soul Of A Man which featured Lenoir in the PBS film series The Blues. Jonny won the "Keeping The Blues Alive" award for work in Public Radio for The Blues Show in 2000 and "Best of Philly" award from Philadelphia Magazine in 1996 for "Best Local Radio Show".
Brant Buckley:
Who are your favorite Blues artists?
Jonny Meister:
I like what I would call authentic Blues. It is dangerous to use this term because people think you are not open to anything new. I have always been open to things that are new. Toronzo Cannon is certainly new. At the same time, there has been a lot of Blues Rock that's used up the oxygen and taken away from better Blues. Hot guitar players who get up there and fire off fusillades of notes get boring very fast for me.

I should plug the first Blues singer I really loved. He is still one of my favorites. Although Johnnie Temple has not recorded since the early 1950's and has been dead since the 1960's, he's my ideal Blues singer. He was understated and subtle. In the 1930's he was pretty popular and Robert Johnson was obscure. Robert Johnson learned some things from him and incorporated elements of his style. Today people have heard of Robert Johnson and he's famous. Johnnie Temple was never celebrated during the Folk Revival.

I grew up on Boogie Woogie, especially the "big three" of that style, Meade "Lux" Lewis, Albert Ammons, and Pete Johnson. My father played Boogie Woogie and taught me to play it. Meade "Lux" Lewis remains a special favorite. I did some research on J. B. Lenoir, and wrote liner notes for the CD "Vietnam Blues" reissuing J. B.'s final two albums together – – haunting and totally distinctive acoustic blues with a good dose of something I value highly in songs, social commentary.

Pictures of two major favorite artists, Blind Lemon Jefferson and Blind Blake, hang in my living room, and my oldest son (a jazz bassist) is named after them as well. I was inspired to do radio in part by Eddie "One-String" Jones, who was recorded in 1960 in LA and disappeared shortly afterwards. The spirit, energy, and upbeat outlook from this street musician who made his own instruments from stuff found in the trash was inspiring.

How do you pick songs for your radio show? What's the criteria?
There's a lot of criteria. A song has to be special and remarkable. I am personally looking for something beyond the ordinary both musically and lyrically; something more eloquent and forceful, maybe it's funny, but goes beyond the standard mediocre song that tells the same old story. There are other factors including the artist's popularity and if they are playing at a big event or festival in the area. I may select a song if the artist is playing at an important event.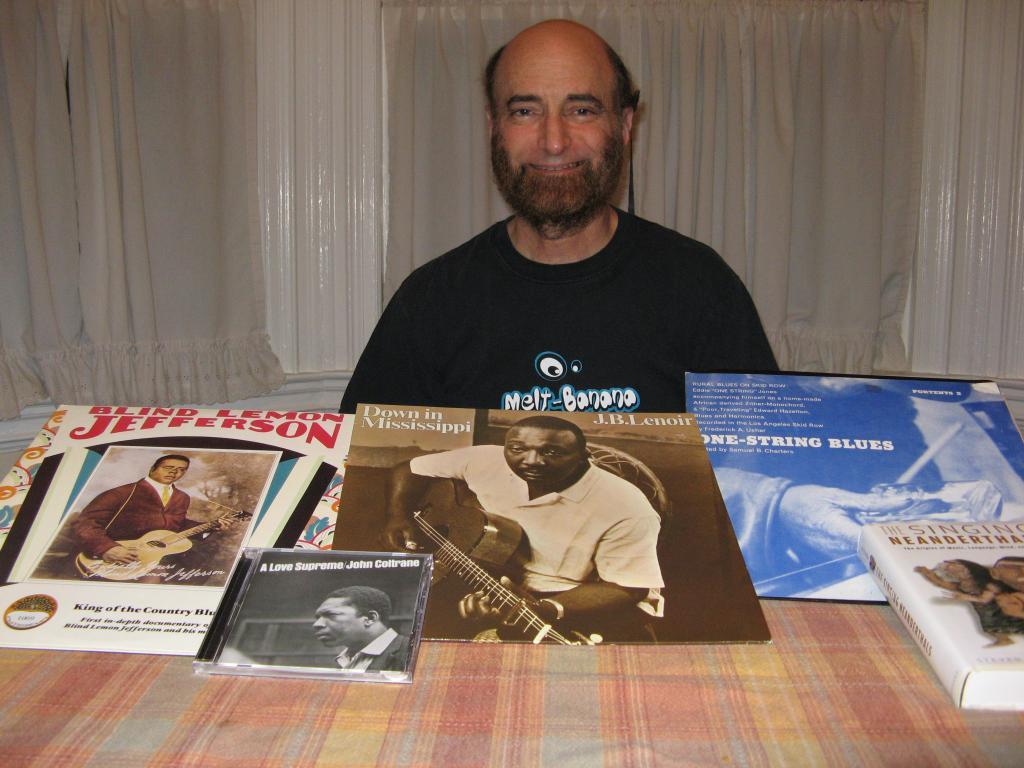 Can you talk about the differences in radio during the vinyl era versus the era we are now in?
Now you can prerecord shows a lot easier. In terms of music, it has always been about putting the best music out whether it came from a record, CD, or file in a computer. I don't really feel a whole lot has changed. Physically cueing up a record meant putting it on a turntable and back turning the turntable. That contributed to the wear of the product. I find the computer to be the most reliable. Even CDs will sometimes skip. I have never had a problem with a file from a computer not playing properly.
Who are your favorite Philadelphia Blues artists?
Philadelphia Jerry Ricks was a great Country Blues artist. Doug Quattlebaum made one single in 1953 and a couple of albums in the 60's, though one of them didn't come out until much later. He was "famous" as a Blues-singing ice cream truck guy here. Vanessa Collier still lives around here although she's not in the area as much because she's traveling so much. For a while she was working a lot in the Philadelphia area. I have a list of active local artists on the show's page. Among them, I think Deb Callahan is an especially good songwriter. Georgie Bonds is a powerful singer, and Mikey Jr. is a wonderful harmonica player and a funny and entertaining performer. The Dukes Of Destiny have been doing it for over thirty years, and they are always fun.

Can you talk about the evolution of Blues since your first broadcast?
I started in 1977 which was a long time ago compared to most radio people. That was still after a whole lot of blues history had already happened. There was an evolution in the early 1920's which consisted of mostly female singers. Country Blues came along with Blind Lemon in 1926. There was the Jazzy era, the R&B era, and the post war Blues era in Chicago. All of that happened before I was on the air. When I started, it was the beginning of a period of eclipse. The British invasion had bumped up interest in the Blues and people wanted to hear Howlin' Wolf because Mick Jagger told them to. By 1977 Howlin' Wolf had died. When I started in 1977, there were not many new releases. The eclipse period ended in the late 1980's. I remember the late 1970's as the era of Punk Rock.
What does WXPN mean to you?
It has been an avenue for me to present a whole different variety of music for over forty years. It has been great. I used to do Folk shows. I started doing the Blues and the Blues has always been my main thing. I did occasional Jazz shows and for a while in the 1980's I was one of the hosts of a program called World Rhythms where I played a lot of international music. That gave me the opportunity to play Calypso which is one of my favorite forms of music.
Who are the new artists that you feel are going to carry the Blues?
I am a fan of Toronzo Cannon. I think he is very cutting edge in songwriting and performance. I am eagerly waiting the day he can retire from being a bus driver in Chicago and go full time. Right now he is one of my big favorites. The Cash Box Kings are doing really good things. Shemekia Copeland, Cedric Burnside, Joe Louis Walker, and Eric Bibb are all doing great stuff in different ways – – also Sugaray Rayford, Southern Avenue, Zac Harmon, and Christone "Kingfish" Ingram. Jontavious Willis and Blind Boy Paxton are noteworthy on the "neo-traditional" side of things, Super Chikan on the "post-traditional" side, and Vaneese Thomas sings powerful songs powerfully – – but there's lots of other people out there playing good Blues.
Anything else you want to accomplish in radio?
Some years ago, I started doing a one hour radio show of Jazz, Blues, and international music. It changed names for a variety of reasons a few years ago and is now known as Blue Dimensions. It goes out to a bunch of radio stations around the country. I would like do more with that. It would be nice to get it on more stations but it is tricky to tell what people really want. Radio is going through a lot of changes because of podcasting. People are not necessarily tuning in at a particular time and new cars are not emphasizing the radio on the dashboard. It could turn out to be a time where people download more and listen on their own terms. We are nowhere near that yet. I think maybe someday that could happen.
*All photo images Elizabeth Meister