Years ago I wandered through some long-forgotten subway station and encountered a musician playing guitar, drums, and harmonica—all at the same time. The sound was propulsive and the ability to do three things simultaneously, drums with feet, guitar with hands, and harmonica with, of course, mouth, seemed positively magical, like the work of a musical wizard. It made me a true aficionado for the one-person-band genre, as exemplified by artists like Scott H. Biram and Bob Log III. Brody Buster is another member of this illustrious club and his album, Damn! I Spilled the Blues shows how one person can be more than enough band.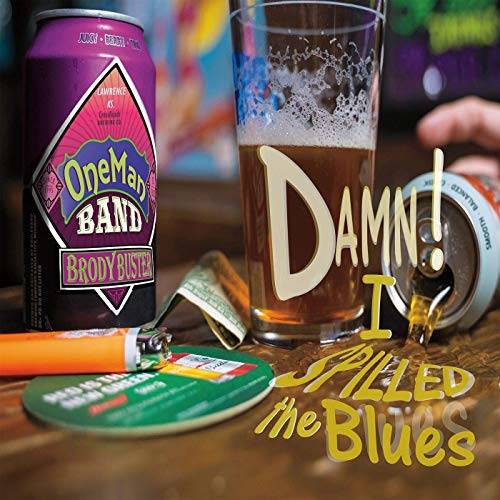 Buster's career trajectory is interesting, having come into music as a child prodigy harmonica
player, experiencing the wide range of TV quality via appearances on The Tonight Show, Bay
Watch, and Full House. He wandered off from music and into drugs, eventually finding his way back to his childhood interest. The economics of the music business meant discovering the market efficiencies of performing alone, where you get 100% of the payment, versus playing in a band, where the money is split.
But Damn! isn't an ode to capitalism. It's a fun, soulful album of blues-based rock and roll. While the draw of the album might be the novelty of a human who can play three instruments simultaneously, Buster is more than just a very impressive party trick. For one, he has a top-notch voice, equal parts country twang and rock and roll mania, with just a hint of blues growl.
One of the best examples of it is on "Bad News," which has the expansiveness of a classic
Motown track, but deceptively simple instrumentation. The vocals are intense and heartfelt, his drums and guitar sounding majestic, and his harmonica cuts through the song sounding as large as an orchestra but much, much funkier. It would be hyperbolic to say the track is a wall of sound a la Phil Spector, but the grandeur Buster accomplishes with just those four elements is amazing; perhaps a tall, sturdy fence of sound.
Buster is also an interesting lyricist. "Week Long," about an extensive bender, has a manic
rockabilly beat that would make many punk bands jealous. He uses the song as a confessional, admitting, "It's enough to make you shiver / It's enough to make some people cringe / When you go out on another / week-long drinking binge." There's something very matter-of-fact about the delivery, the vocals devoid of anger or shame, that makes the vocals even more chilling.
The challenge of the one-person band concept is that the sound can get old fairly quickly, as the sonic palette is limited. Damn! moves along nicely and while some of the songs could be
tightened individually, the song selection across the board shows a lot of variety. There's blues, country and even flirtations with jazz, all wrapped up in a rock and roll candy shell. But even as the songs shift, the undercurrent of the album—Buster alone doing everything—provides a bridge between the tracks. It would be great if this album is a huge success for Buster, but I hate to think about him getting rich enough to hire a whole band.
Artist: Brody Buster's One Man Band
Title: Damn! I Spilled The Blues
Label: Booga Music/VizzTone
Release Date: October 18, 2019
Running Time: 34:53
*Feature image courtesy of the Blues Foundation