One of the contributing authors here at American Blues Scene is Brant Buckley. Buckley is a Berklee College of Music graduate with a Bachelors of Music in songwriting. Born outside of Chicago (Hinsdale), he lived in Costa Rica and spent most of his life in Philadelphia. East coast folk music and the coffeehouse scene inspired his early sound: James Taylor, Bob Dylan, Neil Young, Kenn Kweder, and Nick Drake. In 2012, Buckley independently released his first album, My Life, which was featured in The Times of India (India's CNN).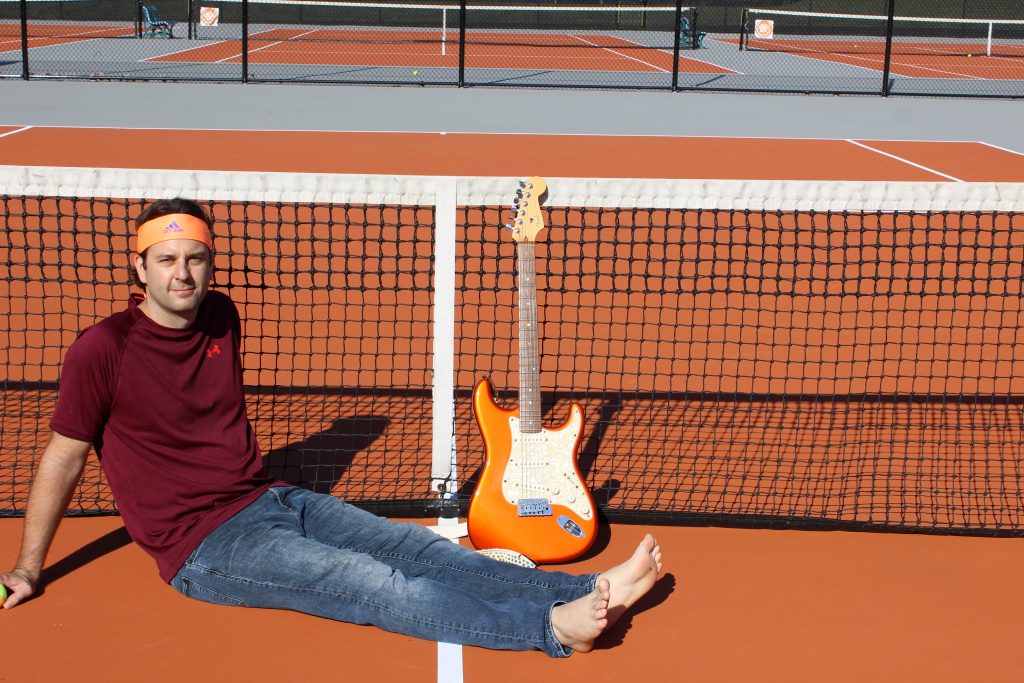 In 2013, Brant met bluesman Jesse Graves. Graves was Philadelphia's premier bluesman during the 1970s and played with Muddy Waters, John Lee Hooker, Bonnie Raitt, Hound Dog Taylor, Arthur "Big Boy" Crudup, and Tom Waits. Jesse learned from Reverend Gary Davis and passed on the blues and Native American Spirituality to Brant. In 2014, inspired by Jesse, Brant moved to Chicago to learn more about the blues. Working as a tennis pro, Brant experienced the blues for himself after having a career ending tennis injury. The pain taught him what blues are all about.
Buckley's Chicago blues sound is melodic, rhythmic, and haunting. He pulls heavily from his folk and spiritual background and there are hints of Muddy Waters, Robert Johnson, and Son House. He is all about the power of song and is unlike the typical Chicago blues guitar gunslinger. Although he can mesmerize you with his electric guitar playing, he's less about ego-driven playing and more about suiting his songs. In addition, Brant is a certified USPTA tennis professional and has been practicing meditation (Kriya Yoga) and energetic healing for over 10 years.
JD for American Blues Scene:
There are several blues artists who have influenced you and your music. Who are your favorites?
Brant Buckley:
Muddy Waters is by far my favorite Blues artist. He was the king of Chicago and I believe he still is. Long live the King! He invented electricity meaning he electrified the blues. It seems to me that everyone who came into contact with him benefited. He elevated the players and they played above and beyond their abilities. He had a command and power over the stage that no one will ever match and he did it with limited EGO. He also had hit songs thanks to Willie Dixon. It seems to me that Chicago era was magical. There are many great Chicago guitar players, but songwriting, in my opinion, has taken a back seat to guitar playing. Today the magic and mojo isn't like it used to be. I wasn't even around then, but I can see and feel the spirit that is missing.

Jesse Graves is another huge influence. I didn't really get into blues music until my mid 20's after meeting him. I met him while playing guitar in Philadelphia, and he gave me tapes of Muddy Waters, Howlin' Wolf, Sonny Boy Williamson, and Son House. In the 70's he was Philadelphia's premier blues player and opened up for and knew many of the greats. He really changed my life during our two week encounter. Prior to meeting him, I could play blues but didn't really understand. For two weeks he taught me 6 hours a day and I couldn't get a word in. He passed on blues and Native American Spirituality. It was musical boot camp.
Can you tell us about your new song "Nerve Damage Blues"?
I relocated to Chicago. I was a USPTA certified teaching tennis professional and tennis had been a huge part of my life since I was a kid. I landed a Pro position, teaching tennis, but unfortunately suffered an on the job injury which abruptly ended my tennis days. Over a three-year period of pain, muscle weakness and dejection, I lost my money, my job, and was forced to sell my car. I was miserable. From this dark time I wrote the song, "Nerve Damage Blues." The lyrics in the song talk about the whole experience.

I had the blues so bad I couldn't even play the blues and I didn't want anything to do with anyone or anything. Looking back now, the injury was an extreme blessing and it happened for a reason. Going through it taught me what the blues are all about. I must thank the injury for my new musical sound. Real blues are no joke and it's like Son House said: "The blues ain't nothing but a low down shaking chill. If you ain't had em I hope you never will."
How does spirituality and the mystical affect your music?
It's the most important thing in my life and what I rely on. It's very similar to food and water. Source will never let you down and always has your back. Every morning I meditate and do energy work on myself for an hour. Since I am a feeler and music is all about feeling, it really helps when it comes to writing music and channeling songs. If you are in tune with yourself and are aware everything becomes very clear.

I've visited a lot of blues musicians graves, in and around Chicago, to soak the aura up and learn. I've offered my respects to Muddy Waters, Howlin' Wolf, Big Bill Broonzy, Magic Sam, Junior Wells, Hound Dog Taylor, and Jimmy Reed. My calling card includes putting carnations on their graves.
What do you want to do with your music?
I want to use my music as a vehicle and platform to spiritually wake and shake people. The music is secondary, as the spiritual aspect is my primary motive. Music is a tool for connection and understanding. It's also a mirror for people to see inside of themselves.
There have been lots of changes in the blues over the years. Where do you see blues music going?
It's like Willie Dixon said: "Blues are the roots and everything else are the fruits." Man, he was the greatest songwriter. It's always going to be alive and in everything else. But real blues is like an endangered species. Pretty soon all of the second hand originators will be gone. People are dying left and right. Second hands are blues guys who learned from first hand people like Muddy Waters, Son House, and people like that. I think we are now in the 4th generation or something like that. Whatever time frame we are in, the blues deserves a real resurrection. I am talking about the way the British exposed blues to everyone. I think it's damn time for an "American Invasion." I am puzzled why this hasn't happened yet. The Rolling Stones are great but it's time for someone else to take the torch at that level. This is what I am shooting for. People may think I am nuts but someone has to do it and think like this. I see blues making a big comeback. Chicago needs to get back to the Chess Records days and tap into magic and soul. The scene needs a spiritual awakening plus Gris Gris and a mojo hand! It needs a song that creeps through the charts that is unlike anything else and takes over. Once the magic starts it will pour.
What else do you personally want to accomplish?
Musically, I want to be the artist that crosses the blues over in a big way to the younger generations and keeps its soul authenticity intact. Spiritually, I want to keep meditating, growing, and learning. I practice Kriya Yoga which is also known as the lightning path. I've heard after decades of practice the body requires zero to no sleep. I am looking forward to that. I eventually want to live and have a place in The Black Hills of South Dakota. That area is a spiritual mecca. If I grow spiritually, I will grow musically. In the future I would love to start incorporating Indian music into my sound. I want to go to India and spend half of my time correctly learning the music and the other half spent meditating in a cave in the Himalayas. As long as I can breathe, have shelter, and enough cash to eat a sandwich, I will remain content and thankful. It's like the great Warren Zevon said "Enjoy every sandwich." Accomplishments don't really mean that much to me. You've accomplished something in this life time if you find yourself. That's why we are here.