Stony Plain Records announces a November 20 release date for Blues Bash with Duke Robillard & Friends, the new album from two-time Grammy nominee and multiple Blues Music Award-winning guitarist Duke Robillard.
Robillard, himself, declares Blues Bash to be "packed with plenty of bright sounding Fender guitar a la Ike Turner, Lefty Bates, etc. Just a good listening or dancing record like the blues records I bought when I was a kid. It was pretty much a reunion of sorts and I wanted the material to be simple, straight-ahead '50s style blues and R&B. Basically it's a blues party album and that feeling is what I wanted to convey."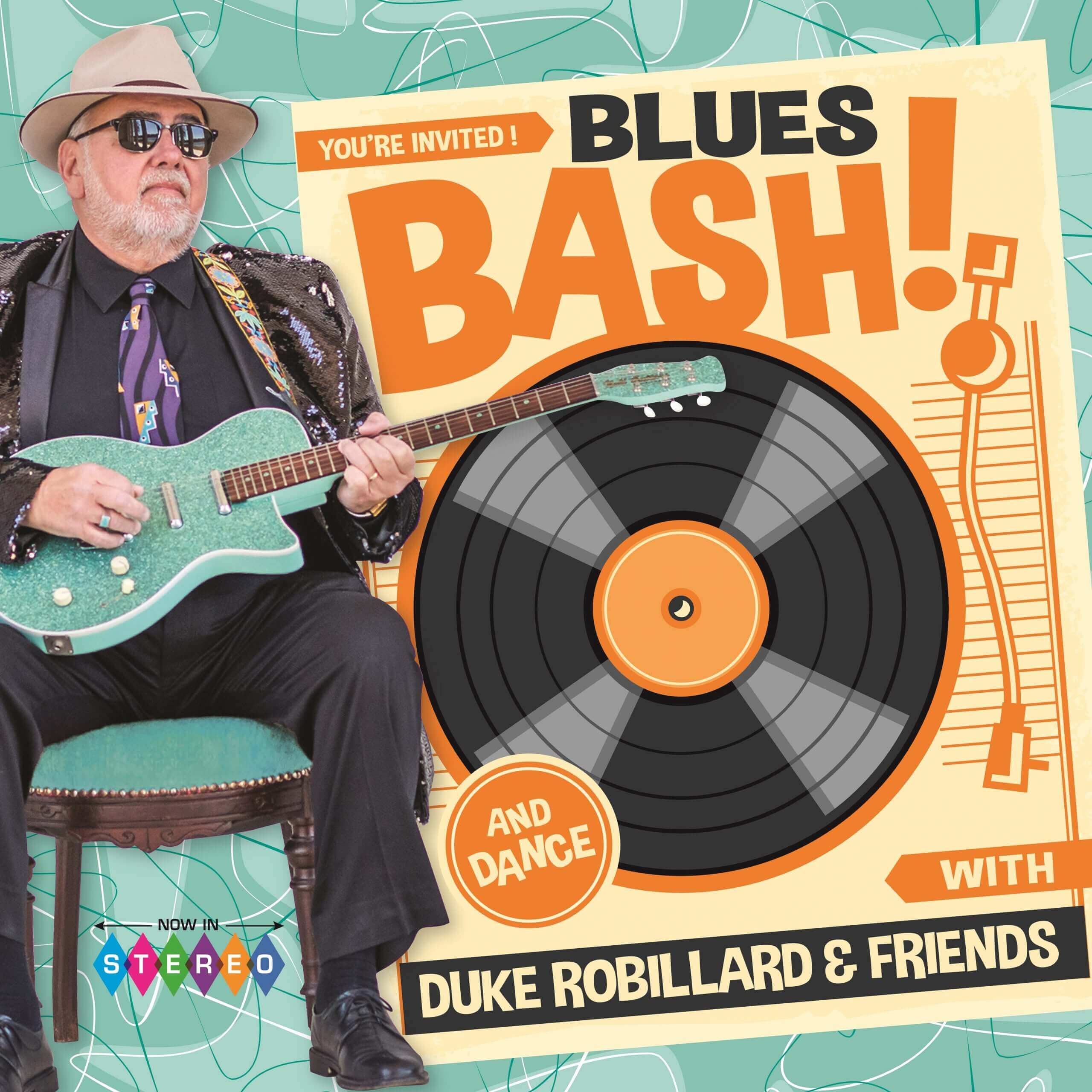 While Duke has admitted that his concept for Blues Bash was to make a straight vintage-style blues album with rhythmic grooves and no hook-laden songs, as always, the music is impeccable, classy and powerful. Two stellar horn sections (including one that reunites him with many members of the original Roomful of Blues horns), searing guitar and organ solos, boogie-woogie piano and guest vocalists Chris Cote and Michelle Willson help to propel the groove. Duke is in his element here, displaying his authority, versatility, passion and virtuosity. Not only is Blues Bash the kind of album that made so many blues fans fall in love with Duke's music, it's a career highlight from one of the world's best.
Robillard has been defined as not merely a great artist, but also a true historian, scholar and curator who is adept at electric and acoustic blues, jazz, jump, swing, ballads and standards. Grammy-nominated and a five-time winner of the Blues Music Award as best guitarist, over his 50 plus year career Duke has been a prolific songwriter and is considered a blues guitar master. Duke continues to be a sought after side-man and featured guest.
"Considering Duke Robillard's illustrious and prolific musical contributions over the years (with many of the highlights on Stony Plain), and with such straight-ahead fare, Blues Bash with Duke Robillard & Friends shouldn't require much exposition," writes esteemed blues writer/historian Dick Shurman in the album's liner notes. "But this writer always jumps at any opportunity to extol the many joys of Duke and his music, so we'll lay out the basics about this bash and throw in a few well-earned superlatives.
"The collective roster spans the full chronicle of Duke's recording career. Of the two stellar three-horn sections, the all-saxophone Rich Lataille-Greg Piccolo-Doug James lineup present on most songs here takes us back to the early Roomful years; on another song, James, Al Basile and Sax Gordon ably keep the party live and more. Both sections keep their collective foot south of Duke's shirttail and acquit themselves with their long established distinction when called upon to solo. The rhythm sections also consist of familiar stalwarts: bassists Jesse Williams and Marty Ballou, drummer Mark Teixeira (and Marty Richards on one track), and keyboard player Bruce Bears, who gets a nice organ showcase on the closing 'Just Chillin'.'Among the other guests, harp player Mark Hummel and pianist Bob Welsh (who has a great feel for gritty Chicago blues) go with Duke toward Jimmy Rogers territory on a remake of Duke's 'No Time.'"
"Guest vocalist Chris Cote from Boston works in several bands and can sing anything," enthuses Duke. "He has a real love for the blues and all his vocals here are live in the studio. Female guest vocalist Michelle 'Evil Gal' Willson sings live also and tears up Helen Humes' 'You Played On My Piano.' Boogie pianist deluxe Mark 'Mr. B.' Braun is the backbone from start to finish on Smiley Lewis' 'Ain't Gonna Do It.'"
"Saying Duke's broadly and deeply informed music reflects careful and diligent study is stating the obvious," adds Shurman. "But in some cases, like this album, not a lot of analysis and reflection are called for. After all these years and accomplishments, he and his cohorts have given us a wonderful reiteration of the continuing greatness of the jumping, swinging jazz-infused blues that brought him and Roomful to prominence. Frankly, this isn't an album to read liner notes by. It's far more suited to moving and grooving, sweating or at least toe tapping, signifying and getting happy – all with appropriate facial coverings and social distancing, of course."
Since starting his musical career in 1967 by founding and fronting Roomful of Blues, Duke Robillard has been at the forefront of Blues, Swing and classic R&B/Jump blues for over 50 years, earning him his legendary status while influencing and inspiring countless legions of musicians and fans worldwide. Leading his own group, Duke has toured non-stop for the past 40-some years, recording more than 30 critically acclaimed CDs under his own name. He has toured as a guitarist with Tom Waits and the Fabulous Thunderbirds and recorded with the likes of Bob Dylan, Ruth Brown, Jay McShann, Pinetop Perkins, Kim Wilson, Jimmy Witherspoon, Rosco Gordon, Maria Muldaur and many more.
*Feature image credit: David Lee Black