John McLean and Charles Barkatz announce a December 4th release date for Shadow Man, their new CD which teams them up with producer Mark "Kaz" Kazanoff and a host of Austin all-star musicians for a sound that treads nicely in blues, jazz and roots music territories with an international flair.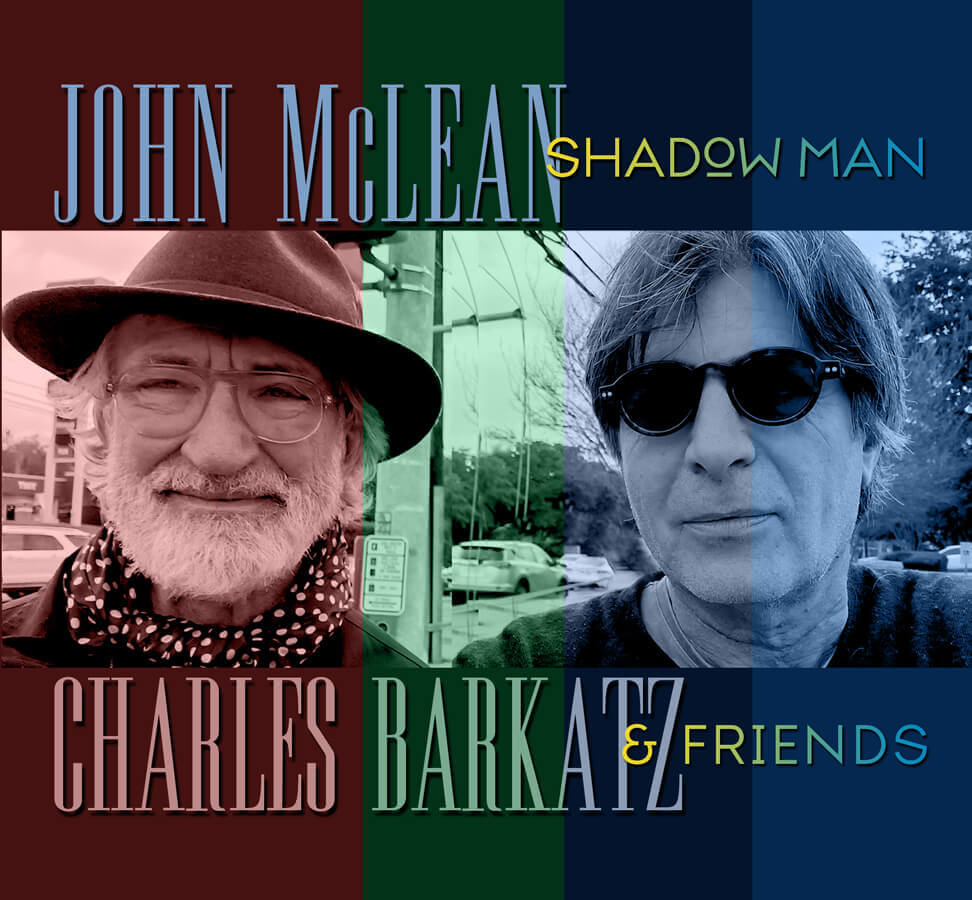 My good friend Alex Coke introduced me to his brother, John McLean, in early 2019. John mentioned that he wanted to make a blues record in Austin with his Parisian guitar playing pal Charles Barkatz. I was a bit skeptical at first, not ever having heard of John or Charles in the 'blues' world. But as John sent me their demo recordings over the next few months, I began to hear their beautiful and original take on the blues. Not your typical contemporary blues, this material focused on wonderful new poetical lyrics, and songs that created moods ranging from raw deep blues to jazzy almost impressionistic grooves.

Our terrific keyboardist, Nick Connolly, lightheartedly described the music as 'beatnik blues,' but there is a hard edge of sorrow and existential desperation to the songs. This is real personal blues coming from their lives and experiences, and it demanded a high level of collaboration among John, Charles, me, all the musicians, and Stuart Sullivan, our recording engineer. We all played together in a big room at Wire Recording. The musical result depended on everyone's creative and often spontaneous effort, lead by our incredible rhythm section of Derek Obrien on guitar, Chris Maresh on bass and John Chipman on drums.

Because of the uniqueness and freshness of the song material, as producer I was very comfortable with adding instruments not usually present in contemporary blues contexts. So, we welcomed Alex Coke on alto flute and soprano saxophone, and Elaine Barber on harp, on several tunes. The Texas Horns added their punchy tight arrangements. I hope you will hear and enjoy the fun and excitement we all shared in making this music! – "Kaz" Kazanoff
Author and composer John McLean has developed into an eclectic, multi-talented artist who has always followed his passions in theater, cinema and music wherever they might lead:  New York, Paris, and most recently Austin, Texas. Born in Manhattan, New York, he was brought up on a ranch near Dallas, Texas, and studied writing and theater in Boston, which prepared him for his many different pathways in art.
McLean has been cited by the New York Times for his virtuosity in playing flutes and bagpipes with the Menestriers of France at the Metropolitan Museum Concert Hall, and later for his sensitive off-Broadway theater production and direction of Fabrice Rozier's play about Simone de Beauvoir's Transatlantic Liaison at the Clurman Theater.
As a jazzman, John has been a leader of several groups in Paris such as the Fairweather Quintet, where he performed at the Petite Journal de Montparnasse and with his duo partner Charles Barkatz at the Duc de Lombards.  He recently appeared in New York at a sold-out evening at  the Cornelia Street Cafe with his group, the John Mclean Quartet, with Ed Howard on bass, Paul Bolenback on guitar and Alex Coke on flute and sax. Now a dynamic 80 years of age, John starts a promising new career as singer and songwriter with the release of his latest album, Shadow Man.
Charles Barkatz was born in Paris in 1959 and began playing the classical guitar at the age of 12 at a conservatory. Very quickly influenced by Muddy Waters, B.B. King, John Lee Hooker and especially Jimi Hendrix, he started learning to play the blues by himself.  Soon afterwards, having the good fortune to see the legendary West Montgomery and Kenny Burrell playing in Paris, he concentrated on learning jazz technique and joined the CIM school, playing as solo guitarist in the student big band.
Barkatz played regularly in duos, trios and in a quartet with the pianist Patt Burter, with whom he discovered the repertory of Brazilian composer Antonio Carlos Jobim. He met bassist Vincent Naturel and accompanied Cathy Renoir among many other woman vocalists. He started doing studio work with singer Ken Allen and continued his studies of jazz guitar with guitarists Jean-Philippe Bordier and Serge Merlaud and singing with Isabelle Carpentier.
He records and plays regularly in the U.S at the Blue Rooster and at the Five O'clock Club in Sarasota with guitarist/singer Al Fuller and in Tampa with the singer Peter D'Straw. He is the author and composer of several titles of jazz, blues, and folk songs, is preparing an album of Latin music with the pianist Eric Viara and appears regularly in Paris. His CD, So Nice to Come Home To, in collaboration with John McLean was released in 2019.
*Feature image credit: David McClean