Two-time Blues Music Award nominee Dave Keller is an acclaimed triple-threat: an outstanding singer, an intense guitarist and a talented songwriter. Fueled by his love of deep Southern soul blues and gospel, his performances ring out with passion, integrity, and an ability to break down the barriers between performer and audience.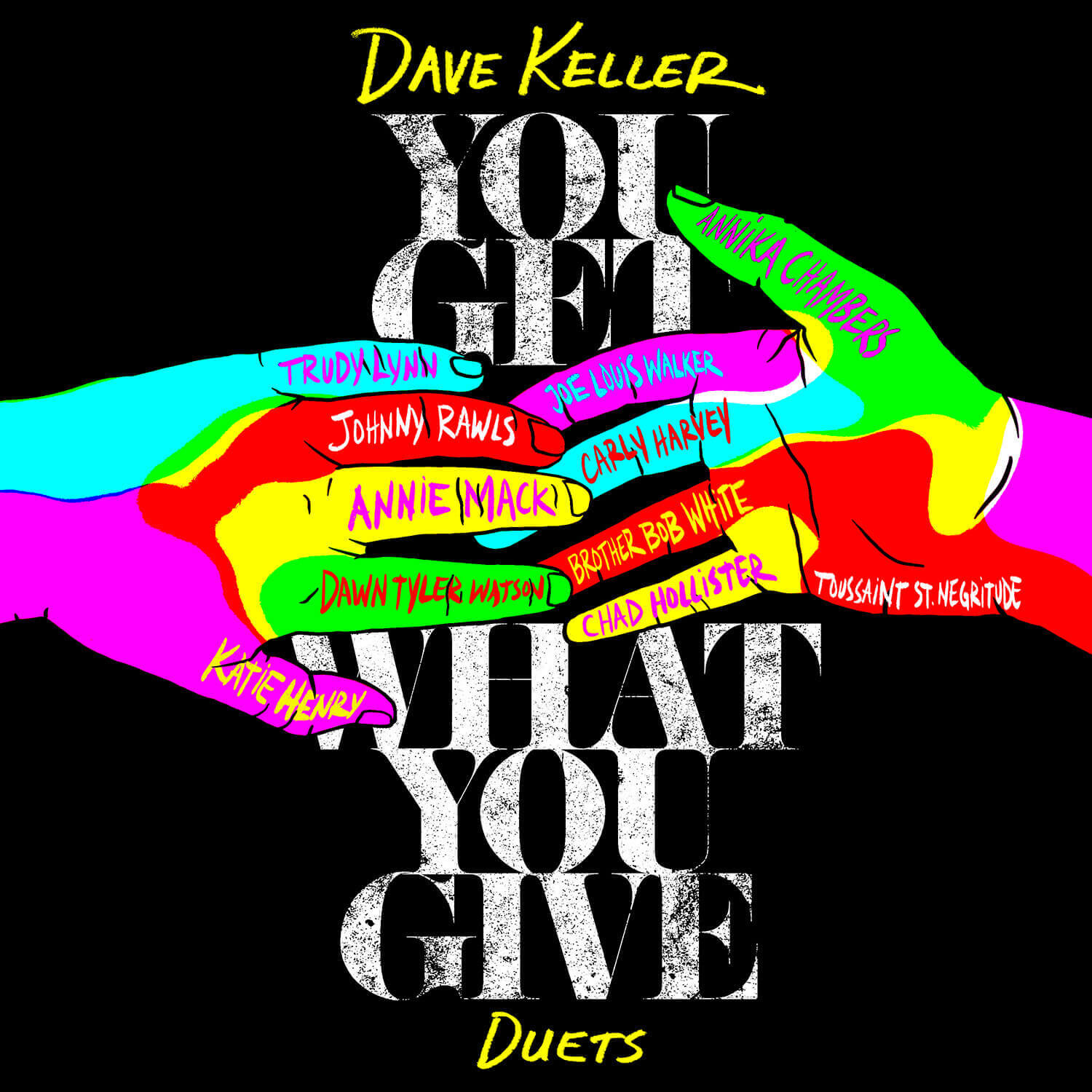 On his new Tastee Tone Records CD, You Get What You Give, set for release on November 20th, Keller unites with a host of like-minded singers and musicians from the blues, soul and gospel music worlds to create a very special album of songs dedicated to raising funds toward enhancing racial justice and equity. Joining him are Trudy Lynn, Joe Louis Walker, Annika Chambers, Johnny Rawls, Annie Mack, Dawn Tyler Watson, Brother Bob White, Carly Harvey, Toussaint St. Negritude, Katie Henry, Chad Hollister and many more artists who donated their time and talent for the cause.
"We've already raised over $2,000.00 from pre-orders, all of which will go directly to groups working for racial justice and equity," says Keller, who also produced the album. "So far, the list of groups includes: NAACP Legal Defense Fund, Know Your Rights Camp, N'COBRA, and Jus' Blues Foundation."
Ever since renowned guitarist Ronnie Earl chose Keller to sing on his album Living In The Light, Keller's star has been on the rise. In just a few short years, he has received two Blues Music Award nominations, won the International Blues Challenge Best Self-Released CD Award, and been chosen for Downbeat's Best Recordings of the Year.
A bit of a late bloomer, Keller grew up in Massachusetts, loving music, but not picking up guitar until age 16, and not singing in his first band until age 20. But blessed with mentors including deep soul singer Mighty Sam McClain, mystical soul guitarist Robert Ward, acoustic blues master Paul Rishell and soul/blues man Johnny Rawls, Keller made up for lost time.
Relocating to icy Vermont in 1993, Dave found fertile ground to grow his audience, and has become a household name there. Famous for his live-wire shows, he can often be found fifty feet out in the crowd, teasing fiery licks from his trusty Stratocaster and singing off-mike as the audience sings along.
Keller has performed at some of the biggest festivals in the East, including the North Atlantic Blues Festival, the PA Blues Fest, and the Discover Jazz Festival. He has also performed at the Blues Music Awards ceremony twice, accompanying Ronnie Earl, and Johnny Rawls.
"Back in June, after the murder of George Floyd, I watched this country seething with anger and pain," relates Keller about the new album's genesis. "As someone who has built his career performing Black music, and who has received priceless gifts from Black mentors, I asked myself: 'What can I do to help?' Due to Covid-19, all my summer gigs had been cancelled, and I had some extra time on my hands. So I thought, 'What if I record my new originals with some of my friends, and donate the money from album sales to groups working for racial justice and equity?'
"I put the idea out there on social media, and the response was incredible. Within 24 hours I had received hundreds of dollars-worth of pre-orders. Dozens of musicians wanted to participate. Clearly other folks felt the way I did, and wanted to give back in some way.
"The musicians on this album represent a great diversity of styles, backgrounds, ages, genders, and ethnicities. Some are known around the world. Some are known only locally. But most importantly, their music and their 'soul' move me. I am proud to call each of these wonderful human beings a friend."
TRACK LISTING & CREDITS
One More Tear
Dave Keller: vocals, electric guitar
Annika Chambers: vocals
Ira Friedman: organ
Alex Budney: bass
Jay Gleason: drums
Mark Earley: tenor and baritone saxes
Mario Perrett: tenor sax
Tom Palance: trumpet
That Thing We Do
Dave Keller: vocals, electric guitar
Carly Harvey: vocals
Ira Friedman: organ
Alex Budney: bass
Jay Gleason: drums
Mark Earley: tenor sax
Tom Palance: trumpet
Garth Retallack: trombone
You Get What You Give
Dave Keller: vocals, electric guitar, acoustic guitar
Annie Mack: vocals
Ira Friedman: organ
Alex Budney: bass
Jay Gleason: drums
Mark Earley: tenor and baritone saxes
Mario Perrett: tenor sax
Tom Palance: trumpet
Katie Sterling: backing vocals and handclaps
Havvah Keller: backing vocals and handclaps
Idalee Keller: backing vocals and handclaps
April Caspari: backing vocals and handclaps
Chad Hollister: backing vocals and handclaps
Johnny Rawls: backing vocals
The Evil That Men Do
Dave Keller: vocals (first and last verses)
Trudy Lynn: vocals (second verse)
Annika Chambers: vocals (third verse)
Annie Mack: vocals (fourth verse)
Johnny Rawls: vocals (fifth verse)
Ira Friedman: piano
Tom Palance: trumpet
Scratchin' At Your Door
Dave Keller: vocals, electric guitar (first solo)
Joe Louis Walker: vocals
Chris Robertson: electric slide guitar (outro solo)
Ira Friedman: organ
Alex Budney: bass
Jay Gleason: drums
April Caspari: backing vocals
Your Kind Of Fool
Dave Keller: vocals, electric guitar
Trudy Lynn: vocals
Ira Friedman: piano, organ
Alex Budney: bass
Jay Gleason: drums
God Is Love / Love Is Everything
Dave Keller: vocals, electric guitar
Dawn Tyler Watson: vocals
Vince Allen: electric guitar (solo)
Ira Friedman: organ
Alex Budney: bass
Jay Gleason: drums
Mark Earley: tenor and baritone saxes (solo)
Mario Perrett: tenor sax
Tom Palance: trumpet
The Spark
Dave Keller: vocals
Ira Friedman: piano
Make It To Tomorrow
Dave Keller: vocals, acoustic guitar
Chad Hollister: vocals, cajon
Land Of The Lonely
Dave Keller: vocals, electric guitar
Johnny Rawls: vocals
Ira Friedman: organ
Alex Budney: bass
Jay Gleason: drums
Precious Lord, Take My Hand
Brother Bob White: vocals, piano
Dave Keller: electric guitar
Larry Gann: drums
The Kiss I Want
Dave Keller: vocals, electric guitar
Katie Henry: vocals
Ira Friedman: organ
Alex Budney: bass
Jay Gleason: drums
Mark Earley: tenor and baritone saxes
Mario Perrett: tenor sax
Tom Palance: trumpet
I'm Gonna Let It Shine
Toussaint St. Negritude: vocals
Dave Keller: National steel guitar, harmonica
*Feature image (L-R) Johnny Rawls and Dave Keller Photo Credit: Laura Carbone