Third Man Records and Columbia Records have revealed the epic track list for The White Stripes Greatest Hits. The first-ever official anthology of recordings from the iconic rock duo, Jack and Meg White, collects 26 previously released songs for this essential, career-spanning set, such as "Seven Nation Army," "Fell In Love With A Girl," "Hotel Yorba," "Dead Leaves And The Dirty Ground," "Hello Operator," "Icky Thump," "Apple Blossom," and more (full track list below). The White Stripes Greatest Hits will be released digitally worldwide and on vinyl (2xLP 150-gram black vinyl) and CD in the US, as well as on CD in Canada on December 4. The vinyl and CD for the rest of the world will be available on February 12, 2021. Pre-order and pre-save the album here.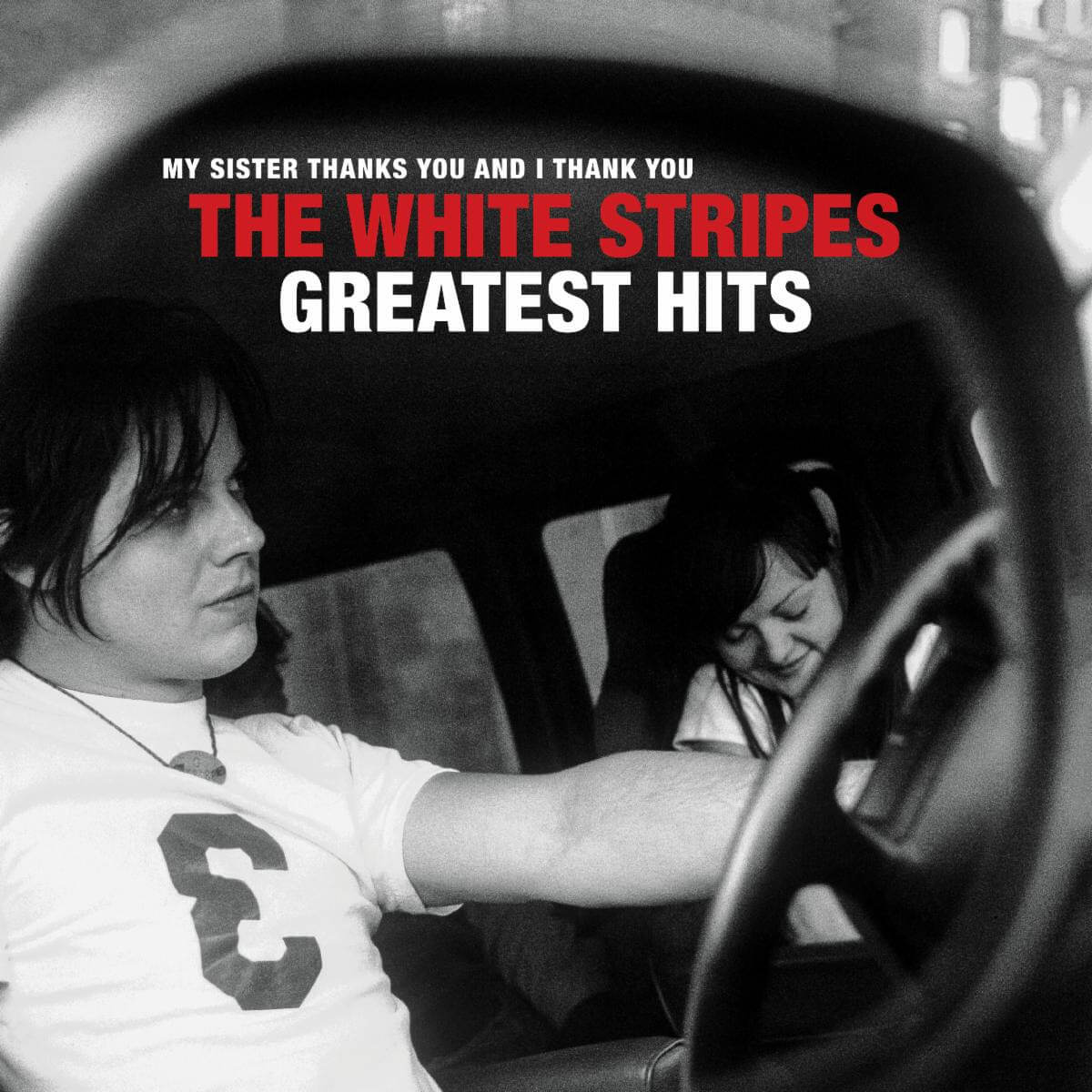 Additionally, an array of added value items will be available on a first come, first served basis with the purchase of The White Stripes Greatest Hits on vinyl or CD at select independent record stores in the US starting on release day, December 4 (while supplies last). These special items each correspond to one of the twenty-six tracks on the album and will be distributed randomly to stores.
A limited number of stores will also be hosting a raffle for a vinyl test pressing of The White Stripes Greatest Hits with the purchase of the new album. See the participating stores here and stay tuned for updates on international stores closer to the February 12, 2021 international vinyl & CD release date (including Canada). An exclusive UK item will be available on February 12 as well. Fans can also get a limited edition The White Stripes slip mat with vinyl purchases exclusively at Target – pre-order here.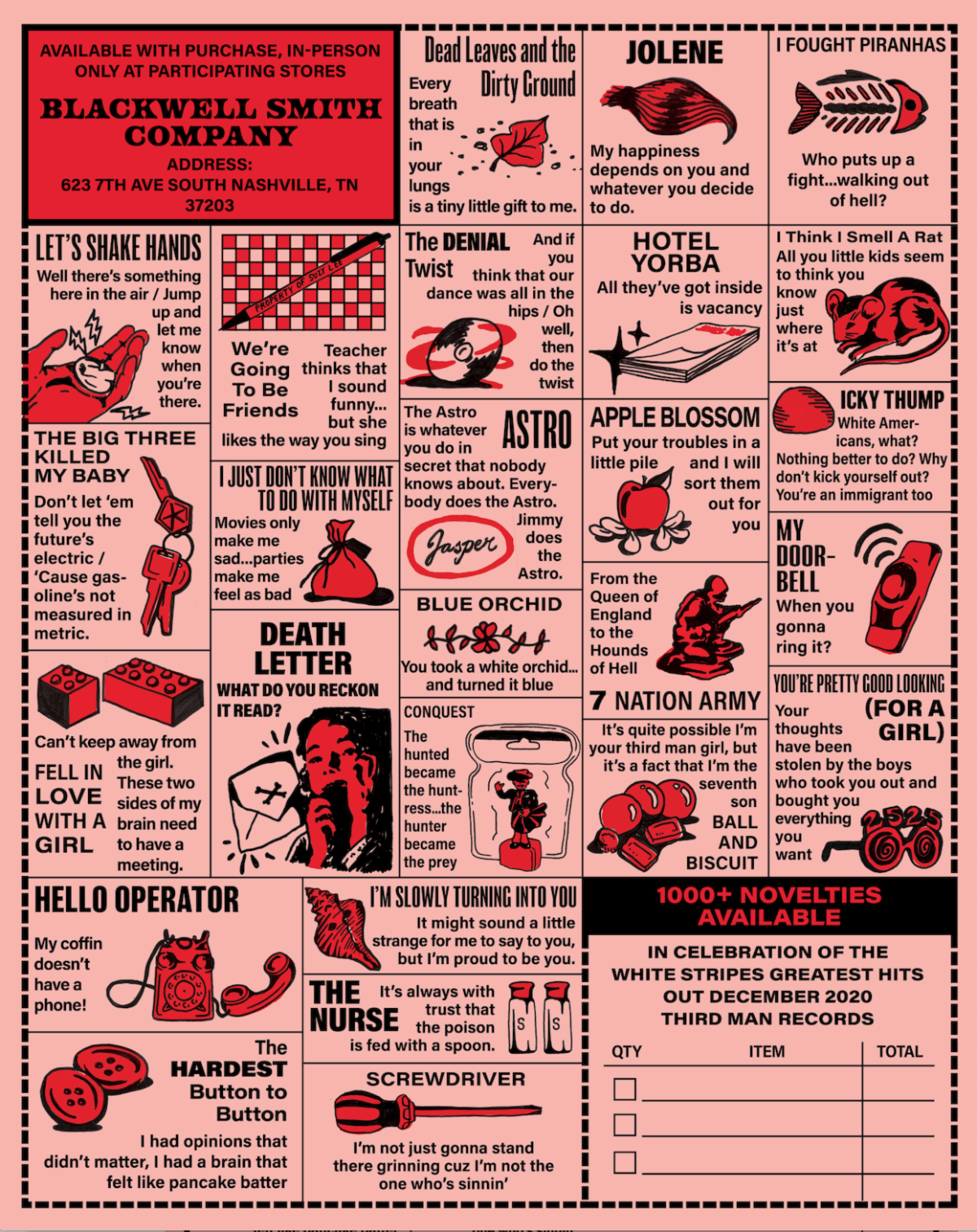 The band recently dug into the archives to share a never-before-seen live performance video of "Ball and Biscuit" from their October 22, 2003 show at Tokyo, Japan's Shibuya-AX. Furthermore, The White Stripes will be releasing upgraded High Definition versions of their groundbreaking music videos as part of the Greatest Hits release in December – be sure to subscribe to The White Stripes YouTube channel for more from the archives and to watch the HD music videos when they debut.
The White Stripes Greatest Hits track list reveal is being heralded with today's premiere of an all-new animated music video for the fan favorite, "Apple Blossom," directed by Wartella (Cartoon Network's Mad).
THE WHITE STRIPES GREATEST HITS TRACK LIST:
1. Let's Shake Hands
2. The Big Three Killed My Baby
3. Fell In Love With A Girl
4. Hello Operator
5. I'm Slowly Turning Into You
6. The Hardest Button To Button
7. The Nurse
8. Screwdriver
9. Dead Leaves And The Dirty Ground
10. Death Letter
11. We're Going To Be Friends
12. The Denial Twist
13. I Just Don't Know What To Do With Myself
14. Astro
15. Conquest
16. Jolene
17. Hotel Yorba
18. Apple Blossom
19. Blue Orchid
20. Ball And Biscuit
21. I Fought Piranhas
22. I Think I Smell A Rat
23. Icky Thump
24. My Doorbell
25. You're Pretty Good Looking (For A Girl)
26. Seven Nation Army
Website | Facebook | Instagram | YouTube
*Feature image credit: Pieter M. van Hattem