Editor's Note: The new album, 'Push the Blues Away,' was released yesterday in Australia and drops world-wide today, November 13th, via Ivy League Records.
We talk to Australian bluesman Ash Grunwald about his brand-new album with Josh Teskey, Push The Blues Away, fusing the blues, collaborating with Joe Bonamassa and Kim Wilson, and how living a sober life has enriched his music.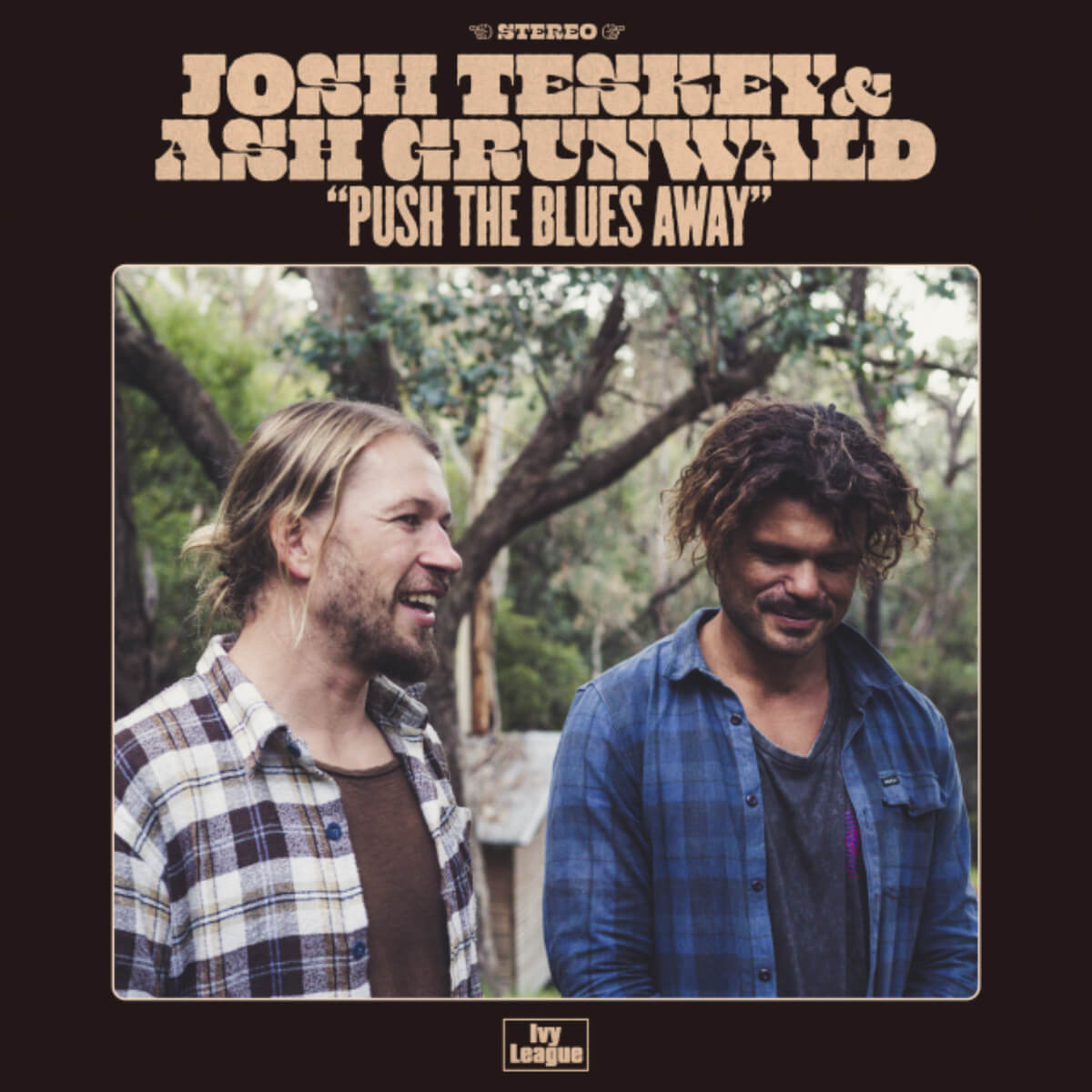 Chloe Kay Richardson for American Blues Scene:
You and Josh Teskey recently recorded a blues album, Push The Blues Away. How did that collaboration come about?
Ash Grunwald:
The Teskey Brothers as a band guested on one track, "Ain't My Problem," on my last album 'MOJO' which was an amazing experience, and I feel fortunate to have them on that. When I went to do the film clip with Josh in their studio, we just spontaneously, while we were waiting for the camera guys started jamming on an old blues song and it was really natural and the feeling we felt between us when jamming was really good and that went on socials and people really got into it so I just suggested we do an album and Josh was into the idea, and away we went, a couple of weeks later we did a full album.

The idea was to record it in a really bluesy way, just honest and earthy like The Teskey Brothers are. We recorded it all analog, no computers involved at all, straight to tape, in their studio. It was great, I don't know if I've ever really recorded an album that way. It was refreshing.

It's really good on the new album to hear Josh, he uses his amazing jaw dropping voice in an Otis Redding style in The Teskey Brothers to amazing effect, it's such soulful music but it's really good on this album to hear his really Delta blues side. Geez that was an avenue that was just insane for the first time in my career to write a blues song for someone other than me to sing on as well, most of the songs we both sing on but hearing his voice on those songs is sick.
Oh 100% and when I interviewed him he was really vocal about how the blues is his first love. The Teskey Brothers are bluesmen, really. Even if their sound does edge more on soul.
We have more crossover too. I'm 10 years older than them and it's so funny there's this little pub that I used to play at called St Andrew's Hotel out in the sticks and they would busk at the markets over the road and then come watch me play in the front bar at the pub and that's before I even had an album out! So it goes so far with us and we didn't even know it. It's really cool.
That's incredible! I love it. Just to backtrack a little, you mentioned your last album MOJO and that features collaborations with Kim Wilson of The Fabulous Thunderbirds and Joe Bonamassa. What was that experience like?
The start of the sessions that became my 'MOJO' album were recorded in LA, and I had a lot of great artists who ended up collaborating on that. Carla Olson was producing it with Brian Brinkerhoff. He flew me over there and got me together with all of these people, and a big one was getting Terry Evans to sing on it, that was amazing. One night I went to watch Kim Wilson and I actually asked him to be on the album. I might have been a little bit drunk when I was talking to him and I think he was thinking "who is this guy? This Aussie?" and then Alvino Bennett who's the coolest cat in the world was playing drums on the album and he was there so he vouched for me and said 'nah Brian's recording this!' so we ended up getting him which was amazing! He's a great singer too.
What a dream! I loved the cover of Townes Van Zandt's "Waitin' Round to Die" on the album. Who's idea was that? Because what you did with that was so different. I loved it.
That was my idea. It came about during one of those nights where I had people over for a couple of drinks which turned into a late night YouTube session and there was a documentary on YouTube, 'Heartworn Highways' where Townes plays that song. It's really worth checking out, there's a black cowboy and an old guy starts crying. It really gets me. So, I had the idea of doing it in a band context and turning it into a blues thing and originally I did a solo on it and it was like almost a BB King solo. It's so funny because I came back to it five years later when I finally tracked down the album and started re-tracking in Australia and to finish it off I did a shred solo on it, and then I got the ultimate blues shredder Joe Bonamassa on it and he did a really tasteful minimal solo so it went a lot of different directions.
That's amazing. It's quite rare to hear Joe play like that. Now, what's your favorite song on the new album? I personally can't stop listening to "Hungry Heart!"
I love "Hungry Heart," and then "Push The Blues Away" is another song that Josh wrote that's beautiful in the same way. That's what he brought to it. The first song on the album is called "Low Down Dog" and it's just a really bluesy song it's one of those songs that just had a way of showing up differently once we got to the end. it's one of my favorites. It's one that I wrote, and I didn't know what it would become but the way it's turned out and the mix and everything it's very swampy and that's pretty cool. I love that bluesy stuff, but I tell you what "Hungry Heart" is probably my favorite anyway.
Is there a specific theme throughout the album or was it more just whatever struck you at the time of writing?
I think the theme is more a musical one. "Hungry Heart" is almost like a blues folk tune. The two that Josh wrote are sweeter kinds of songs but the rest of the album is all very bluesy and I think that's the theme; Two guys who appreciate blues music getting together and doing some really raw, kind of clean and almost acoustic sounding stuff. Pretty similar to Delta Blues really, and that's probably the setting, doing something honest and from the heart. There's a single we have out now called "Something With Feel," which I wrote for the project and that really encapsulates what we were trying to go for. When you live in a world of Instagram and Facebook it becomes more and more important to have something that's real, and something that connects with people in a really human way so that's what I wrote "Something With Feel" about and I think that's what the album is about.
Nice, and I feel like that's a message people need in 2020 especially. The blues itself is pretty intrinsic at the moment, even the title of your record Push the Blues Away is relevant! To go back to that delta blues comment your music is really quite old school at the bones of it. Where did your love of the blues begin?
Totally! I'm very influenced by it. I grew up with it. But you know now that time's gone on I realize there's even a cultural side to it. Half of my family are brown; they're colored South Africans from Cape Town. It's like a Creole middle ground between the African people and the white people especially in the Apartheid that's how it was divided up. I grew up very aware of all that race stuff and I grew up in a very Anglo area and I copped a bit of racism here and there. It wasn't a big deal but that's just how I defined myself compared to my friends. It made me drawn to black American music but even beyond that, musically there was just something that I really felt strongly about in it. I was listening to blues music from a really young age. I grew up in Melbourne and they had really strong community radio, Triple R and PBS and that really helped to educate me and whenever I had money I would buy little CDs and listen to them, I loved it.

I didn't try to be diverse in any way, I just loved blues. The only diversity I had is once I became a professional musician I started playing blues rock, Jimi Hendrix, Stevie Ray Vaughan kind of stuff with my band, even funk. I would play acoustic blues on a Tuesday, Wednesday and a Friday and Saturday night full band, acoustic blues on Sunday, and that's how I started. I was a professional musician before I ever had an album out. By the time I had an album out in 2001 I just did solo acoustic blues really. It grew from there and in the background of all of that there was always this desire to fuse what were at the time modern elements. It was quite rare to fuse elements you find in hip-hop and dance music, in a subtle way but influencing that more modern thing. Now it's not a big deal because that's in everything. Not in blues so much but a lot of people who now call themselves 'folk musicians' are often half electronic musicians on the producing side anyway. I thought that was an interesting thing to fuse those elements so I've always oscillated between the blues and fusing it with something.
Great, and what music has been getting you through 2020?
Hmmm, well I've been doing a lot of recording so I was listening to references for my new stuff. Obviously I love Gary Clark Jr, and The Black Keys, Michael Kiwanuka, oh my god he's so good! I love that it's soulful, and that you can have a song with millions and millions of streams and it goes for 10 minutes, and it's just acoustic guitar for the first minute which is quite amazing. For me it's really inspiring. I love Junior Wells and Buddy Guy. Buddy Guy has been a big hero to me over the years and Howlin' Wolf is probably my biggest blues inspo, I always listen to Howlin' Wolf. There's a great Pop Staples album, he's got a song called "No News Is Good News" which I love! Have a listen to it. I've also been listening to a lot of acoustic John Lee Hooker and Son Little.

I think you're always learning, that's the thing. As I just said at some point it'd be nice to write a song with chords like people do around campfires and stuff but I keep learning in blues too. In the lockdown period I was doing a lot of online gigs and I was going back through a lot of different influences that I had in blues and pulling out some of that stuff and doing covers and people were really enjoying that and that was just so good for me. Speaking of inspiration, it's important to do some homework on people like Sister Rosetta Tharpe, they call her the Godmother of Rock n Roll.
She truly was such an innovator! She inspired people like Elvis and Chuck Berry but went unnoticed for so long. It's great that she's finally in the Rock n Roll hall of fame.
100 percent! Her life story is absolutely amazing! She went on the road with Marie Knight who was suspected to be her girlfriend and they were touring around by themselves. Two black women touring around the whole country just gigging every night, making good money and just killing it! They were all making crazy money, that's the thing. You don't imagine that because of race and gender but it's not true, they were killing it! Bessie Smith was also making crazy money and that's another thing that wasn't realized, even doing gaudy songs with lots of innuendo and playing to a white audience, for a black woman that was ok even in a segregated society, it was actually black men who were the big threat in that way. That's a different perspective, I had never thought about that. That's where black men had the disadvantage over black women being that they could only play to black women at that stage.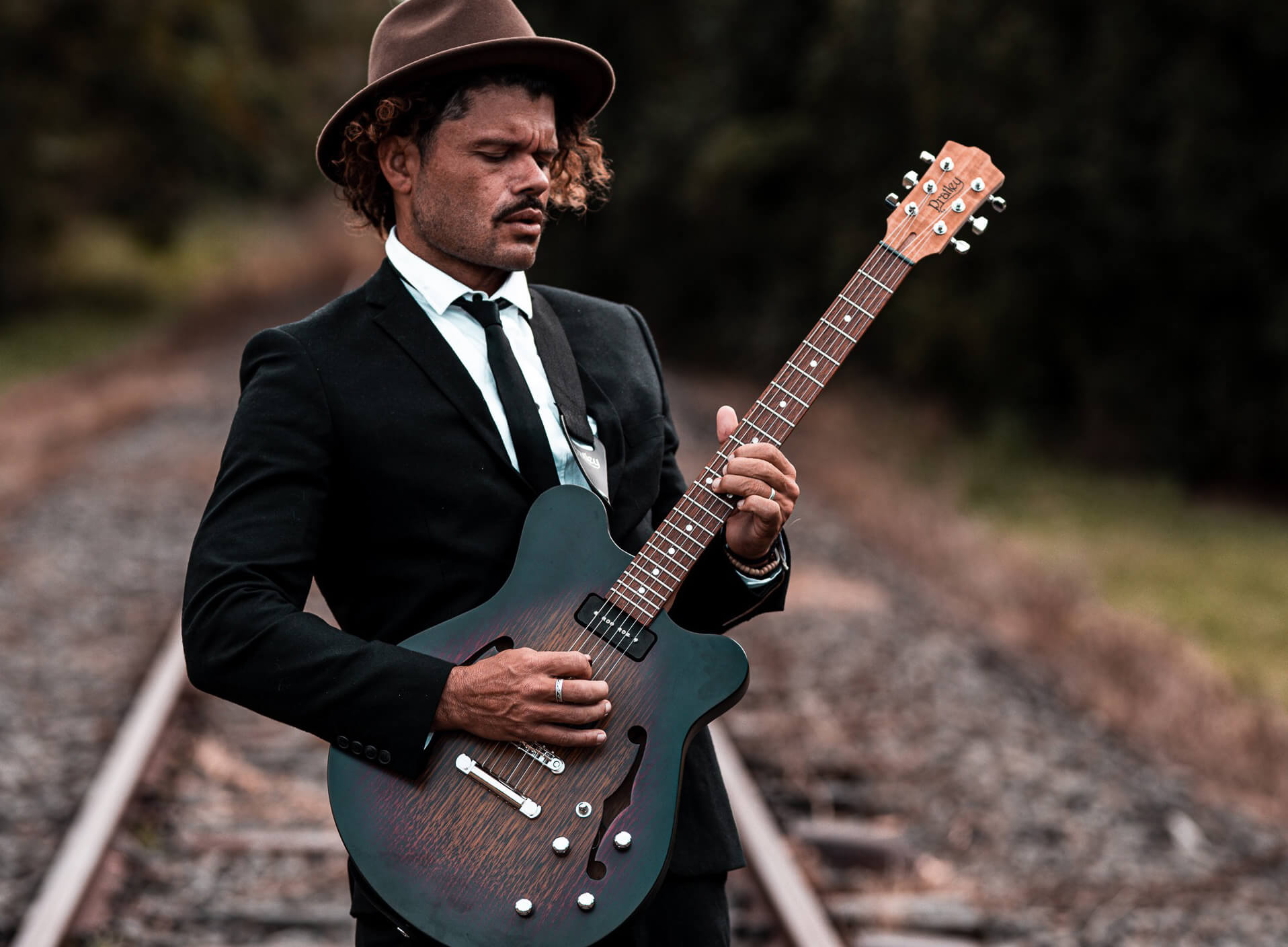 That's a great point! Not a perspective you often hear. Now to go back to what you were saying, you've been playing a lot of livestream shows during lockdown. What's it been like making that transition back into playing live? You're in the midst of a little tour and will be playing shows at Bluesfest.
It's just been great. It's just like slipping on an old glove. The only thing is it's been changed a lot because of what I was doing in lockdown. When COVID hit I was playing electric blues in Europe and touring my ass off in Spain and about to go to France to tour in a three-piece blues rock group. I had dedicated myself to changing up my music a bit and going on a tangent of playing electric blues rock. So, I just rolled with the times and then I just wound all of that back during lockdown to acoustic blues because I was just sitting there on my cajon that I use as a stomp box kind of thing, and started playing acoustic blues to people and that's what I do when I pick up a guitar usually at home or whatever.

So that changed me, I've been doing so much of that and now I'm going out doing these solo gigs and that's my show now so I'm just rolling with that. I guess that's the really good thing about blues and having a long career and having different interests within bluesy stuff. I have all these different sides of it that I can enjoy and when times change and contexts change I go to different eras of what I've done I start updating that and working on that so there's so much to do in it, it's fun.
So true, and you're really a one-man band at the core of it right so you're lucky you have the option to be able to do that. So many wouldn't be able to. Now I have one last question. You and your wife choose not to drink and advocate for that quite heavily online. I really respect that. What advice if any do you have for musicians who would like to go down that sober path? How has it impacted your music?
Well I like that Gnarls Barkley song "Crazy" and it has a lot of meaning for me when I cover that. What does he say 'my heroes had the heart to lose their lives out on a limb and all I can remember is thinking I want to be like them.' All my heroes were heavy drinkers and did drugs, the whole lot and over time on the road I started and when I started it was always drinking and partying and carrying on and for me that was a huge part of being a musician, and I didn't want it to be any different to that, that's what I wanted it to be. That carried on for 20 years and in the end, it affected my music, it affected my life, and I think for those people who are restrained that's cool but I've been gigging like four nights a week for 20 years so it was just too much of habit.

It never occurred to me to not drink before a gig. I always drank to get a little run up before my performances to get in the zone with it and honestly, I get into that zone way better without drinking and that clarity is awesome. When I first came on the scene I'd be doing these things where every set was different I'd start playing riffs id never played before and start making up a song based on things that were happening on the night and it was always a feature and I really enjoyed it because I wasn't in control of the words that were coming out of my mouth and I loved to see where it would go and it kept it really alive for me. And then I went through a big long period of over a decade where I stopped doing that. I played the songs and it was party, party, party and I didn't talk much in between songs which is something I was known for. I did my best but now looking back I realize I was just getting through because I was always a bit intoxicated, sometimes a lot. I'd travel a lot the next day and then press repeat.

It's funny because you drink to make it a little bit more fun, a little bit more exciting but after a while it just levels everything out so quitting that has been so amazing for me and now I'm starting to make up those songs again on the spot! I would've thought it was an age thing like 'ah yeah that's when I was a whipper snipper and my brain was working faster' but it wasn't. It was just that I was cloudy and I was slowing myself down on purpose so now I feel like I've got that sharpness back and that's so exciting, I never want to give that up again.
*Feature image credit: Ian Laidlaw