Editorial Note: This obituary information was provided by Lisa Best of The Last Music Company.
After suffering from dementia, jazz multi-instrumentalist Chris Barber died on March 2, 2021. He was 90.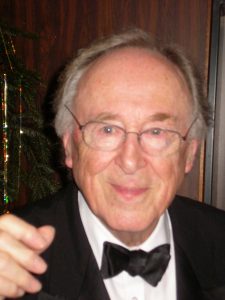 Born Donald Christopher Barber on April 17th, 1930 in Welwyn Garden City, Hertfordshire, he began learning the violin at age 7. He was educated at Hanley Castle Grammar School, Malvern, Worcestershire, to the age of 15, and started to develop an interest in jazz. After the end of World War II, he attended St Paul's School in London, and began visiting clubs to hear jazz groups. He then spent three years at the Guildhall School of Music, and started playing music with friends he met there, including Alexis Korner.
Barber began collecting 78 records of his American heroes, becoming an expert on the early days of recorded jazz. He formed his first band in London after the war, playing a trombone that he bought for £5 from the trombonist in Humphrey Lyttelton's band. His first records were made at the end of the 1940s, but it was when he and the clarinettist Monty Sunshine formed a co-operative band in 1953 under the leadership of Ken Colyer that his career took off. 
Colyer's band was a byword for New Orleans authenticity, helped by the fact that after working his passage to the home of jazz the trumpeter had been deported for outstaying his visa in order to play with the city's legendary jazz musicians. In 1954 the band split from Colyer, the remaining five members adding trumpeter Pat Halcox to the line-up, who was to stay in Barber's various bands until 2008, their 54-year partnership being unparalleled in British jazz. When the Northern Irish singer Ottilie Patterson (soon to become Mrs Barber) joined the band, it hit a winning formula, and moved from small jazz clubs to ever-larger concert halls, first in Britain, then in Europe, and from 1959 in the United States. There Barber became known as "the man who brought Trad back to America."
Barber had briefly studied the double bass at the Guildhall School of Music and Drama, as well as trombone, and he played the instrument on his 1956 record of "Petite Fleur," featuring Monty Sunshine's clarinet, which became a chart hit — reaching no. 3 in the UK and no 5 in the American top 100. It was number 1 in Sweden for several weeks. There was chart success, too, for the band's original banjoist, Lonnie Donegan. He and Barber had often included a short set of "skiffle" — American country blues and folk songs — in their concert sets, and their version of "Rock Island Line" released in 1955 was the first debut vocal recording to become a certified Gold Disc in the UK.
Barber's abiding interest away from music was motor sport, and after owning a pair of vintage Lagondas, he moved into sports car racing, first driving a Lotus Mark IX and then a prototype Lotus Elite, supplied direct to him by Colin Chapman. He was a regular figure at UK racing circuits over the years and his band often played during post-race celebrations at the British F1 Grand Prix.
By the time the Beatles began to transform the landscape of British popular music, Barber had established himself as a hot property with regular radio and television shows, but by the early 1960s he had also become a major figure in the blues revival. Not only had he brought such singers to Britain as Sister Rosetta Tharpe, Sonny Terry and Brownie McGhee and Muddy Waters, but he added John Slaughter, the electric guitarist, to his band, which became the Chris Barber Jazz and Blues Band. This group never stood still musically and while his "Trad" compatriots were still playing the traditional jazz repertoire of the 1920s and 1930s, Barber was exploring material by Charles Mingus, John Handy and Joe Zawinul.
This restless taste for experiment continued, and his eight-piece band of the 1980s and 1990s, working for much of the year in Germany and Holland, successfully combined its New Orleans roots with more contemporary material. Barber himself was a frequent guest with musicians such as Van Morrison and Jools Holland, bringing his trombone and enthusiasm into their backing bands in equal measure. Barber's final venture was to enlarge his group from the start of the new century as the Big Chris Barber Band, specializing particularly in the music of Duke Ellington, which had fascinated him since boyhood and which was brilliantly arranged for his line-up by his fellow trombonist Bob Hunt.
In 1991 Barber was awarded the OBE for his services to music. Barber announced his retirement in 2019, having led a band almost continuously for 70 years. He published his autobiography Jazz Me Blues in 2014. Barber is survived by his wife Kate and children Caroline & Christopher from a previous marriage.

*Feature image photo credit: John Watson / jazzcamera.co.uk