The blues is designed as a form that allows the artist to express sorrow or jubilation in equal measures. The men in Milwaukee's acclaimed Altered Five Blues Band push the limits of this axiom on their sixth studio album, Holler If You Hear Me. The 2018 Blues Music Award nominees once again recorded over five fast and furious days in Nashville, TN with three-time Grammy winner Tom Hambridge, who produced the band's chart-topping album Ten Thousand Watts, earning them a first place in the blues category of the 2019 International Songwriting Competition.
The 13 original tracks are a testament to the songwriting skills of guitarist Jeff Schroedl, who wrote or co-wrote all the songs to exploit the powerful vocals and exuberant showmanship of frontman Jeff Taylor. Bassist Mark Solveson anchors the rock-solid rhythm section with drummer Alan Arber, while Raymond Tevich melds his crafty keyboard work to create the group's muscular Midwestern sound.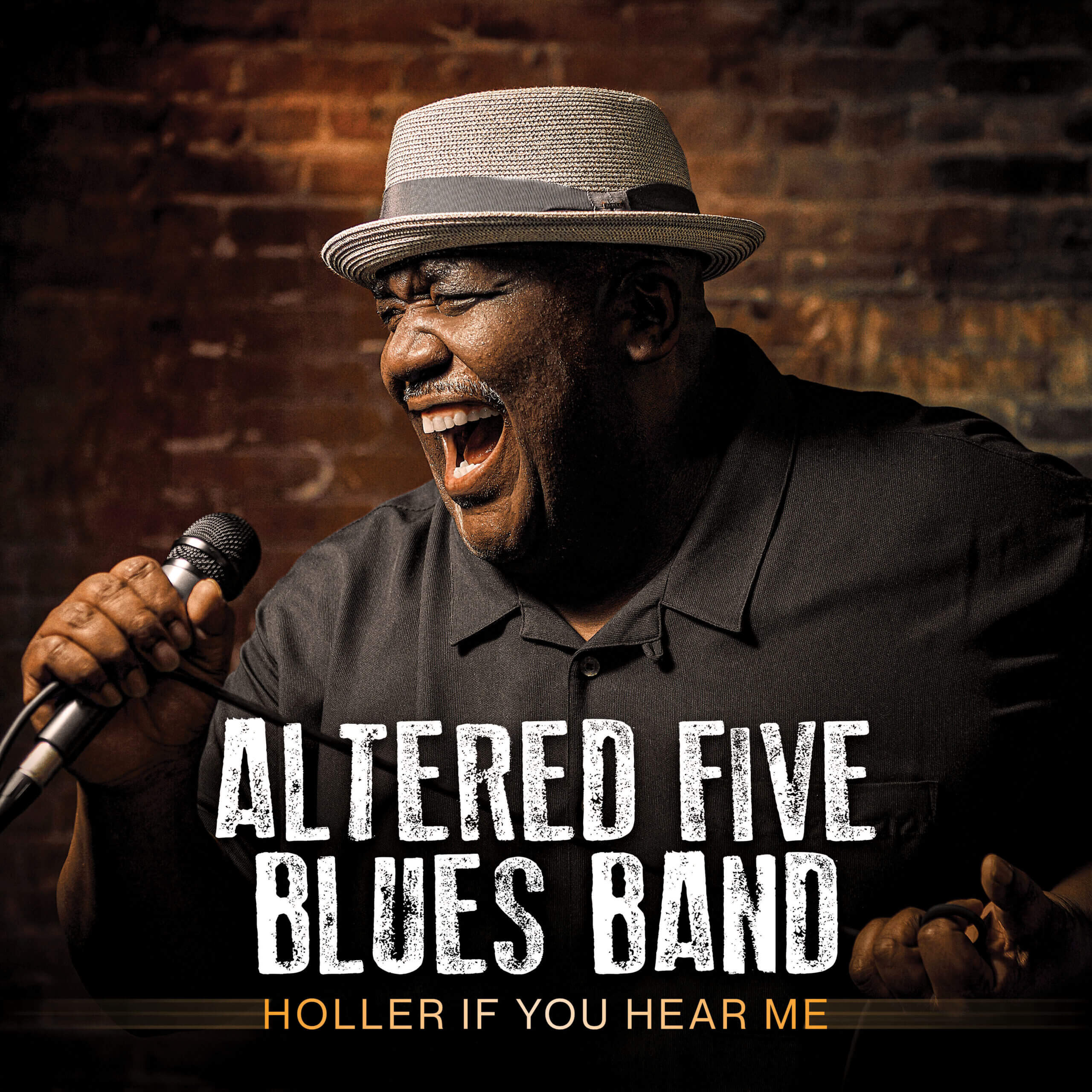 The baker's dozen of rockin' blues and scorching soul tracks kicks off with the jumping title track "Holler If You Hear Me," a real rabble rouser that features the first of five guest spots from Jason Ricci, who brings his sizzling harmonica to the house party.
It's a positive, party song about getting back out and having a good time. Now and then you have to push pause on life, make time for yourself, and just let the music pick you up. Jason Ricci joined us on harp for that track. — Jeff Schroedl
Taylor and Schroedl ease their way into the swampy tale of late-night fun "Guilty Of A Good Time," defending the case for happy-go-lucky revelers, who mean no harm. Ricci rejoins the fellas for the two-beat stomper "If You Go Away (She Might Come Back)," taking a hot solo on the boiling advice-column shouter. The classic slow 8-bar blues "Holding On With One Hand" finds Taylor opening his heart, as his love slips away. A hot guitar riff gives way to gritty clavinet and Hammond B3 on the fast moving "Full Moon, Half Crazy." Ricci adds harmonic tension and some superb Little Walter styled licks to the swinging "Where's My Money." Arber lays down a Stubblefield groove for the fabulous funk "All Suit, No Soul," and everyone digs deep into the slinky tale of self-preservation "I Got All I Need."
Taylor demonstrates his manly swagger during the bump and grind blues "Clear Conscience, Bad Memory," and declares his independence and nightlife readiness on the driving rocker "In The Name Of No Good." The dramatic blues, "Leave Before I Let You Down," is the story of a tormented lover battling his inner demons. The edgy "Fifteen Minutes Of Blame" is a classic tome of hard luck and trouble that features more hot instrumental chops from Schroedl and the boys. Ricci returns for track 13, "Big Shout Out," and helps the band close the set by name-checking "everybody who built the blues," as a swinging all-star roll call of musical heroes. A song that will certainly be a great addition to any blues radio show.
Under Tom Hambridge's direction, as only he knows how to make great sounding records, the Altered Five Blues Band have once against created another strong album of sonic delights further solidifying their place in the blues rock landscape.
Holler If You Hear Me hits the streets on September 3rd, via Blind Pig Records.
*Feature image: CJ Foeckler