Russell Jamie Johnson is a jack of all trades in the truest sense of the phrase. Not only has he found his niche as a skilled singer-songwriter, but in the world of performing as well. Namely, archery and knife-throwing as a stunt double — as seen in major motion pictures and shows such as Amazon's original Sneaky Pete, and CBS's Elementary, and 2019's Robin Hood.
Currently based in New York City, he performs, records and writes with his band. Accolades for his archery prowess have been prominently featured on Sports Illustrated, CBS, The NY Times. Johnson even coached Jamie Parker, who plays the grown-up wizard in Broadway's Harry Potter and the Cursed Child.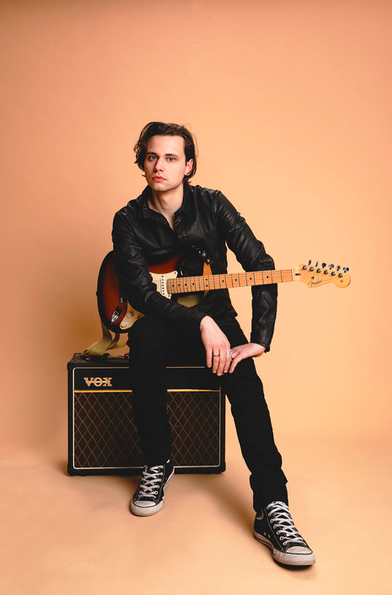 Johnson discovered music and found his voice very early on. Watching his brother play, he picked up guitar and has been performing since. He lost his father to a plane crash before turning 16, which proved to be a major inflection point as he realized making music was not just a diversion. Rather, an invaluable connection to the world around him. 
"I've been playing music for a long time, but it wasn't until the death of my father in 2009 when I wrote my first song. Music became my outlet to heal and I have found the best people and had the best adventures because of it. There have been times that I have felt 'burnt out' on playing and writing, but I've always come back to it. Music has always been there for me and it's a safe place to be, feel, and create. That alone keeps me coming back."
He tells me that, strangely, his archery and musical passions intersect in a steadfast way. "I shoot a specific style of archery commonly referred to as 'bare bow.' It's essentially instinctive shooting- no sight, no counterweight — just you, your bow, and your intuition. At a certain point, archery is more of a mental challenge than a physical one. The second you doubt yourself, shoot to impress someone else, or get taken out of the moment, that's when you miss."
He continues, "I've seen this happen in my own music career lots of times. The second the music wasn't for 'me,' I had missed. The moment that I wasn't taken out of my writing or found myself distracted, I'd miss. When you let go of the arrow, you need to trust yourself that you knew where it was going to land beforehand. Music is that way too. You have to trust yourself more than anyone and know that you put your arrow where you wanted. Sure, you need fundamentals for both archery and music, however both are more a meditation, release, and mental challenge."
Johnson also has an interesting intersection of influences, everything from the Smiths to Southern rock. "Johnny Marr is one of my heroes. My biggest guitar influences growing up were a lot of the classics such as Jimmy Page or SRV, and that went into more punk artists for a time. As I got older, however, I was really influenced by classic blues players such as Sonny Boy Williamson or Lightnin'  Hopkins. In more recent years back at Berklee I studied a little with Tomo Fujita (who is amazing) and I desperately tried for a Jason Isbell tone. I realized quickly I was more of a songwriter than a player." 
Both the Boston and New York City music scenes have been instrumental in shaping his sound. "Boston taught me so much. When I moved there, I thought I was good. When I got to Berklee I quickly realized how bad I truly was, and it was exactly what I needed. Being around people that really challenged me and made me better. Playing and writing there really prepared me for NYC, and I'm not sure that I would have survived New York without that experience. After moving to NYC I was able to see artistic expression with even more intensity, freedom, and fearless creation. It was amazing. I'm not sure that I'd be the artist I am without both of these experiences in both of these cities. I'm blessed to know the people I know that challenge me and inspire me to confront my fears for writing and make me better. Wherever I end up next, I hope I never stop learning."
During his time at Berklee College of Music, where he graduated in 2016, James performed and worked with such music industry giants as John Oates and Chuck Leavell, (Allman Brothers, Rolling Stones). "When I was still at Berklee, my friend, and amazing pianist, Alfred Hole, said that he had gotten this new transposing job and asked me to sing on a track. I asked him what it was for and he said, 'I don't know this guy Chuck.' I quickly realized who it was and agreed.
"Turns out, I wasn't needed on the track at all, but Chuck favored my voice so much he asked me to keep singing on them. Whenever he was in the area we would be invited to his shows and he was always the nicest guy, giving us music advice, and checking out my music. Singing for Chuck Leavell was a wild thing to do at 19 or 20 years old. I was so nervous every time I gave him something."
Listen exclusively to the premiere of Johnson's latest single, "Long Time Coming," which addresses the year 2020 and its wake. The track features guitar by Charlie Kendall, who is noticeably very influenced by Duane Allman, Derek Trucks, Jimmy Herring, and Jeff Beck.
Johnson tells ABS:
"Long Time Coming" discusses everything that happened in 2020 and various emotions that we felt and carry with us now. These feelings of anger, to pessimism and bitterness to willful ignorance shaped our nation and still have an impact on our well being.

"Long Time Coming" carries the sentiment that all things were just inevitable. 2020 did indeed come to a boiling point and we saw lots of people asking, "How could this have happened?" Being from COVID or other issues- all of these catastrophes were bound to happen eventually just based on the way things have been and continue to be.

The song is written to highlight these facts in hopes that if we acknowledge them we may attempt to shift things within our societal structures and prevent further hardships.
Johnson's release show for "Long Time Coming" will be at Hotel Cafe in Hollywood on August 28th at 7pm. "Covid has made things uncertain but within the next year I'm hoping the singles build to a full album and a few tours. No matter what, I just hope to be in NYC playing music."
 Connect with Russell Jamie Johnson: