Uncle Walt's Band (David Ball, Champ Hood, and Walter Hyatt) were one of the most popular acts in late '70s/early '80s Austin, Texas, where the South Carolina band relocated after a long stint in Nashville. Their on-point songwriting, playing, and singing garnered them local fans, but also Texas luminaries like Willis Alan Ramsey (in a very rare appearance), Jimmie Dale Gilmore, and (then Texas A&M student) Lyle Lovett. After a few self-released albums and cassettes (all available again via Omnivore Recordings), the band went their separate ways, with Hyatt returning to Nashville with his wife, Heidi.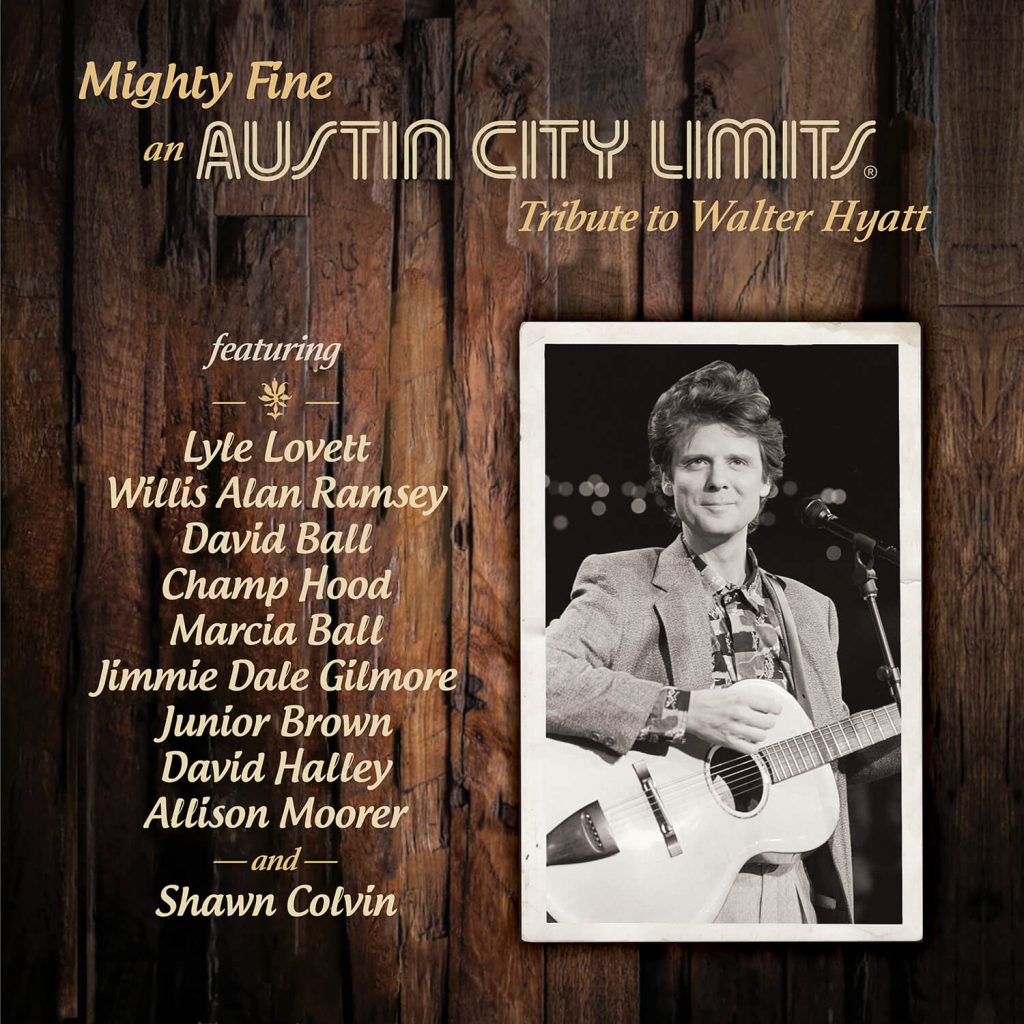 In 1990, Lovett produced Hyatt's major label debut, King Tears, and went on the road with Walter as his opening act. Three years later, Hyatt released Music Town. Then, sadly, he died in the 1996 ValueJet plane crash that took the lives of all passengers and crew. Lovett helped organize tribute concerts to benefit Hyatt's wife and children. In 1997, Austin City Limits broadcast one of those tributes featuring friends and fans including Lovett, Ramsey, Gilmore, Junior Brown, Marcia Ball, Allison Moorer, David Halley, Shawn Colvin, and his Uncle Walt's Band partners, Ball and Hood.
Now, nearly 25 years later, the 11 songs from that original broadcast are available on CD and Digital for the first time as Mighty Fine: An Austin City Limits Tribute to Walter Hyatt. Due from Omnivore on October 1, 2021, the set adds six tracks recorded for, but not shown on Austin City Limits. To make this collection even more special, four previously unissued Hyatt recordings make their debut. The packaging features photos and a new essay from North Carolina author and musician Thomas Goldsmith. It truly is Mighty Fine.
Of Marcia Ball's performance, producer Mark Michel says:
Marcia first met Walter in the clubs around Austin in the early 70's when she was leading the hippie country band. 'Freda and The Firedogs.' Uncle Walt's Band introduced her to the music of Professor Longhair, and soon after she changed her direction from country to New Orleans blues and swing. Marcia often sat in with Uncle Walt's Band and The Contenders, Walter's electric band that followed Uncle Walt's Band.
Of Hyatt's songwriting, Ball says:
You think his songs are simple when you listen to them, you start humming the melody and working out the chords and you realize they are crafted. Looking at Walter's lyrics in a book, on a sheet they read so wonderfully, many times they didn't need music, they were poetry. Very few people write songs like that, that appeal to you on several levels.
Austin City Limits Tribute to Walter Hyatt
1. As The Crow Flies – Willis Alan Ramsey
2. Houston Town – David Ball
3. Georgia Rose – Jimmie Dale Gilmore
4. Are We There Yet Momma – Marcia Ball
5. Lonely In Love – Willis Alan Ramsey
6. Motor City Man – David Halley
7. Tell Me Baby – Allison Moorer
8. Diggeroo – Junior Brown
9. Babes In The Woods – Lyle Lovett with Shawn Colvin
10. I'll Come Knockin' – Lyle Lovett
11. Aloha – Ensemble
Bonus Austin City Limits Recordings not Included in Original Broadcast
12. Rollin' My Blues – Champ Hood
13. Teach Me About Love – Lyle Lovett
14. Going To New Orleans – Champ Hood
15. Message In A Bottle – David Ball
16. I'm Calling – Lyle Lovett
17. River Road – Champ Hood
Previously Unissued Walter Hyatt Recordings
18. Jungle Flower
19. In A Christmas Dream
20. Early Days
21. Shouldn't Have Told Me That