Donning a cowboy hat and boots, Singer-songwriter and guitarist Seth James is indeed a working cowboy from wild West Texas with a country croon. But even as a teen working cattle on his family's ranch, sequestered from the outside world and from music almost entirely, he was taught by the blues. He discovered Muddy Waters and Lightnin' Hopkins, and artists who shifted the blues into rock and roll and soul territory, such as Booker T. and the MGs and Delbert McClinton. 
On his latest album, Different Hat, James turns the convention established by the music industry machine on its ear. The 14-track roots collection is a merging of Texas and Chicago blues, soul, and country. The album lives up to its name. Like Merle, he's standing right where he's at and wearing his own kind of hat. "The more ownership that I take in the sound that I want to create. The story I want to tell with my music naturally evolves. There's a reason why each record differs. When you put the dots on the timeline of releases, I was in different parts of my life, exposed and surrounded by different influences. And the result of that is heard in the sounds, styles, and feel of the record. Each builds on the next, and all roads have led me to where I am today and the feel of Different Hat. It's me, who I am, in this moment."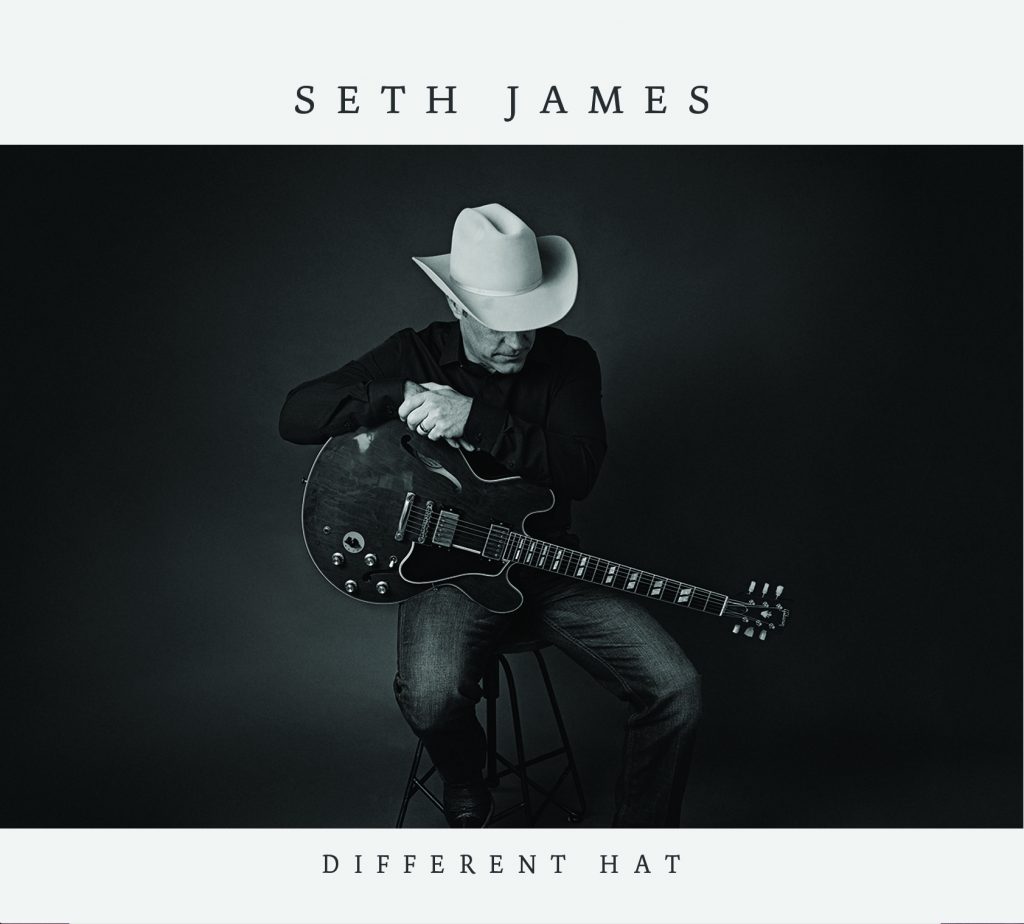 James points out that he was a listener long before he was a musician. "All of the greats were my teachers because that's all I ever listened to. Blues music has always been the music that I related to the most. It's just something that you soak up over time." The truest of troubadours tend to hold sway in his songwriting. "Bob Wills, Hank Williams, Billy Joe Shaver, and Guy Clark were always a part of my daily music rotations. They all mastered the craft of songwriting and I always wanted to do the same."
James met Delbert McClinton 20 years ago while opening for him on a string of dates through the Midwest. At Delbert's suggestion, he covered "Solid Gold Plated Fool," which appears on Different Hat. "Once I started working with his friend, bandmate, and producer, Kevin McKendree, I think that's when I started to show up on his radar more. He was kind enough to have me on his last Sandy Beaches Cruise and he has been very kind and supportive of what I'm doing now."
"Moonpies" is perhaps where you hear Delbert's effect on James' vocals the most, and I suppose there's a reason for that. "I had started that song with the intention of finishing it with Delbert. That was during the beginning of the pandemic so that made it difficult for us to get together in person. I forged ahead and passed the song onto him during the recording process. He said he thought it was finished and just suggested I change a single word. And of course he was right. Technically that makes him a co-writer but of course he would not accept the credit. He's a generous man in that way."
Different Hat swings in style with horns, keys, and slide guitar. James has worked with the same group of musicians on the last two records. "Kind of one of them 'if it ain't broke, don't fix it' kind of deals. They have all worked together a great deal and they have a creative cohesiveness that is unique to them. They also understand where I'm coming from since they have spent many years playing with many of my heroes. I met Kevin McKendree, Lynn Williams, and Steve Mackey while opening shows for Delbert. I did a session with those three guys in Nashville almost 20 years ago and it made a lasting impression for sure. 
"I also met Bob Britt on the road with Delbert somewhere along the line. Yates McKendree, who play drums and some lap steel on the record, is Kevin's son. Yates is one of the most talented musicians that I have ever encountered, much like the rest of the crew. Lee Roy Parnell has been a close friend for years and was very helpful in helping me navigate the music business early on in my life. Having an opportunity to make music with your heroes is a wonderful thing. It's still hard for me to believe that I made a record with Lee Roy Parnell, Anson Funderburgh and Glen Clark! That's pretty high cotton."
"Big Trouble" is a mostly true tribute to an underground Texas guitar legend. "I don't know Bill Campbell personally at all. However, I feel like I do after all of the stories I've heard. I have met him and seen him play and he definitely leaves a lasting impression. I've heard lots of very talented people call him a genius. 'Big Trouble' is really just bits and pieces of all of the stories I've heard over the years. Even though the song is written with good intentions in a lighthearted way, I still tracked down Bill himself to make sure he was ok with me releasing the song. He was hard to find but gave the thumbs up, which is just one more cool thing about making this record. My understanding is that every guitar player in Texas looked up to Bill Campbell back in the day." 
With Lee Roy Parnell on slide guitar, James cut a version of JJ Cale's "Raisin' Kane" that hadn't been done by anyone else, including Cale himself. "My manager Sam Seifert and his father had some sort of relationship with that crew. Somehow they had ended up with JJ's demo of that song. They were kind enough to pitch it my way when it was time to make the record. It's really fun to play a new JJ Cale song night after night!"
Premiering exclusively today is "She Likes To Run," featuring fellow Texan and blues guitarist Anson Funderburgh. James shares, "Anson has always been a hero of mine, and I've been watching him play in clubs for most of my adult life. He and I, along with Lee Roy Parnell, played a show together in Franklin, Tennessee a few years back and just hit it off. He's the kind of person you want to have as a friend. He just happens to be one of the finest blues guitar players on Earth."
Elaborating on the song's meaning, he quips, "Most people think having a horse that is bad to buck is bad, but it's nothing compared to having a horse that likes to run off uncontrollably. 'She Likes To Run' draws a comparison between both horses and women who can't be bridled."