Triple-threat Jake Etheridge released a self-titled EP in 2016 and Only Everything a couple of years later. He's also responsible for a series of evocative singles, a round of writing credits for CMT's Nashville (along with portraying the character Sean McPherson in Episode 6) and plans for an album of all-originals next year. Oh, and with the Common Linnets, "Calm After the Song" soared up the European charts.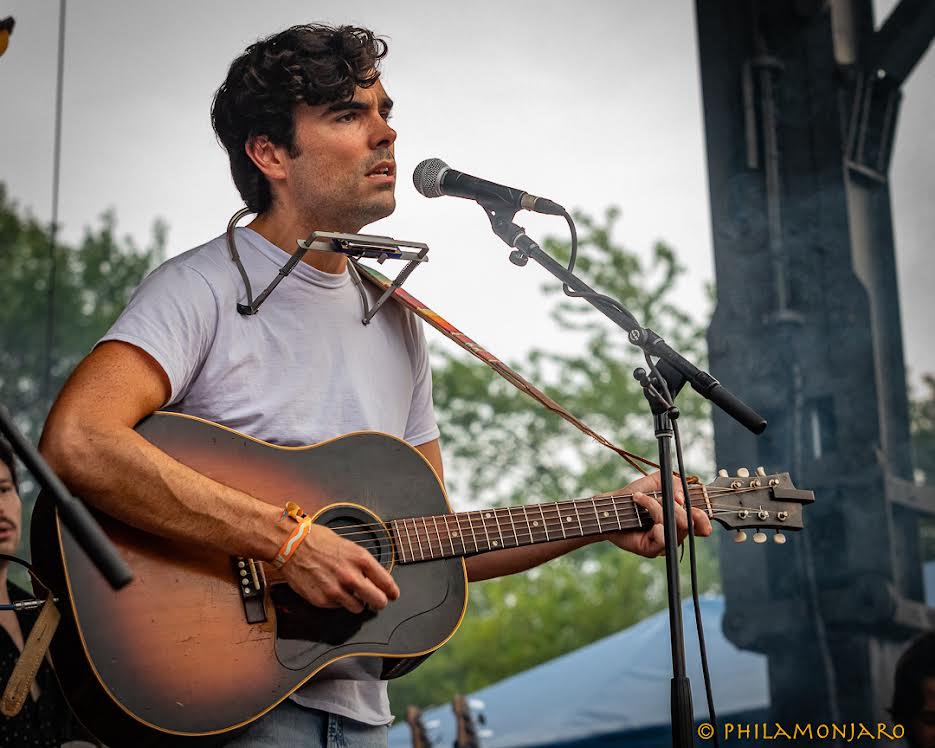 But perhaps, the most exciting news related to this South Carolinian-bred singer/songwriter/guitarist is his recent signing to Ben Harper's record label, Mad Bunny.
It appears that the two musicians share similar backgrounds. Ben Harper was practically raised inside his family's popular music store; Etheridge, now based in Nashville, also boasts coming from a musical family. It was merely a matter of time before Harper, with his knack for discovering new talent, caught on to Etheridge's penchant for penning contemporary tunes.
But what's equally exciting for fans is, that after a dry spell caused by this harrowing pandemic, safe concerts are starting to take place across the country. Saturday night's event sponsored by Out of Space, in Evanston, Il., ushered in the phenomenon by featuring Etheridge in support of Ben Harper and the Innocent Criminals. As for the site, you couldn't ask for better sightlines or more serene surroundings. As for the music? This was, without a doubt, one guitar-driven, pedal-steel friendly night.
After witnessing this warm-up set, I understood the reasoning behind the recent signing: Etheridge has indisputable onstage charisma. When interacting with electric guitarist Louis Johnson, the two look like they're having the time of their lives. Their frequent, fluid harmonies recall that of The Beatles or The Everly Brothers. 
Etheridge's youthful perspective graces all of his lyrical stories.
His guitar playing is expressive and genteel, yet forceful when required, and his solo voice brings to mind the likes of golden-voiced tenors like fellow Carolinian James Taylor or the British balladeer Sam Smith. Yet that velvety voice also harbors an older man's soul.
James Paul Mitchell's dreamy counter-melodies on steel guitar were evocative, but sensitively layered. There was never a measure in which he overshadowed Etheridge's stories. Drummer Danny Young and bassist Nick Aranda not only kept up the rapid pulse, but displayed their own talents multiple times.
For the opening number, "Here You Go," Etheridge committed to a hard-rock sensibility. The sophomore song, "Kayla's Party" belies the simple title, with its undercurrent of angst. Perhaps the hook of the evening went to the sing-able confessional, "Product of my Generation." On the charming, but raucous, "Charleston Hospital," the singer-songwriter raised the roof on "appendixes and girlfriends."
This astute character study cottoned to "sweet Maria" who is on a "Greyhound to Baltimore."
The next tunes were inspired by video games and zany imagery.
"Because I'm High" began with Young's whispered beats and Johnson and Etheridge's unified strums, but as the narrative accelerated, the guitarists followed suit with gusty, synchronized chords.
The closer "Rock and Roll" centered around a quintessential karaoke bar: "a saloon with dollar beer." Etheridge faced the front row and joked about singing Johnny Cash songs there — yet despite the cavalier introduction, "Rock and Roll" turned out to be a haunting epiphany. To the outro, he added a rootsy, blues harp solo.
Etheridge has a unique and communicative voice, both literally and figuratively. It was an honor to catch his act at this point in his career, but I'm sure, we'll be hearing a lot more.
*All images: © Phil Solomonson / Philamonjaro Studio