"It's a call to unity. May we be globally unified," Patti Smith proclaimed with a definitive sense of optimism in her voice.
On the second night of the Evanston, Illinois' four-night, outdoor extravaganza, Out of Space, the legendary punk singer walked onstage to face an anxious, but exuberant audience. Dressed in an oversized black jacket, white tee and jeans, her long, silver hair flowing behind her, she sounded pumped.
Smith turned her back for a hot second, but then faced the crowd to make a quick confession: "I think, I had a happy attack." Understood – after all, this was her first live performance in eighteen months, so who wouldn't feel giddy?
"The microphone stand has developed a mind of its own," Smith quipped. It took a second to adjust to stage logistics, but once the band started up, she was back to her old-self.
The band, which includes drummer Jay Dee Dougherty and guitarist Lenny Kaye, opened with the Smith-Kaye co-write, "Redondo Beach" from the 1975 Horses album. Back in the day, this palpable prose got published as a poem.
Smith has talked in interviews about commemorating Grateful Dead's Jerry Garcia with "Grateful" back in 1995, but tonight she exclaimed that the song "was for everybody." She conveyed this simply-chorded, guitar-driven song with a gentle, persuasive tone.
"My Blakean Year" was influenced by a dream, but also by Smith's admiration for writer William Blake, whom she has claimed maintained his vision despite "feeling forgotten."
One of the set's most poignant moments came when Smith performed "Ghost Dance," an ode to Native American culture, which she first recorded in 1978. Smith's entire body inhabited the imagery; her voice, similarly, showed reverence for the unique narrative.
Next, the band ushered in "Dancing Barefoot," a storm cloud set to Jay Dee Dougherty's steady beat. It's one of Smith's proverbial think-pieces, and as expected, she did not stand on ceremony: "Why must we pray screaming? Why must not death be redefined?"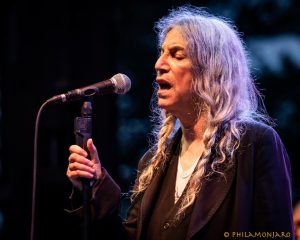 It didn't take long before Smith threw off the jacket and strutted along the stage, unabashedly exposing her punk goddess origins. Finally, sidling next to guitarist Jackson Smith, she watched on as he added a penetrating solo. The anguished contralto picked up more steam each time she repeated "Oh, God, I fell for you," and simultaneously, thoughts of obsession, remorse and addiction came to mind.
Tony Shanahan's strident bass line helped sustain the musical tension. "Dancing Barefoot" has influenced many musicians. In fact, The Celibate Rifles and Mission captured that catharsis with their own cover versions, although the latter stayed more faithful to the original.
(Her set also included adlibs about road tripping with her son and their contrasting choices of music, which she revealed with a sympathetic eye roll.)
Smith then announced she'd be doing "just a little, little song" in honor of Bob Dylan's 80th birthday. At one point, after losing track of the lyrics, Smith promptly put on her cheaters and rattled off the words from a printed sheet without losing momentum. The lyrics were heartfelt: "One Too Many Mornings" ("and a thousand behind") was layered with finger-style acoustic guitar.
But this magic spell would soon pass; Smith's (perhaps) prophetic rendition of "A Hard Rain's A-Gonna Fall," which included a solid rock treatment of guitar and drums, was intercepted. Despite Smith's determination to proceed, she'd received a warning that a rain storm with lightning was indeed on its way. Alas, we never got to hear the rest of her proposed set, which may have included the Easter smash, Springsteen-Smith overture, "Because the Night" or the Dream of Life co-write with Fred Smith, "People Have The Power" — yet Patti Smith had raised our consciousness after a year-and-a half hiatus, and that alone was a cause for celebration.
*All images: © Phil Solomonson / Philamonjaro Studio