European & British blues awards nominees Starlite Campbell Band release their rocking new single "Gaslight" on September 3, taken from the highly anticipated new album The Language of Curiosity which is set for release on November 5, 2021.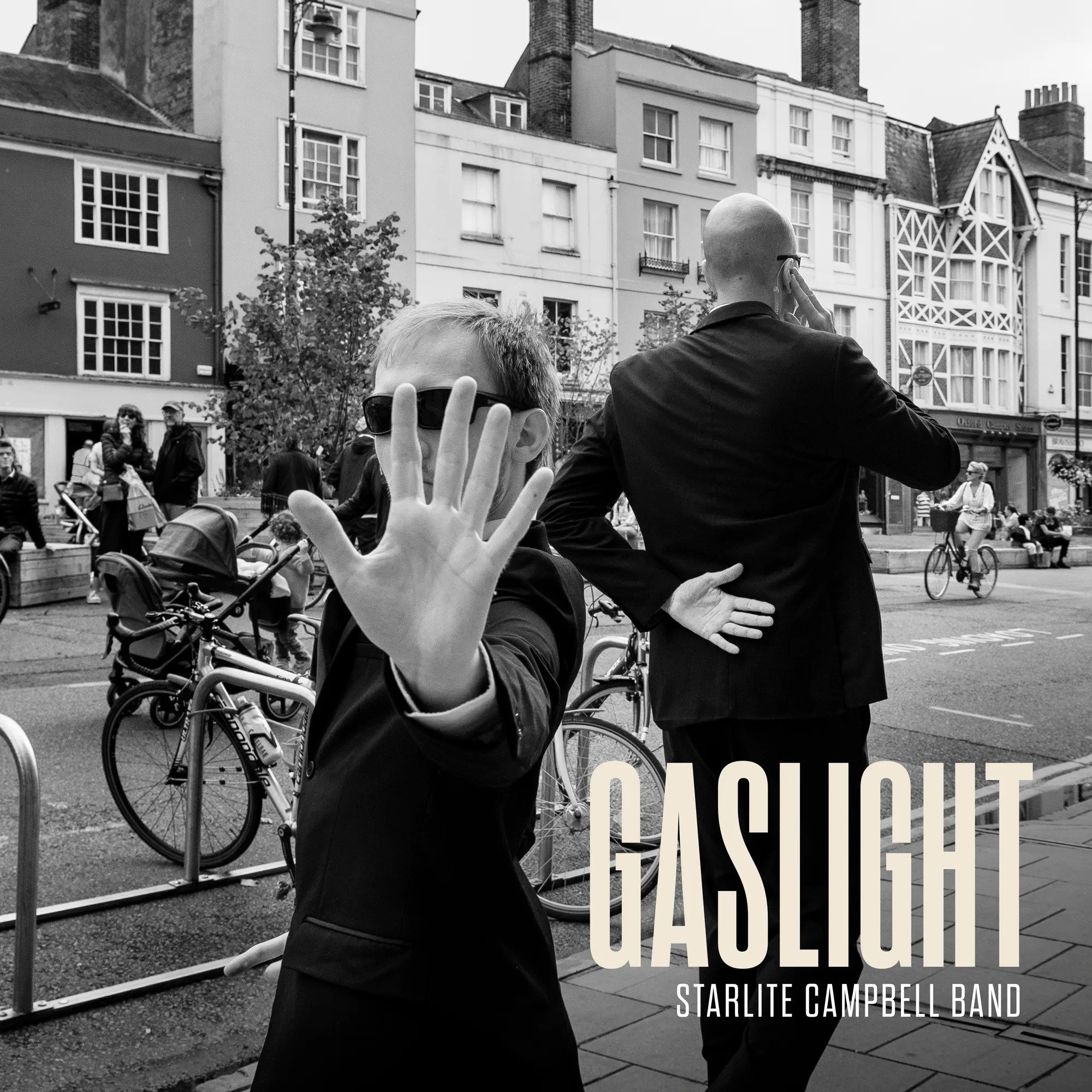 Renowned for their distinctive songwriting, unique sound, beautifully produced recordings, onstage chemistry and electrifying live shows, the Starlite Campbell Band are Suzy Starlite and Simon Campbell who fell in love on stage and married following a whirlwind musical romance.
"Gaslight" is straight-up early '70s British rock 'n roll featuring a rich Motown-esque groove from Starlite on bass, good-time Wurlitzer electric piano from the Italian stallion Gabriele Del Vecchio and a foot-tapping four-on the floor groove from Steve Gibson on drums.
Many have been struck by Simon's fabulous and unique slide guitar playing style. Known to play slide on his custom National ResoRocket Steel guitar as heard in debut album Blueberry Pie, he opted for a much grittier tone for this song bringing into service the mighty vintage Gibson Flying V; his first-ever guitar given to him by his parents for his 18th birthday. With the aid of a ceramic slide, Campbell creates a series of cheeky melodic riffs and a solo that adds a sense of slightly drunken roots-punk to the overall feel of the song.
Written in response to fake news, gaslighting facts and the blurring of truth by people in power around the world, Starlite and Campbell have created an upbeat rocking retort intended to vent the spleen, cleanse the soul and put a feel-good bounce back in your step by calling out the telling and selling of lies.
The video for "Gaslight" was filmed by artist and videographer Amanda Naughton based in Lisbon, Portugal. Suzy explained "It's really important for us to collaborate and work with people who understand what we're about as storytellers and artists. When we sent Amanda our new album The Language of Curiosity she really loved what we had created musically and was buzzing with inspirational visual ideas for the music video which worked perfectly for all of us." Amanda added "The questioning of one's perception of reality and sanity through gaslighting inspired the imagery and techniques used in making the video. Slow motion scenes with things being smashed to the sound of distorted guitars and crashing cymbals, all set against the enchanting backdrop of Portugal's blue skies felt like a perfect psychological and visual fit."
The band's highly anticipated second album The Language of Curiosity is a collection of stories about different facets of post-modern real-life experiences from working for the man, attitudes towards lust, passion and casual sex, space travel, social systems and abuse by power and money, war and the global refugee crisis, gatekeepers in the music industry, people giving up and growing old before their time and feel good '70s inspired British rock and British blues; it's like looking at different sides of a Rubik's cube.
From full-on rock 'n' roll tribal drums, thunderous bass, badass dirty guitar riffs, drunken echoes of slide and lap steel, melting melodies and vocal harmonies combined with old school valve guitar amps and analog tape machines – Starlite & Campbell have a very British sound!