Bob Corritore is one of the most active and highly regarded blues harmonica players on the scene today. His style passionately carries forward the old school of playing that Corritore learned as a young man directly from many of original pioneers of Chicago Blues. His sympathetic, yet fiery harmonica playing is featured on over 100 releases to date, on labels such as VizzTone, Delta Groove, Delmark, HighTone, HMG, Blue Witch, Blind Pig, Earwig, Ruf, Putumayo and many others.
Many of Bob's acclaimed releases have been nominated or winners for various Handy, Grammy, Living Blues, Blues Music Awards and Blues Blast Music Awards. Bob is also widely recognized for his many roles in the blues, as band leader, club owner, record producer, radio show host, arts foundation founder, and occasional writer.
VizzTone Records has announced two new albums will be released as part of Corritore's popular From the Vaults series. These are historic recordings from Bob's vast archives of performances with some of the biggest names in the blues at his Phoenix, Arizona club, The Rhythm Room. Previous releases have paired Corritore with such legendary artists as Dave Riley, Kid Ramos, and Henry Gray.
The first new release is Louisiana Red & Bob Corritore Tell Me 'Bout It, due out on February 18th.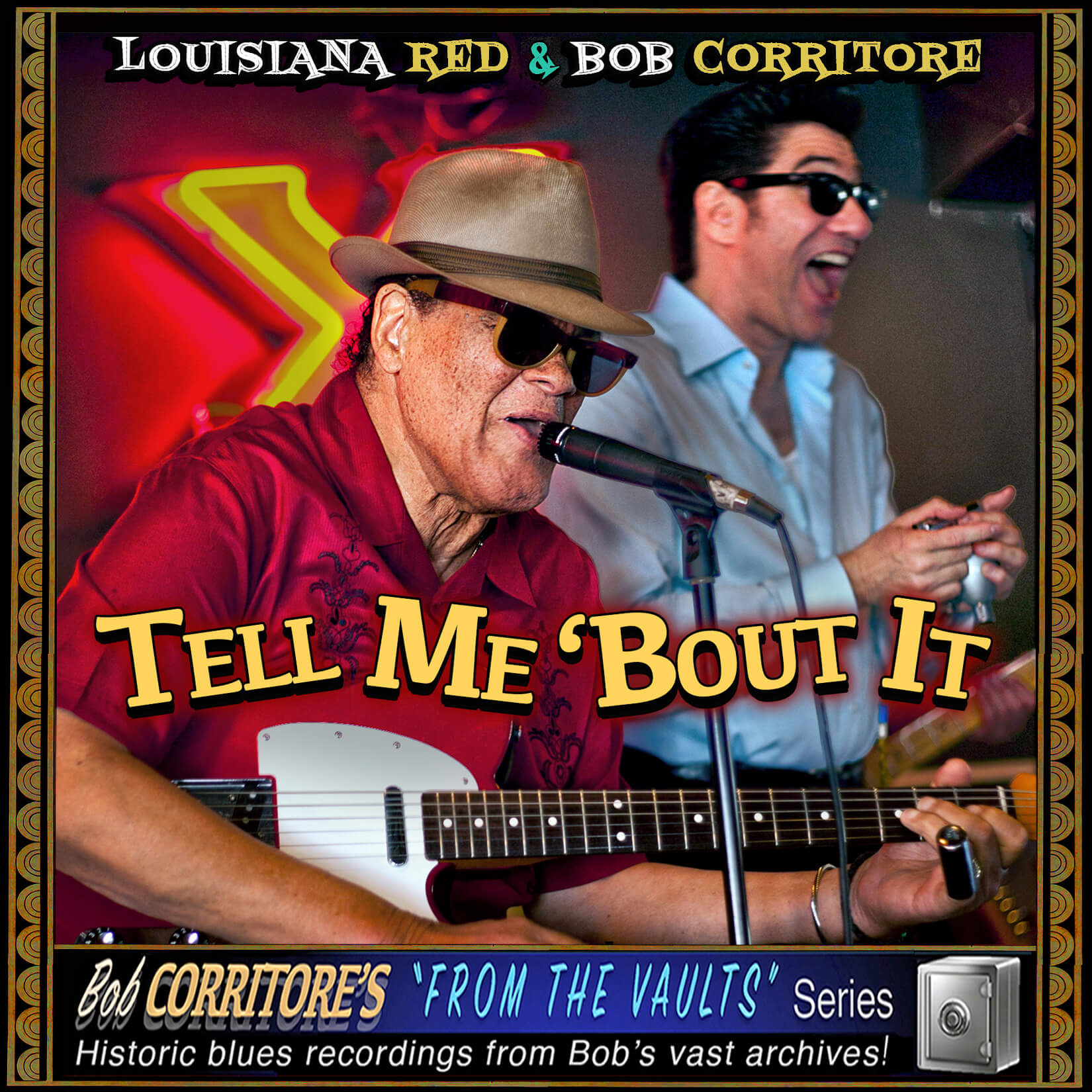 At the heart of this album of finely crafted down-home blues is the close friendship of the two principals. Louisiana Red and Bob Corritore first met at the Delta Fish Market in Chicago in the summer of 1981, where they performed together for the first time. The following year Bob moved to Phoenix, Arizona soon to be joined by Red. The two worked the local clubs for most of 1982 before Red went on a European tour where he met his loving wife Dora and relocated.
But the friendship remained, and in 2000 Red started touring the US annually, always stopping in Arizona to visit and perform and record with his friend. These 11 songs come from seven different recording sessions from between 2000 and 2009. Red passed away Feb 25, 2012.
A deep musical and personal chemistry is apparent throughout this album. Red leads us through a program of all original songs and Bob's brilliant harmonica is always spiritually and musically connected. Red's stunning vocals and hard-hitting guitar are in strong supply here. Red's blues are a testimony to his ability to draw the listener into his often painful, always hopeful life experiences and psyche. The combo of Red and Bob along with the other fine players on this album is pure unadulterated blues power.
Appearing in the crack backing bands on this album are Chico Chism, David Maxwell, Bob Margolin, Little Victor's Juke Joint, Buddy Reed, Johnny Rapp, Chris James, Patrick Rynn, and Brian Fahey. Get ready for Louisiana Red and Bob
Corritore to tell you 'bout it!
March 4th sees the release of Bob Corritore and Friends/Down Home Blues Revue.
Corritore lovingly assembled this collection of old school down home Southern blues and juke joint dance numbers, the rough-edged predecessors to modern Chicago Blues, all recorded in Phoenix, Arizona between 1995 and 2012 and drawn from Bob's vast vault of recordings.
When the 25-year-old Corritore moved from Chicago to Phoenix in 1981, he never expected to be creating a Southwestern Mecca for the blues – it just worked out that way. Bob was soon joined by old friend Louisiana Red, and before long they were playing all over town. Drummer Chico Chism soon followed. Bob started doing a weekly blues radio show, and in 1991 he opened the now legendary blues club the Rhythm Room. He would book his favorite blues artists at the club and arrange a recording session, capturing numerous amazing performances
This 13-track album features exuberant performances by Honeyboy Edwards, T-Model Ford, Henry Townsend, Big Jack Johnson, Robert "Bilbo" Walker, Smokey Wilson, Tomcat Courtney, Dave Riley, Pecan Porter, and Al Garrett.
*Feature image photo: Jeff Fasano