William James Dixon was born in the early days of World War I, on July 1, 1915 to be precise. We of course know him as Willie Dixon. Along with Muddy Waters, he was instrumental in shaping the sound of the Chicago blues after World War II. How important was he? He was inducted into the Blues Hall of Fame, the Rock and Roll Hall of Fame, and the Songwriters Hall of Fame. In 2007, Dixon was honored with a marker on the Mississippi Blues Trail in Vicksburg. You don't get more important than that.
The artists he worked with reads like a who's who of the blues and rock world. They include Muddy Waters, Howlin' Wolf, Otis Rush, Buddy Guy, Chuck Berry, Little Walter, Bo Diddley, Memphis Slim, Sonny Boy Williamson, Koko Taylor, and Little Milton among may others. His songs have been covered by numerous artists from the Rolling Stones to Johnny Rivers to Ten Years After to Steppenwolf and Led Zeppelin.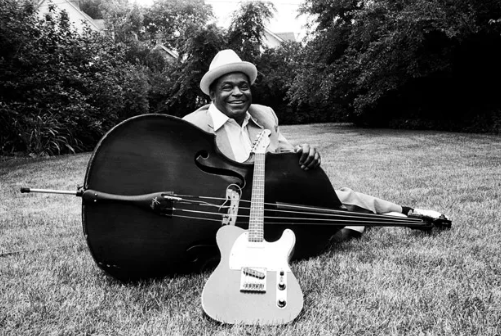 Willie Dixon has a huge catalog of songs for artists to choose from. He wrote or co-wrote over 500 songs. If the artists he worked with reads like a who's who, a collection of the songs he wrote or co-wrote would comprise a blues anthology. There is no way to list all of his writing credits but his songs include:
Hoochie Coochie Man

Little Red Rooster

My Babe

Seventh Son

Wang Dang Doodle

Spoonful

Evil

Pretty Thing

I Just Want To Make Love To You

Help Me, and

I Can't Quit You Baby
Dixon's mother would write and recite poetry, an influence that led him to develop a heightened sense of meter and rhyme. As was the case with many other early blues artists, gospel music was an early influence as well. Yet when he moved to Chicago, he didn't immediately immerse himself in the music scene. He took up boxing, a sport he seemed well suited for as he stood 6 feet 6 inches tall and weighed over 250 pounds. He was good enough to win the Illinois State Golden Gloves Heavyweight Championship title (novice division) and be a sparring partner for Joe Lewis for a time. Dixon quit boxing after four professional fights and a dispute with his manager over money.
He wasn't necessarily a mercenary person, but Dixon had a sense that he was owed more than he had been getting paid. A number of rock groups had been recording his songs and he believed he should be getting more in the way of royalties than he had been collecting. In 1977, Dixon and Muddy Waters sued Arc Music, the publishing company for Chess Records, seeking the royalties they believed they were due. They used the proceeds of the settlement to create their own publishing company, Hoochie Coochie Music.
Dixon also sued Led Zeppelin for copyright infringement claiming their song "Whole Lotta Love" was simply a recast of his song "You Need Love." The settlement resulted in Dixon being given credit as a co-writer and a share of royalties for "Whole Lotta Love."
Not surprisingly, Willie Dixon became an unwavering advocate for blues music. He created the Blues Heaven Foundation to preserve the legacy of the blues and to secure copyrights and royalties for blues musicians who were exploited in the past.
Dixon passed away 30 years ago on January 29, 1992 at the age of 76. He is without a doubt an icon in the blues genre. He once said, "The blues are the roots and the other musics are the fruits. It's better keeping the roots alive, because it means better fruits from now on. The blues are the roots of all American music. As long as American music survives, so will the blues."