Sitting in guitarist Pete Galanis's studio in south Chicago on a cold February day in 2021, singer/guitarist Paul Waring knew the time was right to commit his newest work to a second Bad Daddy album. The two friends were drinking beers, talking music and working on Waring's busted amp. 
The pandemic had turned the world upside down, upending many businesses including the music industry. News from rural Maine that his bass player was leaving Waring's band only added to the feeling of uncertainty.  It was beginning to feel – to Waring – like a mad, mad world and it was time to create something positive.
"Pete's become a close friend whom I trust and respect," Waring says. "Sitting in that studio, I said to him, 'I got all these songs written, half of them are done and the others are close — how about we make a record together?' It's that bond with Pete, in collaboration with his band and my will to push on that ultimately got this record made
The result, It's a Mad Mad Bad Dad World, releasing March 11 on PieHole records, highlights Bad Daddy's sound, rooted in classic blues and roots rock.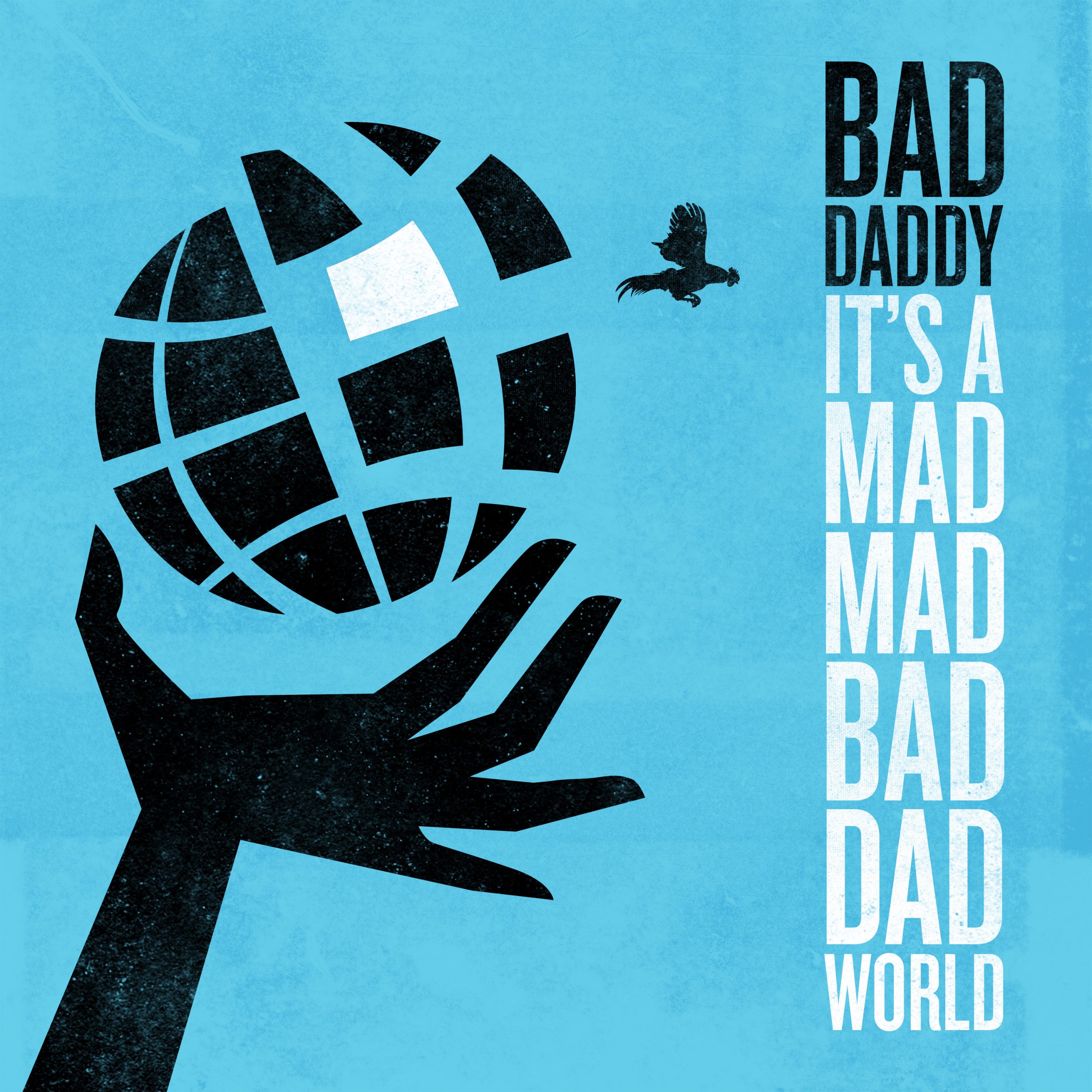 Nine original songs and a cover of Mighty Sam McClain's "Where You Been So Long" make up MMDBW. Pete Galanis on guitars, Ari Seder on bass guitar and Jason "Jroc" Edwards on drums backed Waring's vocals and guitar on all 10 tracks, recorded at Chicago's JoyRide Studio and Galanis' Studio 3036. ." Its striking cover art by Chicago's own Kate Moss is inspired by the classic film title work of the legendary Saul Bass.
Bad Daddy plans to release a first digital-only single on January 14th of "Pork Pie Hat," followed by "Blues at Home" (also via digital distribution only) on February 4, prior to the album's full CD/digital release on March 11. On Sunday, March 13, Bad Daddy will celebrate the new album with a special Record Release Party at Rosa's Lounge in Chicago, with doors opening at 6pm and music from 7-9pm.
The crispy, bluesy tracks on the new disc convey a sense of passion honed and hardened to a sharpened edge. It's one man's story of love and sorrow speaking to a broader human predicament: the pain and joy that define blues storytelling.  Waring's voice, backed by skilled Chicago musicians, creates a modern blues soundscape that speaks to these mad, mad times.
Collaboration, a crucial feature in his day job as a Maine-based boat designer, drives Waring's aspirations for his musical projects.
"As most musicians find out early in their careers, a band is not a democracy," Waring admits. "But collaboration is vital to making music, and working as one unit in service of a singular vision results in good vibes and leaves bandmates feeling like their input and performance actually matters. It's the best way to create musical art."
Waring had been hanging around Chicago blues clubs since 2010, when he began dating a Chicago girl. During trips to the city, he brought his guitar and played blues jam nights at Buddy Guy's Legends and Rosa's Lounge. Other nights he'd hang at clubs like B.L.U.E.S. and just soak in the music. 
Waring married that Chicago girl in 2014, the same year he met Galanis during a set break one Tuesday at Rosa's where the guitarist has a residency. The two became friends and Waring asked Galanis to remaster his first album. Galanis would also help mix and master "Beautiful Thing," a song Waring and other Maine musicians produced to honor a friend who had died of cancer. 
All that time, songs for a future Bad Daddy album kept coming. In 2016, Waring wrote "Blue on You" after learning a friend and former bandmate had committed suicide. Other tunes, like "These Times" and "Trip on Your Love," are more recent creations. The oldest songs on the new record, "Blues at Home" and "Just My Luck," came in 2015.
Two years later, Waring was sitting in Galanis's studio, asking him to collaborate on what would become It's a Mad, Mad Bad Dad World. Waring sent demos of the songs to Galanis, Seder and Edwards. "They said, 'yeah, when can we get started?'" Waring recalls. By March 2021, the group was at JoyRide recording the rhythm section, quickly nailing all 10 songs in no more than three takes in one 10-hour day. "The guys were killing it," Waring says. 
With the rhythm section done, Waring and Galanis turned to completing the production, a process that eventually spanned about six months. Six of the songs were so fresh, the duo explored guitar rhythm work, fills and solos. When turning to vocal work, Waring focused on delivery, style and tenor.
"Fitting two guitars into a soundscape is a matter of dovetailing parts—finding texture and space that sonically blend two similar instruments," Waring states. "But we each have a unique sound and that comes through beautifully on the record. Our process gave me freedom to explore how to express myself playing and singing these new songs."
In late May of 2021, organist Elton Jaan burned his way through each track in a single 8-hour session. With live gig work on the calendar, both Galanis and Waring began to balance work and production.  Waring returned to a summer of live shows with his band in Maine, while Galanis continued the work of mixing and editing in Chicago when he wasn't playing his own gigs. In September, the final stages of mastering were done.
"The process of making this record was one part voodoo and one part experimentation, but exactly what I'd hoped — an honest collaboration," Waring enthuses. "I feel like these songs are a reflection of my soul and my message is captured in every one of these tracks."
*Feature image credit: Chris Monaghan