For almost two and a half hours on Wednesday night at Chicago's Auditorium Theatre, Eddie Vedder "deep-sixxed" the narrative that he is boring. Along with his band of all-star Earthlings — drummer Chad Smith, keyboardist/guitarist/vocalist Josh Klinghoffer, bassist Chris Chaney, guitarist/vocalist Glen Hansard, and guitarist Andrew Watt — Vedder had the sold-out, standing room-only crowd rollicking and dancing.
The 23-song set leaned heavily on his latest solo album, Earthling, and included the Beatles-esque "Mrs. Mills," the rocker "Rose of Jericho," and two previously released singles: the Petty-tinged song "Long Way" and the haunting "Brother the Cloud," the lyrics of which seep with the grief of losing a figurative and/or literal brother.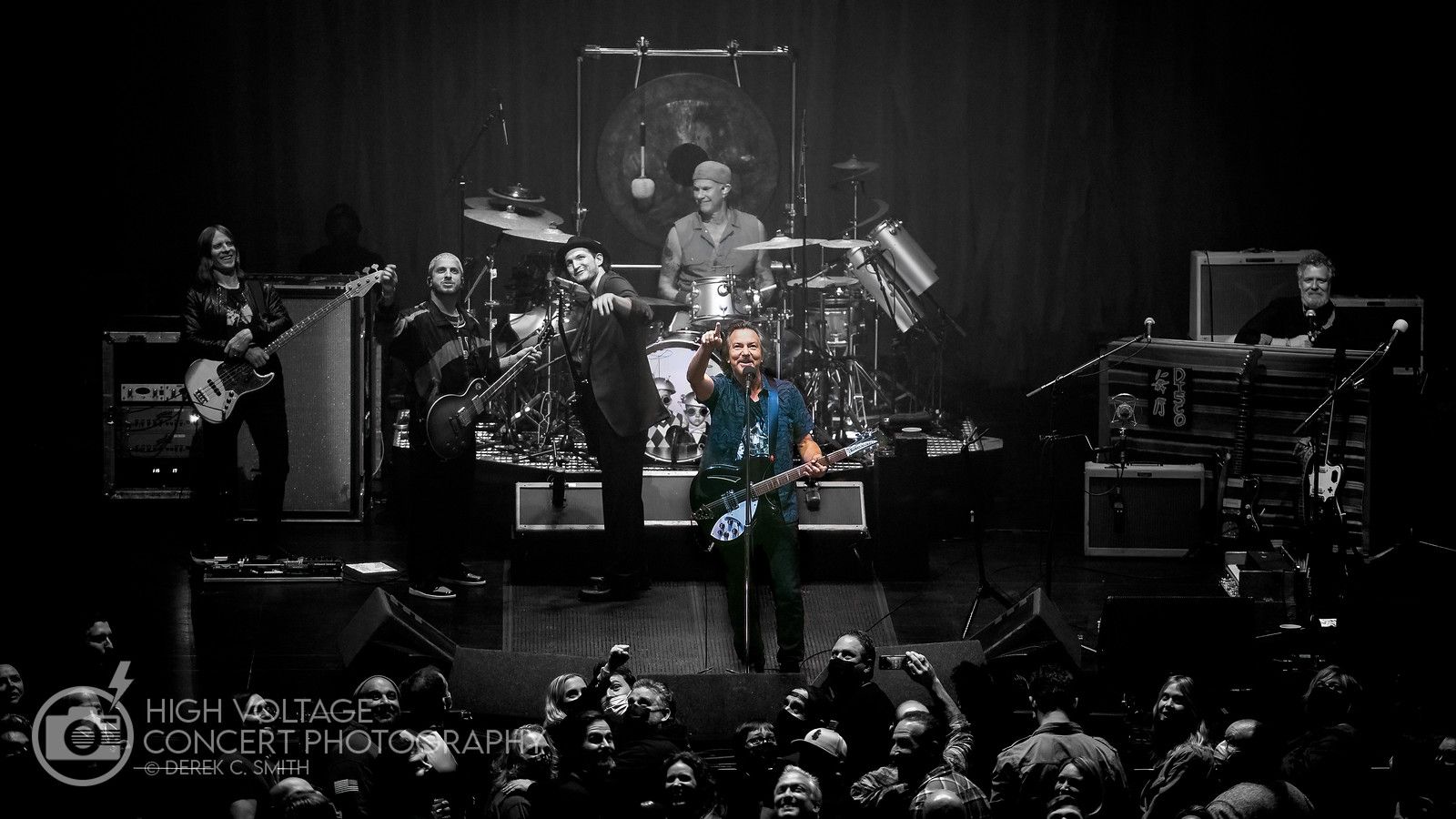 Despite having yet to hear many of the songs from the album, the crowd embraced them as if they were canon. They may soon be given the crowd's exuberant reaction to them. The remainder of Vedder's set included a few Pearl Jam hits and deep cuts ("Not for You," "Better Man," "Dirty Frank" and "Porch"), as well as some covers of R.E.M. ("Drive"), Tom Petty ("Room at the Top"), The Beatles ("Here Comes the Sun"), The Who ("I'm One") and Pete Townshend ("Give Blood"), the latter of which he dedicated to all the health care workers who have sacrificed so much during the pandemic.  
Throughout the evening, Vedder also proved that he remains relatable. Whether it was embracing two young fans who were attending their first concert (plying them with picks and drumsticks, allowing them to strum his guitar and dedicating "Here Comes the Sun" to them); telling a story of his first show at the Auditorium Theatre (and then dedicating "Room at the Top"; to the individual in the same seat) or introducing the crowd to a childhood friend; Vedder showed that despite his rock star status, he is still a mere earthling like the rest of us.  
The tour, with Glen Hansard opening, will continue throughout February with shows in San Diego, Los Angeles and Seattle. Earthling was released on February 11, 2022 via Seattle Surf/Republic Records. For more information on the tour and album, visit Pearl Jam's site.
*All images: © Derek Smith / High Voltage Concert Photography