"Not that I'm angling for megastardom, but I do think of Life Our Own Way as my Thriller," David Heatley tells me about his new album, composed of what he considers "retro-pop story songs." Peeling back the layers of the fifteen songs, each of which could stand alone as a single, reveals a glimpse into the particular brain of a cartoonist, as he is more widely known. "If I had to take a stab, it might be planting a flag for the importance of remaining innocent, finding your people while being an autonomous, independent artist in the face of what can seem like the indifference and cruelty of life."
Though this is his debut full-length solo album, Heatley has been writing songs and playing in bands since the age of 16. "As I've gotten older, I've moved away from writing inward-focused, obscure-to-the-point-of-being-opaque songs that might only appeal to a few like-minded artists. I didn't plan it this way, but these songs that came to me over the past few years have been simpler, more clear and concise and based more on classic song structures. Maybe it's because I finally got around to learning some standards and expanding my chord repertoire."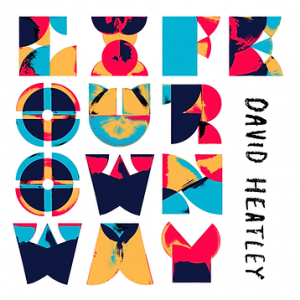 Nothing short of life-changing is how he describes his experience working with producer Mark Bingham (Elvis Costello, Hal Willner, Allen Ginsberg). During the 2020 lockdown, Heatley finished a dozen dream-influenced songs and created video demos. He sent them to Bingham, along with a fan letter about the work he had done with folk subvertist Peter Stampfel. So began their correspondence, and eventually Bingham invited him to Louisiana to collaborate in his studio where he did some arrangements and recorded the album over the course of two weeks. 
Heatley's creative guide is an audacious force that puts a bug in his ear, and often when he's already sinking his teeth into an unrelated project. "I've revered Mark's albums with Peter for at least a decade, especially You Must Remember This, but for some reason when 20th Century Songs came out and I was losing myself in its beauty; something told me to send Mark the new songs I'd been demoing and didn't know what to do with. Peter is one of the 'freak folk' progenitors of a lot of the music I loved in high school. The first time I heard him was on a Shimmy-Disc compilation called The Ruttles Highway Revisited—he sang a parody track of the Beatles' 'Help' titled 'Ouch.' I became obsessed with this song and put it on many a mixtape. Who was this oddball with the squeaky and wonderfully unique voice?
"Later I found out he'd sung the opening 'Fingertips' snippet on They Might Be Giants' collage-song masterpiece 'Fingertips.' I hadn't heard anything else when I met him at a party at Art Spiegelman's house around 2008 or so. But we hit it off and became acquaintances and he gave me a couple of his CDs as a trade for some of my comics. And then of course I went back and listened to all the Holy Modal Rounders records and was blown away. But You Must Remember This is the record that really knocked my socks off and I think might have done the most to inspire my recent approach to music more than anything. The combination of the masterful songwriting craftsmanship in the American Songbook canon, paired with Mark Bingham's timeless, but still fresh arrangements, all supporting Peter's poignant, hilarious and gonzo singing… it all just rings my bell."
Going down to Louisiana and having his songs get the "Mark Bingham Treatment™" felt like an unachievable dream that soon became a reality. "The fact that Mark responded to what I'd sent and was interested in trying to record a few of them with some local musicians as a kind of test, 'thrilled me to the marrow' as they say. We both found the first round fun and satisfying and I knew I had to go back a month later and do as many as I possibly could. And somehow we got 15 of them in the can in the space of a month." The life cycle of a David Heatley song is, as he explains, "From (1) melody fragment recorded on the fly on my phone to (2) mostly realized but still rough demo to (3) slightly more arranged, tighter self-produced demo all the way through to this new place where Mark can push the finished song—way better than I could have conceived on my own. It's like the colors available to me on my musical palette just expanded to infinity." 
Heatley is a devoted music listener and digester, but is careful of what he lets in and when, explaining that sometimes you can take something in so deeply that it can overly influence you. "I believe in finding music at the right moment in your life and being conscious of what you gravitate to." The songs on Life Our Own Way seem custom-built for each collaborator, thanks to Bingham. Heatley sees clearly why he chose who he did and enthuses, "Mark himself played some gorgeous guitar and synth parts, including the George Harrison-inspired solo on 'On Your Side,' which for me totally makes the song what it is."
Crisp, angular new wave sounds and misty memories of late-night youth imbue the album's anthemic title track, on which Heatley duets with Tif Lamson. "The heart beating at the center of this whole record," he praises. "A singer and songwriter with a gorgeously expressive voice while also being an in-the-pocket drummer, percussionist, and marimba player… she's just a ridiculously talented musical polymath. The duets she sang with me, 'Life Our Own Way' and 'On Your Side,' are two of my proudest creations ever. And, lucky for me, she's become a dear friend. We crack each other up. So we'll be collaborating again in the future for sure. 
"Sam Kuslan is a beast on keyboards and piano, but knows how to play in a tasteful, understated way—I feel like he and Jana Saslaw (on flute) are what make 'If We Became Lovers' the smooth-ass jam that it is (hopefully undercut a bit but my bitterly acidic lyrics)." Heatley said he never laughed so hard as when he heard Sarah Quintana embody the character and deliver the lines he wrote for "I Love You (Duh)," raving, "Sarah is not of this Earth and the fact that she could pull off the dolphin sounds of 'Quarantine Blues,' while also credibly delivering my bratty white girl rap song 'I Love You (Duh)' – just shows her brilliance and range."
Julie Odell brings a dreamlike quality to every background vocal on each track, "especially shining through on 'You Only Get So Much Time' and belting along with me, and lending Southern credibility to 'Johnny's New Hair.' I got the tiniest window into Cassie Watson Francillon's harp-playing badassery, perfectly bringing us back to the surface on the ending of my postcard-from-Hell song 'Pissin' White Light.'"
Lost Bayou Ramblers' Louis Michot and his fiery fiddle come to the fore throughout Life Our Own Way. "I'm in awe of Louis Michot's fiddle prowess. He's a musical God and brought the thunder to 'Johnny's' and 'Rock My Mind,' among many others." Bryan Webre and Kirkland Middleton, also Lost Bayou Ramblers members, are the rhythm section anchoring the album. As evidenced in "You Make Me Work," a swinging rock and roll revival with a power-pop bent reminiscent of the Nerves, "they both have an uncanny ability to quickly home in on each song's inherent DNA and make it dance. Standout moments for me are Kirkland's opening beat on 'You Make Me Work' and Bryan's groovy guitar and bass lines on 'Why Can't We Say What's Going On.'" 
Fundamental Folk Rock Diva Lilli Lewis lends her vocals. "It's just astounding," Heatley says of her presence on certain songs – reaching the top of the towers on "Blowing Off the World," and singing softly and sweetly on "You Only Get So Much Time." Then there's the peerless and egoless Tony-Award winning Broadway star Michael Cerveris, who plays rhythm guitar and sings backing vocals. "His stellar musicianship subtly permeates the whole album, but especially 'Pissin' White Light' and 'Dedicate Myself to the Night.'" Set to an ebullient melody, the latter refers to the Jungian shadow work Heatley has been doing in therapy. He jests, "I know everyone reading this is thinking, "A rock 'n roll therapy anthem! Can't wait to hear that!"
Heatley's illustrations and drawings have appeared on the cover of The New Yorker, in every section of The New York Times, and in numerous other publications, including Nickelodeon, McSweeney's, and Best American Comics (cover artist 2007). He's the author of My Brain is Hanging Upside Down (Pantheon, 2008), AMY (Desert Island, 2019), and Qualification (Pantheon, 2019). A television adaptation of his graphic memoir Qualification, co-created with Adam Resnick (Letterman, Get a Life, Larry Sanders Show) and produced by Gaspin Media, is currently in development.
The eye-hand coordination and finger dexterity needed to master mechanics of an instrument, as with handling of a pen and brush, is perhaps one way in which the creative process between a musician and illustrator parallels. Then there are the parallels between directing collaborators on animation projects and recording with others in the studio. But moreover, Heatley notes, it's about "creating a working vibe, giving lots of latitude and freedom and trust to artists so they can bring their gifts – allowing my vision for the project to expand and include them while still running a tight enough ship for the project to make it across the finish line.
"It's always a balance. I need to be with other artists and love what can happen when I embrace their ideas, but they inevitably drive me crazy and I need lots of breaks when collaborating. As an introvert, I'm like a sponge for people's energy and emotions and get inspired but also quickly overwhelmed and drained. So it's good to have comics and animation to retreat to, where I can be in solitude and create in my own bubble. And once that gets too lonely, I know it's time to get out and collaborate again. It's a yin and yang kind of thing."
Currently, Heatley is focused on making animated music videos to go along with some of the album's tracks, with "On Your Side" slated for a Valentine's Day release. For the "Life Our Own Way" video, he drew all 1,068 animations by hand.
Life Our Own Way is out today on all streaming platforms via Dream Puppy Records.