Johnny Cash at The Carousel Ballroom – April 24, 1968 is like a gift from the grave by an artist who was able to jump from one culture to another. He dressed like a hood from the '50s, had the addictions of a rock star in the early '60s, was lionized by the country music establishment by the time of this recording, and embraced by the counterculture for his songs about issues of fairness in a world out of control – kind of like right now.
The timing and location alone of this concert make it a historic document. The newly released CD and vinyl record was recorded in front of a hippy stronghold: the Carousel Ballroom in San Francisco on a Wednesday night to an audience of 700 in a facility that held 3000.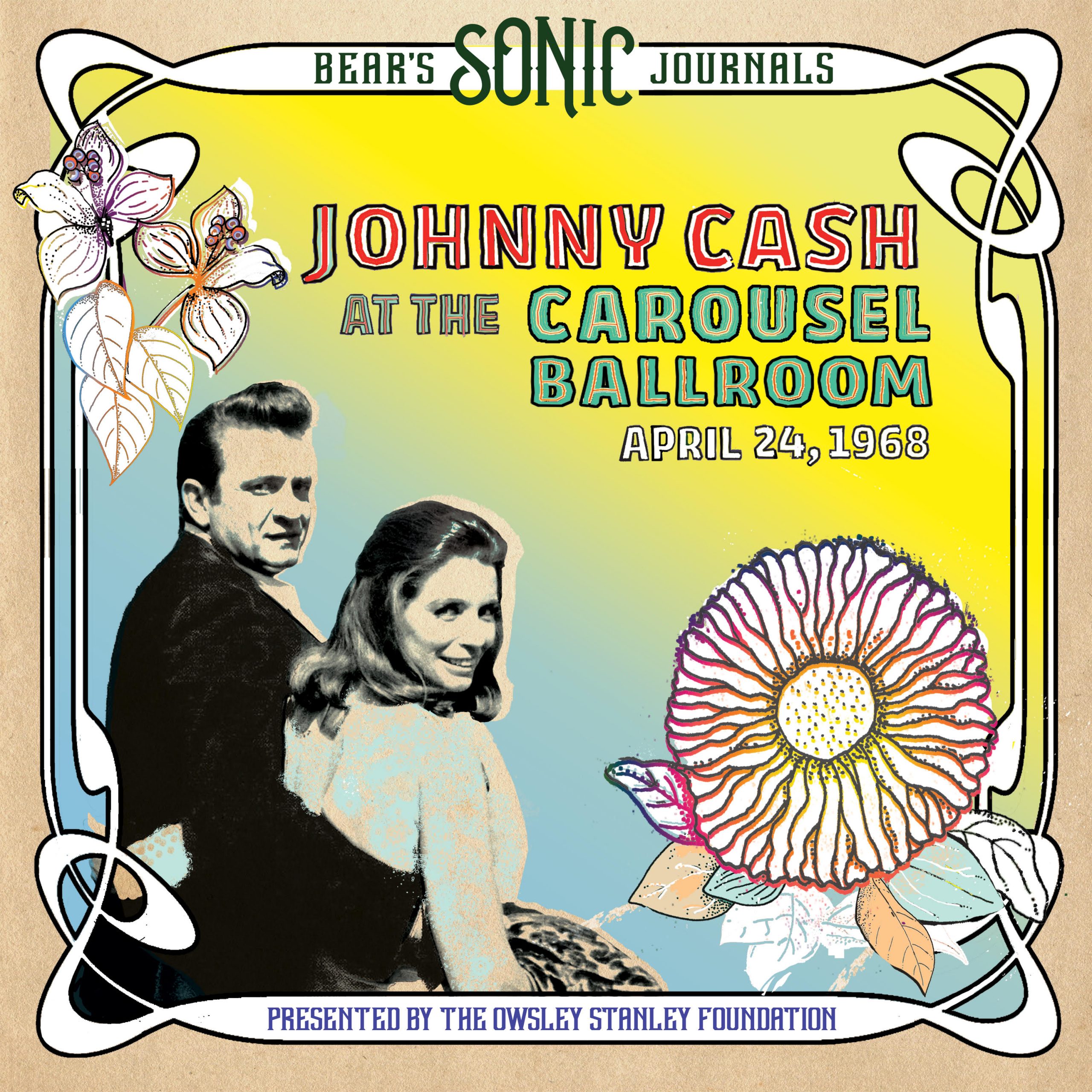 The Carousel was a former swing-era dance hall, above a car dealership in a gritty neighborhood of San Francisco. It was run as a social and musical experiment by a collective of local psychedelic groups including the Grateful Dead, Quicksilver Messenger Service, Big Brother and the Holding Company, and the Jefferson Airplane. He would go on to record Taj Mahal, Commander Cody and His Lost Planet Airmen and Miles Davis.
Putting things in historical context, Cash had just married the love of his life, June Carter, and had temporarily conquered his drug problems. In the next year he would become a full-blown icon hosting a TV show on ABC that would feature guests from Carl Perkins to Eric Clapton, Joni Mitchell to the Statler Brothers, The Monkees to Bob Dylan. Oh, and Linda Ronstadt.
Dennis McNally, the Grateful Dead's historian and publicist for more than 20 years and author of the Dead's definitive biography Long Strange Trip, describes the performance in a press release he sent out as "a slightly weird side gig. Cash felt free to vary things. In addition to all his usual songs, he covered two Dylan songs ("Don't Think Twice," "One Too Many Mornings") and at least one of his greatest but less frequently performed songs, "The Ballad of Ira Hayes." Mother Maybelle and the sisters had already gone home; it was just John, June, and the Tennessee Three in front of an estimated 700 people at the Carousel Ballroom on a Wednesday night."
The recording lacks the kind of explosive energy that would make Johnny Cash at Folsum Prison released by Columbia Records two weeks later a landmark recording, but makes up for it in the intimate rapport Johnny Cash established with a small collection of people we can assume were Haight Ashbury hippies, and it also sheds new light on the work of Stanley Owsley, "The Bear," as a pioneer in the development of sound systems.
Johnny Cash at The Carousel Ballroom – April 24, 1968 is like a rare time capsule discovery. Less than a decade later, The Grateful Dead's arena concerts' "wall of sound" revolutionized rock sound system technology. Bear was singularly responsible for that revolution in sound, although he's most credited in history as the acid king for concocting the LSD tablets for the Dead and other Haight Ashbury acts given out at concerts of the day.  
Bear's contribution to rock concerts beginning in the mid-60s cannot be overstated. I saw The Beatles in a 1966 concert at the Revere Dog in Revere, Massachusetts. I cannot even tell you what songs they performed. The teenaged girls' screams were so loud and the sound system so under-powered. 
One of Bear's early soundboard tapes was of that Johnny Cash concert finally available in this new CD release. The Johnny Cash recording just happened to coincide with his primary purpose which was to improve concert in order to provide The Grateful Dead musicians with a recording of what their music sounded like to their fans in the audience. 
That sound was very different before the age of monitors. What each musician heard in the middle of the stage among themselves was much different from the sound heard by the fans sitting in front of the speakers. On the CD, Johnny and his guitar are heard on left side of the recording and his Tennessee Three band on the right.  
Bear's son, Starfinder Stanley of The Owsley Stanley Foundation, has released this CD as part of a series called "Bear's Sonic Journals" that include live performances by acts like Miles Davis, The Grateful Dead, Jefferson Airplane, Fleetwood Mac, Janis Joplin, and more than 80 other artists across nearly every musical idiom. I asked Starfinder if the sound we hear on the Johnny Cash CD accurately reproduces what the fans heard in the seats. 
"What I tell people is when you're listening to this, you have to put your mind as if you are right at the stage, and Johnny is right on front of you, and the Tennessee Three are right in front of you. Yeah, you're hearing them from different places 'cause they're in different places. They're not all standing on top of each other, and that gives you a much better sense of what it was like in that room. 
"It was the way that the sound is put into the tape deck reflecting the array on the stage. So, if (a musician) was on the right side, they'd be on the right side (of the tape), but at the time (my dad) was using a technique, he was trying to capture the spacial sense of the room. He's using a click track machine. He's got stereo mics on each source. So, he's got the mics up so that each source has a pair of mics and they're Omni mics, so they're not isolating each instrument, and he didn't use a lot of microphones.
"He was constantly experimenting and changing his approach so this was a way he recorded it this time, and he evolved in a different direction. So, later recordings have a different type of recording style that doesn't have that separation, but the music that was captured is the way you have to keep it in this format in order to get everything that is here."
"As a foundation, one of the things we're trying to do is set these concerts in the context of the time and give the story of these artists and what was happening around the music. We're trying to show the diversity of music that was happening in the Bay Area and create this narrative as we move from piece to piece of the physical journey in the Bay Area." 
Running against the current tide, Johnny Cash at The Carousel Ballroom – April 24, 1968 is lavishly illustrated with 26 pages overflowing with comments from some of the artists and others involved. 
Johnny Cash's son John Carter Cash: 
The next day, on the 24th, he traveled to San Francisco and performed a somewhat unconventional show. With a smaller version of his band, only my mother, W.S., Marshall, and Luther in support, Dad gave what I believe to be one of the most intimate and connected shows I have ever heard.

When I listen to this masterpiece recording now, I am drawn into his life at the time. I recall the struggle and pain he endured. In his voice I hear enthusiasm, the undeniable adoration for his audience, his delight in the music.
Bob Weir of the Grateful Dead:
Psychedelic music had kinda exploded in 1965, 1966, 1967, but now the heat of that explosion was dying down and people were coming back to earth and finding their roots. And a lot of the musicians had grown up, as we had, with firm country roots, and that was starting to emerge.

Back in those days, it was expected that you'd have a hit, or maybe a few hits, and then you'd be history. But Johnny Cash was around for decades, and it was instructive to me that if I really made every effort to pay attention to the characters and be as authentic as I possibly could, maybe I'd still be doing this in a few decades.

 And then there's Johnny Cash: "I Walk the Line" – where do you draw the line between country and rock and roll on that tune? It's not really there – especially back in the '50s when all this came out. And that's the stuff we grew up on. It all sounded a whole lot like a rock and roll tune to me.
At a time when many music fans listen to individual songs streaming in hyperspace, and they get what little information they choose to Google from sources that spin an idealized view of music history, albums like this one produced by people who lived this music are to be treasured.