Unknown Waters is a collection of covers paying homage to the songs of some of the most renowned songwriters and performers from the north east of England. Megson comprises Stu and Debs Hanna, exceptionally talented singers, composers and multi-instrumentalists both of whom were born, bred and started their musical journey in this industrial heartland of the UK. They are joined on this project by the celebrated double bassist John Parker, formerly with Glastonbury favorites Nizlopi.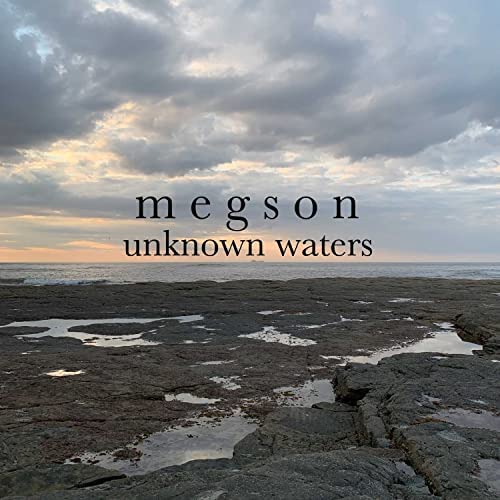 The backgrounds of Megson's favorite and most influential songwriters ensure that the themes of the selected tracks are mainly edgy and hard-hitting. They reflect the social injustices, growing unemployment, poverty and hardship associated with the decline of traditional shipbuilding and coal mining industries in the second half of the 20th century.
The album opens with "One Law" by Matt Chipchase & Young Rebel Set, an Indie folk band. Tragically, Matt took his own life in December 2019 aged 35, but his legacy continues through his songs. Just like the original, Megson's version starts from the soul, the impassioned plea for "One law for everything, one law for everyone" growing increasingly more intense with Stu's rhythmical, melodic mandolin accompaniment.
Ex miner Jez Lowe is a legend in his native Durham county and would have first hand knowledge of the hardships of the miners' strikes in the 1980s and the hurt caused by the 'treacherous scabs', the blackleg miners who were bussed to work under police escort to work while their fellow men suffered poverty. "Judas Bus" is based on a traditional British miners' song from over a century beforehand.
As the Judas Bus goes by
And they wave their blood-stained wages
In the hands that have betrayed us
Do they know not what they do?
"Blackleg" be a name we cry
Let it be of shame you die
How dare you look me in the eye
As the Judas Bus goes by
It speaks volumes about Megson's empathy that they can recreate profoundly such a moving and highly emotional song, Stu taking the lead vocals and playing evocative fiddle accompaniment.
Alan Hull was lead singer with one of the north east's best known folk rock bands, Lindisfarne. He wrote "Marshall Riley's Army" as a protest song in tribute to the Jarrow March when 200 unemployed men marched the length of England to petition the Prime Minister in London about their appalling living conditions. "In October '36 they took a trip, the men who made the ships/ Searching for some kind of salvation." Megson's arrangement is again exemplary, the marching tempo of all the instruments epitomized by the pulsating bass. The catchy chorus lines bring the song and its sentiments to life, these downtrodden yet spirited folk marching for their right to work.
International superstar Chris Rea will need no introduction, his 40-year career having spanned pop, soft rock and blues. His life in the fast lane was assured with the 1989 smash hit, "The Road To Hell (Pt. 2)", a song written when stuck on a congested motorway near London. It is an expression of disillusionment with the state of the world, commercial pressures and the pollution of the environment, "Well I'm standing by the river/But the water doesn't flow/It boils with every poison you can think of."
No wonder, this track has been released as a single, Debs singing every note with precision, maintaining the rhythm with subtle cadences, careful phraseology and varied intonation. Debs' accordion injects a very different emotion to Rea's blues slide guitar as she weaves in and out of the vocal phrases and leads the choruses with panache. It takes different sets of strings to make the song their own, however, Stu's double stringed mandola creating exquisite, distinctive, mellow and percussive sounds. His sumptuous fiddle playing adds the classical vibe of a simpatico ensemble to the proceedings and ensures the song's unique interpretation.
Northern bard, songwriter and artistic director Richard Grainger penned the beautifully poetic "Land & Sea," which Stu brings to life and paints a picture of the scene with his immaculate vocal delivery. Debs achieves a similar feat on "The Silent Boatman" by the late Ruth Copeland the daughter of a Durham steelworker. Ruth moved to Detroit in the USA and supported David Bowie in his US concerts in 1972, recording her final album four years later. Debs' haunting vocal delivery is breathtaking as she poignantly sings, "I'm waiting for the silent boatman to carry me across unknown water," a reference to death.
Martin Stephenson wrote "Rain," a song which is one of his very best and most memorable, Debs creating an ethereal atmosphere and a perfect ambiance for such beautiful lyrics.
Through a crack in the window meanders a breeze
Aids the mimic of crickets through the rustling of leaves
And the ghost need not scare me, they're welcome within
To share my rye whiskey and watch with me
Well known for his cutting social commentaries and perceptive life observations, Vin Garbutt, who died in 2017, spent nearly 50 years as a touring musician. One can assume that he would have approved of Megson's take on "Not For The First Time" given its lively, upbeat, mesmeric chorus and Stu's powerful lead vocals and mandola master class interpolations. Graeme Miles' balladic "Ring Of Iron" summarizes the industries and conditions inside this town:  'Shipyards to the north, chemicals to the south. Debs and Stu bring the words to life and add drama and tension to the desire to move out. 
Finally, the bonus track is a Megson original, "Through The Winter," the consummate storytellers back in their natural habitat making brilliant, provocative and incisive observations from their everyday lives in their inimitable style.
Don't wish the season gone too fast 
'cause you never know which ones yours last 
and though you might not like the weather
it won't stay like this forever 
so just button up your coat 
put the kettle on let's raise to toast
to how we made it through the winter
Debs' mellifluous vocals complement Stu's equally intense harmonies, their chemistry tangible. Watch out for the finger blurring fretwork on his 8-string mandola.
Even by Megson's high standards since starting out at the turn of the millennium, Unknown Waters is a tour de force, indeed a force of nature. Debs and Stu are dedicated, hard working and immensely talented road warriors keeping traditional music alive and creating memorable new songs along the way without major recording deals, sponsorship or management and PR companies.
Unknown Waters (Edj records) is available on streaming platforms from 12th February and physical copies of the CD from megsonmusic.co.uk.